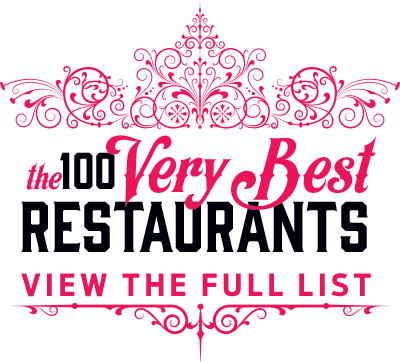 Reading the menu in the dark dining room here can be trying, but your server is ready to assist—by proffering a tiny flashlight. And if you think a bathroom ought to be a purely utilitarian space, pre-pare to be taken aback by the black-and-white erotica in the men's room. But that's Proof—an uncompromisingly personal restaurant, willing to alienate a little in order to establish its niche as a sensual escape for the discriminating foodie and the serious drinker (the wine list is among the best in the area, and the cocktail menu brims with invention).
Chef Haidar Karoum oversees a menu that branches off into a multitude of styles. In less skilled hands, this might spell disaster, but many dishes—such as foie gras with shortcake or a smoked-eggplant flatbread—are smartly conceived.
Open: Tuesday through Friday for lunch and dinner, Saturday through Monday for dinner.
Don't miss: Tuna tartare; crispy pig's head; meatballs with goat-cheese agnolotti; trout with potato confit; cavatelli with lamb Bolognese; almond cake; grilled banana with coconut sorbet.
---