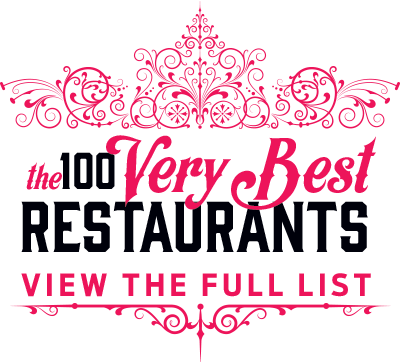 To come up with anything priced comparably, you'd have to talk about an ethnic mom-and-pop. For a similar bill of fare, you'd have to talk about a chain like Applebee's. And to find comparable quality, you'd have to talk about—well, the other restaurants on this list. This plain dining room is a place for those who love their junk food but can no longer abide its many degradations. The steak-and-cheese isn't "authentic," but it's glorious—generous and meaty and (okay, we'll say it) better than the majority of what you'll find in Philly. The fried chicken is as crispy and juicy as the fast-food chains but not shot through with sugar and chemicals. The burgers are all that remain of the late, great Ray's Hell-Burger, and they're among the best in the area, perfectly seasoned and grilled with care.
Open: Daily for lunch and dinner.
Don't Miss: Crab bisque; lobster-crab-and-shrimp cakes; burgers, including the Mack (with lettuce, tomato, and American cheese) and the Dogcatcher (with bone marrow); adult milkshakes, including a twist on bananas Foster, with flambéed banana and rum, and another with Baileys Irish Cream and Oreos.
---