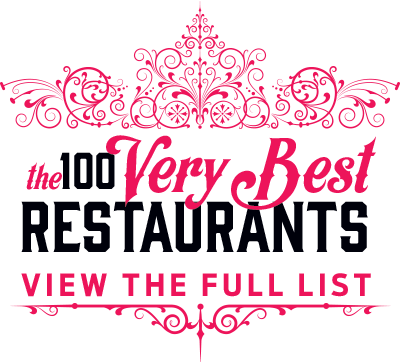 The expanses of exposed brick in this gorgeously industrial space are about the only conventional restaurant trappings you'll see at RJ Cooper's modernist mecca. Rocks, bricks, and tweezers take the place of tableware, the kitchen is smack in the middle of the dining room, and dinners come in 4-, 16-, and 24-course set menus. If those last two options sound challenging, know that a single meringue or Kusshi oyster with lime "caviar" may count as a course and that Cooper's cooking values brow-raising surprise over belly-patting satisfaction. Not every dish succeeds—we could have done without the twig-like dehydrated carrots—but nearly everything is thought-provoking. Cooper himself is a boisterous, unpredictable figure—he'll chastise a diner for not finishing an herb leaf one minute, then rush a blanket over to the shoulders of a chilly woman the next.
Open: Tuesday through Saturday for dinner.
Don't Miss: The menus change frequently, but recent hits have included black bass with Meyer lemon and fennel; crispy pig tails with blood orange; Brie/sweet-onion fondue with Madras curry; kuri-squash soup with maple and chili; and the Usual Suspects cocktail, with cachaça, tonic, and pineapple.
---