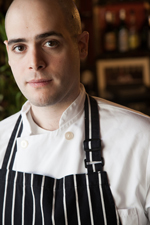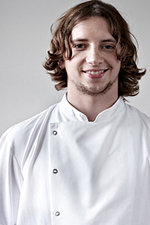 Washington has seen an influx of famous restaurateurs such as Daniel Boulud and Jose Garces spreading their empires to the city. But arguably more exciting is the arrival of young, ambitious chefs who've trained with major culinary players and who are choosing DC as the home for their first restaurants; think Momofuku and McCrady's vet Aaron Silverman opening Rose's Luxury, or Jeremiah Langhorne (also of McCrady's) and his upcoming Shaw restaurant. The next in this category: Zero Degrees Zero Minutes, a project from WD-50 alums JJ Basil and Chris Wolff.
Basil, a native Washingtonian, and Wolff met in Wylie Dufresne's avant-garde New York kitchen, where they worked up to sous chef and chef de partie, respectively. Both of their résumés include other noteworthy stops on the way to DC, including time at Torrisi Italian Specialties and Tokyo's Nihonryori RyuGin for Basil, and London's Viajante for Wolff. Basil says the eclectic mix of experiences and cooking styles influences their thought process and, to an extent, cuisine—but don't expect attempts to replicate Dufresne's unique style.
"The most special thing about [WD-50] is that it teaches you how to think," says Basil. "Anyone can take that style and run with it, but it would be doing Wylie a disservice. More than anything, it teaches you how to be your own guy, which is priceless."
Basil and Wolff are still looking for a space, ideally one slightly off the beaten path, where they could cook for just a dozen or so guests when starting out. "We want to keep it as small as possible, as personal as possible," Basil says. In the meantime they'll run pop-ups out of Darnell's Bar, starting with the first on February 18 and 19 (tickets are available online for $125). The chefs devised the six-course menu with various snacks and wine pairings by sourcing the best ingredients they could find in the area and making connections with small farms such as Sycamore Spring in Frederick, Maryland. The menu reads like a list of ingredients, mainly because otherwise it could stretch to pages; many of the dishes take weeks of preparation, such as the lightly grilled, slow-cooked daikon floating in a roasted grain broth brewed from numerous root vegetable stocks.
"It's very simple-looking, but there's a lot of process behind it," says Basil. "It's hard to speak about a style. You can use a lot of words to describe things that don't really mean anything when you go to eat someone's food. It's incredibly personal and well thought-out but doesn't hit you over the head."
As for the name—or 0º0' symbol, in this case—it's a fittingly nuanced symbol of Washington. A Zero Milestone was erected near the White House in the 1920s, intended to be a starting marker from which all highways in the US should be measured. The granite construction didn't end up serving that purpose, but it stands as a notable sight nonetheless.
"It's a nod to the city and our beginnings," says Basil. "This is just us starting out. The future is going to be what it is."