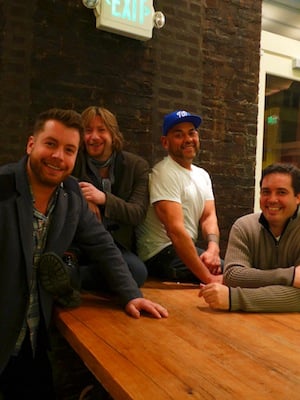 Those with a sweet tooth and/or cocktail craving, take note: 14th Street has a new spot for you come spring. Restaurateur Aaron Gordon has partnered with former Komi and Marcel's pastry chef Robert Underwood and barmen brothers Ari and Micah Wilder on Red Light, a hybrid bar/dessert destination. The new concept takes over for Bar di Bari, Gordon's cafe that closed in late January.
"It was a daytime concept in a nighttime area," says Gordon, citing the light lunchtime foot traffic on weekdays, which keeps most neighboring restaurants closed until dinner.
Red Light, once it opens, will be the opposite of an afternoon spot—unless you prefer sipping Champagne in the sunshine, as you can on the revamped 44-seat patio during the weekend. Inside, the former European-cafe aesthetic will be wholly made over by design studio SwatchRoom to include an 18-seat drink-and-dessert bar, a centerpiece chandelier, and leather banquettes. Micah spent time at San Francisco's famed Bubble Lounge, and the brothers plan to source bottles and four sparkling wines on tap—including Champagne, Cava, and Prosecco—all priced below $10 and as little as $4 during early evening and late-night happy hours.
Many of Underwood's desserts will play off the boozy theme, with sweets such as black-and-tan doughnuts (ale-batter beignets with a chocolate-stout filling), a White Russian and cookies, or the "drunken drumstick," a spiked riff on Nestle's chocolate-ensconced ice cream cone. House-made sorbets and gelatos will be available for those who want their sweets alcohol-free, along with seasonal soufflés and a savory cheese course—here a fondue for two with pickled fruits and breads for dunking.
For those who prefer to drink their dessert, the Wilder brothers—who also created Pearl Dive/Black Jack's opening cocktails and those at Fed Restaurant & Lounge—have started on a lineup of boozy shakes and ices. You'll find a "cake shake" made with Gordon's Red Velvet line of cupcakes, house-made ice cream, and rum. The brothers also plan for a shaved-ice cart offering fruit-studded ice sliced to order and topped with various liquors, house syrups, and nectars. On the less-sweet side, you'll find classic cocktails and various spiked coffees.
As for the name, the bar will embrace a bordello-esque, rock-and-roll aesthetic. The team says it also nods to the neighborhood's past as a red-light district, as well as the grittier, racier side of 14th they remember from growing up in DC. Stay tuned for opening details come April.