Adams Morgan may conjure images of drunken crowds, a stereotype not necessarily helped by the Reef's fraught closure last year. Now the new tenants of the three-story building, who also own Ripple in Cleveland Park, are looking to join the ranks of AdMo spots that cater to a calmer clientele with Roofers Union. The team devised a space that combines a bar, sit-down restaurant, and, come spring, a revamped roof deck. Here's what to look for at every level when it opens Tuesday.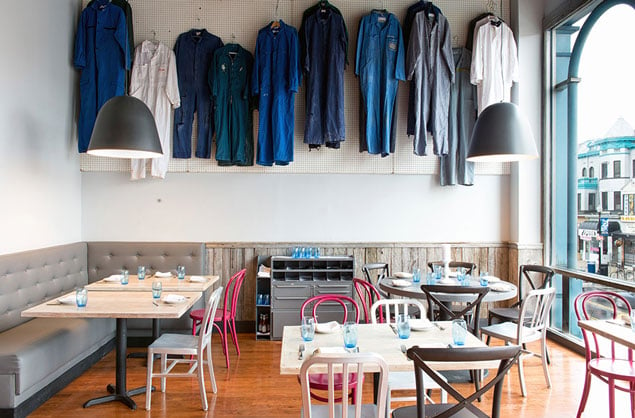 First floor: corn dogs and cocktails
Ripple is known for creative cocktails—remember the Pelvic Floor Rickey?—and you'll find similar aspirations at Roofers. The name nods to the restaurant's top deck, though you'll drink on the bottom floor during the winter debut. Barkeeps in the warmly lit, brick-walled room mix riffs on Old Fashioneds with spiced syrup and orange oil, and pour a variety of moderately priced (mostly $6) craft brews on tap. For snacks, look for dishes such as house-made French onion dip and a house-made andouille corn dog on the limited bar menu; the latter is served with homemade Whiz for all the junk-food connoisseurs.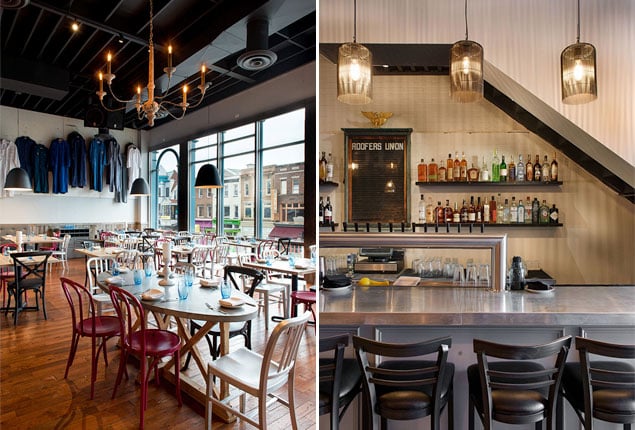 Second floor: a window-walled restaurant
Reef regulars won't recognize the second-floor dining room, which accepts reservations. Gone are the fish tanks and blacked-out windows, replaced by clear floor-to-ceiling panes looking out onto 18th Street. Chef Marjorie Meek-Bradley devised a more casual menu than the one offered at Ripple, filled with the kind of gastropub-y eats she prefers on her days off. Diners can make a meal of small plates such as local lamb ribs, roasted cauliflower with mint pesto and pickled raisins, and miniature sweetbread po' boys. You can also dig into heartier entrées. The "stuffed" side of the menu lists house-made sausages in freshly baked pretzel rolls—minus the merguez, which is served over lentils—while "stacked" refers to sandwiches; we like the sound of a crispy chicken thigh glazed with Sriracha and honey. Straightforward entrées like beer-steamed mussels and steak frites round out the options, most of which cost under $20. Newish pastry chef Vanessa Ochoterena whips up homey desserts such as a fudge-pretzel sundae and a tiered cake layered with chocolate and Boston cream. Dinnertime conversation fact: The uniforms hanging from one end of the room are vintage coveralls once worn by roofers.
Third floor: a remade roof deck
The top floor requires a climb up several flights of stairs, but the view of the District skyline is worth it. The roof is currently being remade into a drinking and snacking spot for the spring, with a possible expansion of space. Meek-Bradley plans for a rooftop brunch that may or may not be bottomless but will definitely be sky-high.
Roofers Union. 2446 18th St., NW; 202-232-7663. Open daily at 5.