It's been a busy few months for the Neighborhood Restaurant Group, with the recent debuts of both Bluejacket Brewery/the Arsenal on the Capitol Riverfront and the Iron Gate in Dupont. Next up: the biggest and most ambitious Red Apron Butchery to date, joining sister shops in Union Market and the Mosaic District. While many of the old favorites grace the menu—including craveable sandwiches such as the meatball sub—there are plenty of new elements to look for when the eatery opens on Wednesday.
Tigelle breakfast sandwiches
The Penn Quarter location is the first to sell breakfast sandwiches, and they're of a variety that's virtually unknown in DC. Chef Nate Anda discovered Italian tigelle flatbreads while traveling in Tuscany, and imported molds to recreate the English muffin-esque rounds. The fresh breads are thinner and crispier than any Thomas' creation, and Anda fills them with indulgent ingredients; think a "morning meatball" with redeye gravy, or a riff on the classic morning muffin slathered with maple butter and stuffed with house sausage, American cheese, and a fried egg. Completing the morning pickup: brews from Ceremony Coffee Roasters out of Annapolis.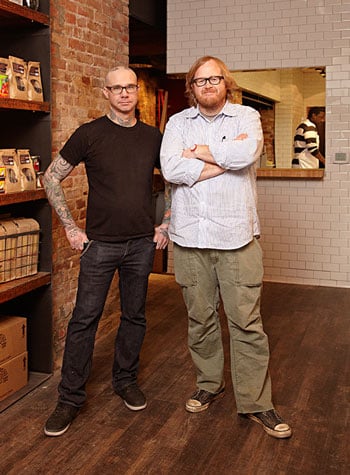 Atomic Cheese Whiz and Vietnamese dogs
Yes, you'll be able to order the Red Apron burger, offered here every day instead of just Friday. There're also plenty of new options from Anda and co-chef Ed Witt, formerly of 701 and 8407 Kitchen. You might try a warm rare roast beef sandwich with house-made "atomic" Cheese Whiz and ranch aïoli or a rotating lineup of Red Apron hot dogs, like the Vietnamese-style spicy frank with Asian slaw and Thai chilies. Office workers who don't have time to indulge in the "porkstrami" and a beer—or even wait for made-to-order items—can pick from a lineup of ready-to-grab cold sandwiches. Dinner is also a takeaway affair, with rotating items such as rotisserie chickens, racks of pork, and various side dishes.
Partisan seating
The other half of the equation on D Street is the Partisan, the adjoining sit-down restaurant slated to open for dinner in a couple of weeks. During the day, half the restaurant's dining room—about 45 seats—will be devoted to breakfast- and lunch-goers looking to linger over their sandwiches, bottled beers, or glasses of wine. The dining room will turn back over to Partisan in the evenings, but Red Apron's butcher counter will remain open for ordering fresh cuts of meat and premade items from the deli case.
A chef's pantry and a butcher case
Have you ever tried sweet potato vinegar? Now you can. A portion of the shop is devoted to the chefs' favorite pantry items, including finishing salts and oils, spices, and culinary-nerd finds such as Rancho Gordo heirloom beans, Opinel folding knives, and Bathtub Gin preserves inspired by cocktails. Red Apron's house rubs and brines are also available, and over in the refrigerated section you'll find the full lineup of charcuterie and pâtés, sauces, stocks, and more. In the market for a giant hunk of dry-aged beef? Yes, you'll find that too.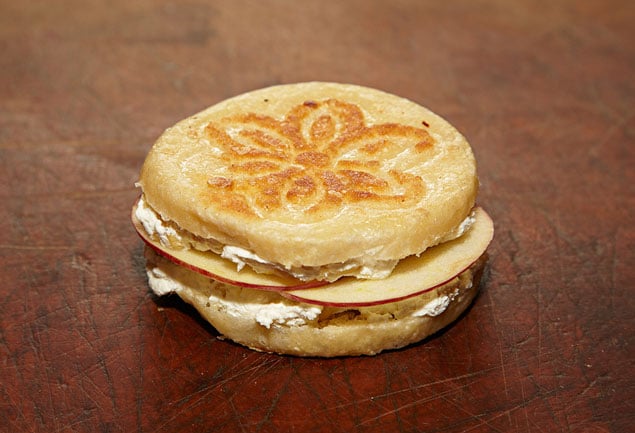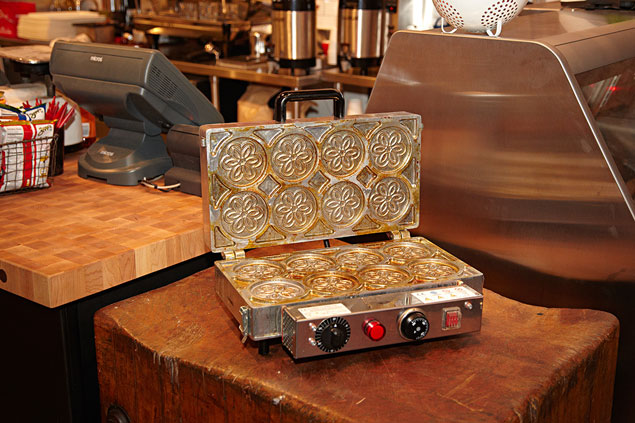 More to come
Once the shop is up and running, look for plenty of specials and new additions to the display case. Anda and Witt are currently working on a selection of fresh pastas. And of course, there's that 80-plus-seat restaurant on the horizon, where you'll be able to sample many of the meats Red Apron offers.
Red Apron Penn Quarter. 709 D St., NW. Open for breakfast Monday through Friday 7:30 to 11 and lunch Monday through Friday 11 to 2:30. Weekend menu hours are Saturday 9 to 2:30 and Sunday 9 to 5. Butcher counter hours are Monday through Friday 7:30 AM to 8 PM, Saturday 9 to 8, and Sunday 9 to 5.