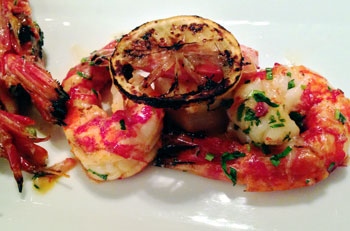 Todd Kliman and Garrett Graff were away this week.
Ann Limpert
OMG Bars at Baked & Wired
Few things are more stress-inducing for claustrophobes than chaotic crowds jammed into small spaces. My stomach tightens at the thought of every elbow knock and handbag jostle. But one of the few places where it's worth it to suck it up and deal is the tiny Baked & Wired in Georgetown, where there always seems to be a line snaking through the narrow room. The cupcakes are what draw most folks, and as the once-trendy sugar bombs go, the bocce-ball-size ones here are great (the German chocolate cake flavor, especially). But there's something even better hiding behind the glass cloches of frosted treats: the OMG Bar. It's basically a s'more, just upgraded with really good chocolate, a layer of fluffy marshmallow, a salty-crumbly graham cracker base, and—here's what sets it apart—a dense slather of caramel. It's kind of magical. And it more than lives up to its name.
Anna Spiegel
Carabineros shrimp at BlackSalt
BlackSalt is hardly a sleeper restaurant, with guests such as Michelle Obama. Still, it doesn't always receive recognition for being a trailblazer in Washington, which I think it deserves. No, I don't mean avant garde dishes à la Minibar, or a cutting-edge vibe. Jeff and Barbara Black's Palisades fish market/restaurant was a pioneer in DC's market-restaurant trend when it debuted nearly ten years ago, and remains the only eatery where you can pick out pristine seafood from the counter and have the kitchen make a meal to your liking. Though newish chef Mike Huff has plenty of tasty dishes on the menu—a squid-ink spaghetti with Nantucket Bay scallops and bouillabaisse sauce comes to mind—the market-to-table approach is my favorite way to dine.
Fishmonger MJ Gimbar sources some hard-to-find items, either by request for those-in-the-know or at the behest of the kitchen. One such gem is Carabineros shrimp, fire-red deep-sea prawns most often served in Spain and Portugal. If tuna is the chicken of the sea, these are the foie gras; a single large shrimp goes for $25, and special orders take up to two weeks. This likely seems overpriced if you're lukewarm on crustaceans, but the rich meat is worthy of a splurge for true lovers—think lobster, but more concentrated. If you spot them in the market, ask for Huff's go-to preparation: simply grilled with sea salt and lemon, finished with butter and a pinch of parsley. Don't ignore the lightly charred heads, served alongside. It might feel odd extracting the intensely flavorful innards in a dining room where diners in ties sip martinis, but that's just part of what gives this stalwart some edge.