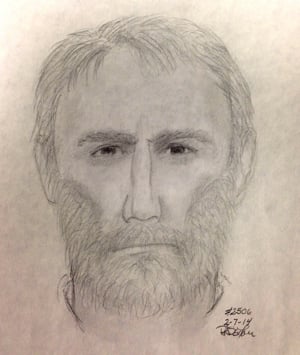 Alexandria Police are investigating whether a man arrested Thursday in West Virginia has connections to three high-profile murders in the city, but they are "nowhere close" to declaring him a suspect or person of interest in the cases, spokeswoman Crystal Nosal says.
Charles S. Severance was arrested yesterday in Wheeling, West Virgina on a warrant issued by a Loudoun County judge. He was wanted by police there for possession of a weapon by a felon. Although Alexandria authorities insist Severance, 53, is not being accused of the homicides, his photograph shows similarities to a suspect sketch released after the February 6 death of music teacher Ruthanne Lodato, who was killed when a gunman knocked on her door and opened fire when she answered.
Lodato's death was comparable to deaths of Ron Kirby, the director of transportation planning for the Metropolitan Washington Council of Governments, who was gunned down in his home last November, and Nancy Dunning, the wife of former Alexandria Sheriff Jim Dunning, who was shot dead in her home in 2003.
Alexandria Police Chief Earl Cook said March 6 that bullet fragments found at all three crime scenes featured enough similarities that the homicides would start being investigated for connections to each other.
"The cases appear to be linked, but until we have evidence to point to only one suspect, we investigate all possibilities," Cook said at the time.
Severance spent 10 days in jail on a 1997 gun charge and was arrested in 2005 for carrying a concealed weapon, according to WRC. Virginia and federal law prohibit convicted felons from possessing gun. He is being held on $100,000 bond at the West Virginia Northern Regional Jail outside Wheeling while Loudoun County authorities extradite him on the possession charge.
He has connections to Alexandria, too, having run for mayor unsuccessfully in 1996 and 2000.