Every year, we're excited to take on spring race season. But more often than not, dressing appropriately for a springtime race can be tough, given the fickle weather. We're here to help. Find the perfect race-day outfit below, whether you're a no-frills, minimalist runner or want to make a fashion statement while pounding pavement.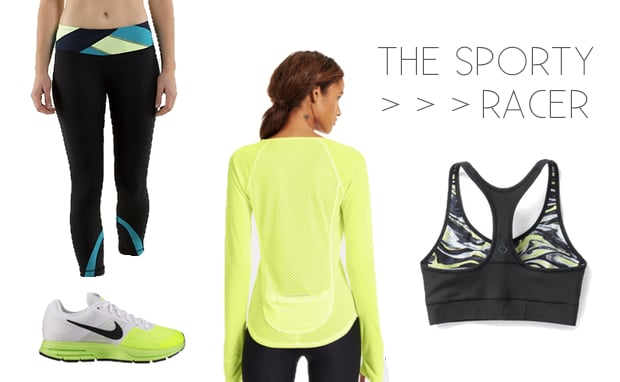 You're an athlete at heart who loves all sports—including running. This Under Armour long-sleeve tee is soft and breathable, thanks to the hole in the back, while the reversible printed sports bra lets you decide how to wear it on race day.
Under Armour Fly-By Long-Sleeve, $43; Lululemon Run Crop II, $86; Moving Comfort Switch It Up Racer, $36; Nike Air Pegasus +3D, $100.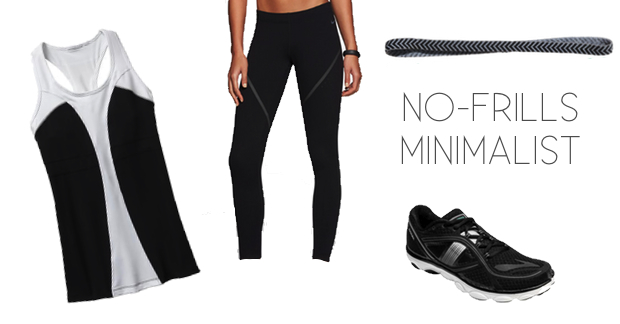 You're the type of runner with only one goal in mind: to set a new personal record. This minimalist outfit keeps it simple in black and white and won't distract you from achieving your goals.
Athleta Turbocharge Tank, $59; Nike Luxe Running Tights, $120; Brooks Pureflow 3 Shoes, $100; H&M Hairbands $3.95.
In a pack of thousands of runners, you want to stand out on race day. Channel spring with this bold ensemble, complete with a built-in sports bra, colorful shorts with a zippered pocket, and a matching hydration bottle to complete the look.
C9 Women's Layered Run Tank, $20; New Balance Graphic Shorts, $48; Nathan Quickshot Plus, $20; Newton Energy Gateway Trainer, $119.