Though the District boasts a good number Thai restaurants, not many have menus that venture beyond pad Thai and other mainstays (though the suburbs are rich with variety for those willing to travel). Hoping to expand the scene are Bangkok natives Nat Ongsangkoon and Dia Khanthongthip, the husband-and-wife team behind Soi 38. The Foggy Bottom eatery, debuting April 15, is named after one of the largest night markets in the couple's home city, and will offer a menu inspired by the street fare served there.
This isn't to say you won't find familiar dishes; the couple also own the nearby Thai Place, whose menu reads more mainstream. Still, Ongsangkoon says they want to introduce guests to lesser-known recipes they make for their family, as well as the Northern Thai specialties chef Mitchai Pankham prepared at his restaurant back home. You might start with herb-marinated grilled pork neck or crispy rolls stuffed with Chinese sausage and crab. For the most adventurous, there's slow-cooked pork liver tossed with toasted rice, chilies, and mint; another preparation with crispy shrimp and cashews plays to tamer tastes. Catering to all palates is another market staple: an entrée of Thai fried chicken with vinegary chili sauce for dipping.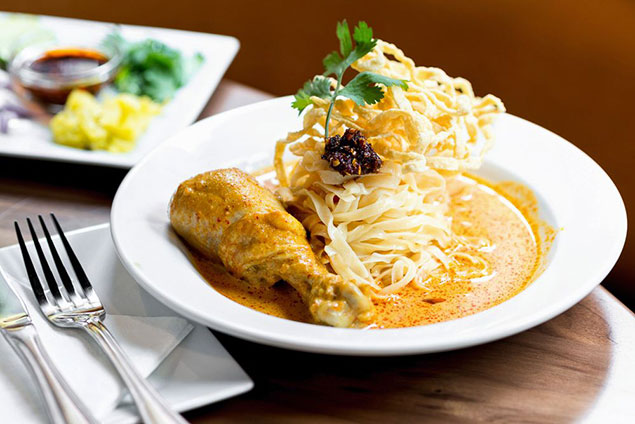 Ongsangkoon and Khanthongthip's young son is gluten-intolerant, so you'll find a number of wheat-free dishes labeled on the menu. A good place to start is curries—including gaeng nom, a light, fiery toss of shrimp, tamarind, and vegetables—and hot pots served over a live flame, such as a fragrant lemongrass version simmered overnight with bone-in pork spare ribs. Pankham's Northern-style dishes lean heartier; think traditional khao soi, a curry egg-noodle dish topped with chicken legs, crispy noodles, and Thai pickles. Those in the know can also ask for off-menu specialties such as bacon-fat-fried rice topped with a runny egg, or beef boat noodle soup in cooler weather.
The restaurant's decor also reflects the lively night markets, with dark walls covered in gold graffiti by Baltimore-based street artist Gaia. Dragons and elephants parade around the warmly lit space, while a dragon-ish eye peers out over the bar. Popular barman JP Caceres is behind the cocktails, including unusual sips such as shareable teapots of whiskey-tamarind punch, rum-spiked Thai coffees, and spicy Singapore Slings on draft.
Thai spots aren't renowned for desserts besides mango and sticky rice, but here you'll find a comparative wealth of options for finishing a meal. The kitchen churns its own ice cream, including dairy-free fresh Thai coconut topped with crunchy peanuts, and a Thai tea flavor. Plan to scoop the cooling sweets on a 52-seat patio in warmer weather.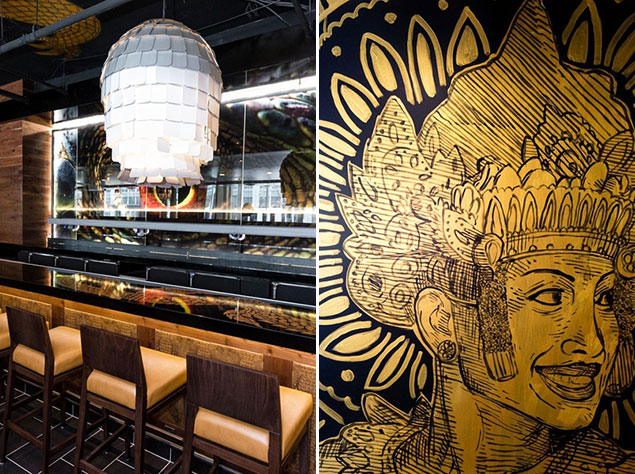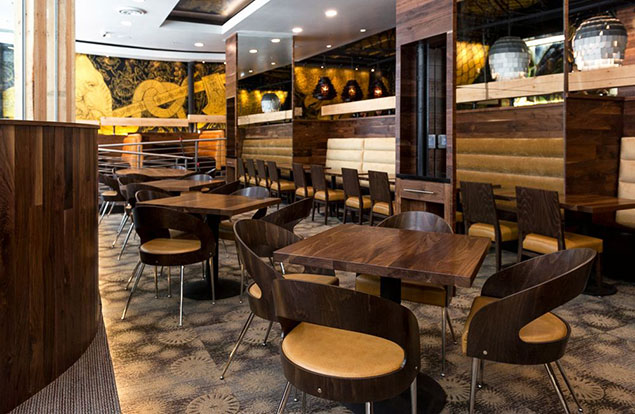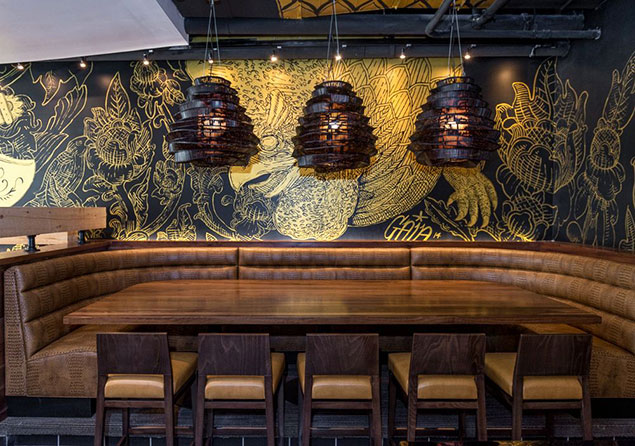 Soi 38. 2101 L St., NW; 202-558-9215. Opening for lunch and dinner on April 15.