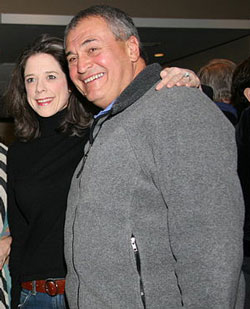 And now for some less-than-friendly uncoupling. Power lobbyist Tony Podesta has filed a scathing request for divorce in DC Superior Court yesterday from his estranged wife, and fellow lobbyist, Heather Podesta.
The same day, Heather filed her countersuit.
Separated for more than 18 months after a decade of marriage, the couple, who have no children, protested when news of their split hit that the divorce would be amicable.
But in his filing in Superior Court, Tony, founder and chairman of Podesta Group, scores his wife not only for trading on his powerful name but for using it to boost the fortunes of her lobbying firm, Heather Podesta + Partners. "It takes a Podesta to take out a Podesta," his filing quotes Heather as saying.
Tony also paints a portrait of Heather as a very junior partner in what became one of the highest-profile power matings in DC. "Ms. Podesta was 33 years old when the parties married," his complaint reads, sniffily pointing out that she "was working for a trade association when she met Mr. Podesta" after stints at various law firms. "Ms. Podesta was earning approximately $55,000 per year at the time of the parties' marriage." His filing also notes that Heather, whom it refers to pointedly as Heather Miller, didn't take the last name of either of her first two husbands before their 2003 marriage.
In Washington, a romance between unequally empowered parties is nothing out of the ordinary. Nor is it odd for the more modestly remunerated spouse to point out that it takes two to build a credible brand, as Heather points out in her more reserved complaint: "As a married couple who both lobbied," the document says, "they strategically cultivated their public image, and worked to build their 'Heather and Tony Podesta' brand for the success of their shared enterprise."
Tony remembers the caring—he says in his complaint that the relationship can be healed—but not the sharing. During their marriage, his filing says, her career "has risen meteorically . . . with Mr. Podesta's assistance and connections. Mr. Podesta introduced Ms. Podesta to important political, social, and business contacts. [He] taught [her] about the lobbying industry, sharing with her the knowledge he had gathered through decades of experience."
His larger point seems to be that everything she has, including anything she's gained from her own business, streams from him. The filing indicates his side will argue that Tony should keep the significant art collection he brought to the marriage—what he calls "his separate property"; otherwise it requests an equal split of marital property.
Her filing, meanwhile, asks outright for their mansion on Belmont Road, Northwest, saying they developed the house together with the goal of creating "a uniquely beautiful architectural space for the dual purposes of having a wonderful home in which to live and promoting their shared interests, both professional and personal."
But the tactic shows that the coming fight won't be pretty: the complaint accuses Heather of seeking to "embarrass and harass" Tony "in an effort to gain economic leverage."
At least now it's a fair fight.