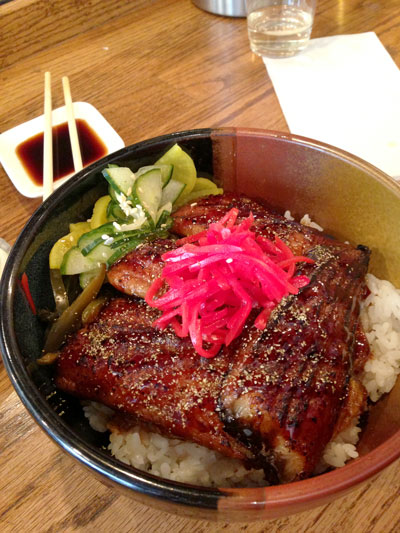 Garrett Graff
The Street Hero taco at Big Rub BBQ food truck (Bentonville, Arkansas)
Thanks to Walton family money and the city's crop of Walmart "secret millionaire" employees, Bentonville, in northwest Arkansas, is fast developing a real food scene, especially as the launch of the incredible, world-class Crystal Bridges art museum accelerates tourism. Matthew McClure of the Hive, the restaurant at Bentonville's new boutique hotel 21C, is a nominee for a James Beard Award this spring (Best Chef South), the city's about to get its first speakeasy, and—of course—it has a burgeoning food truck scene staked out on a semi-permanent downtown corner. While Crepes Paulette is the city's best known, and sports a steady line of locals through lunchtime, right next door is the only truck a visitor to the area will want: Big Rub BBQ. The Jordan Sandwich is a delicious pile of barbecue topped with bacon (#morepork!), but the Street Hero taco is the most original. Not for the barbecue purist, the Street Hero features brisket topped with cheese, avocado, and a general helping of—yes, really—Doritos. Avocado and neon-orange corn chips might not have been on your toppings list before eating this taco, but I've spent the entire last week wondering whether I could add Doritos to whatever dish I've eaten since.
Todd Kliman
Sweetbread po' boy at Roofers Union
Sweetbreads in the States are almost always served fried—not that there's anything wrong with that; it'd just be nice to see more chefs take advantage of their textural possibilities. It's surprising, then, that no one has thought to slip them into a po' boy, as Marjorie Meek-Bradley has in this tasty take on a Peacemaker.
The soft creaminess of the inside of the sweetbreads reinforces the initial impression of a lightly fried oyster, and sharpens the contrast with the crackly exterior.
As impressed as I am with the clean handling of the main ingredient, I'm just as taken with the fact that Meek-Bradley has stuffed her roll with shredded iceberg and not attempted to fancify things with some mâch or watercress or mesclun. The cool crunch is a perfect counterpoint.
Roofers Union is off to a good start, with a lineup of fun, smartly done sandwiches, snacks, and sausages.
Now, if only someone could do something about that ugly display of overalls hanging from the north wall and paint over that awful palette of blues on the wall facing it.
Ann Limpert
Fried fish tacos at Gringos & Mariachis
Fried fish is something many cooks attempt but few get right. And when it's bad, it's bad—witness the disaster of a beer-battered tilapia taco that showed up during a too-lazy-to-walk-anywhere dinner at the Logan Circle Tortilla Coast. Still, though, this is a good time for fans of the stuff—in the past month or so I've also had terrific fish and chips at the District Fishwife, in Union Market, an amazingly crunch (even after a 20-minute takeout ride) flounder taco at Fish Taco, and now, the equally crispy pescado taco at the excellent new Gringos & Mariachis in Bethesda.
Aside from the double-wide stroller that was parked in one corner and the never-ending strains of "American Pie" blaring over the speakers, the dark, skull-painted taqueria feels more city than suburbs. Nearly everything we had at an early Saturday dinner was tasty, from the thick but somehow airy tortilla chips to the artfully layered duck nachos to the easy-drinking hibiscus-ginger and jalapeño-cucumber margaritas. The winner though, was that fish taco, a sweet filet that was puffed up so much that it barely fit in its little corn tortilla. A few spoonfuls of slaw and a zig zag of creamy Sriracha sauce was all it needed. And it quickly erased any bad memories of fish tacos past.
Anna Spiegel
Unagidon at Donburi
The District doesn't boast many great hole-in-the-wall restaurants, but Donburi is one of them. The newish Adams Morgan spot only contains a few stools, making it one of the toughest tables—or, in this case, counters—in town on busy nights. But it's worth the wait for the eponymous donburi, or Japanese rice bowls, particularly the version topped with barbecued eel. Other versions come heaped with tempura-style shrimp and vegetables or silky slices of lightly cured salmon sashimi. (Tip: Get the best of both worlds and order the crispy shrimp or raw fish as "sides" instead of bowls.) I tried both, but couldn't stop digging into the deep bowl heaped with perfectly cooked fat grains of rice, caramelized onions, fat lobes of eel, and a bright scattering of pickled ginger and cucumber for crunch. It's Japanese comfort food at its best.