At first glance, Compass Rose doesn't scream Washington: No stars and bars line the walls, no half-smokes appear on the menu. But in less traditional ways it's one of the more locally leaning spots to open in the 14th Street corridor of late. A small, eclectic menu of international street eats reflects the global nature—and well-traveled background—of many in the city. Chef John Paul Damato, a veteran of José Andrés's empire, joins a group of owners who also have roots in the area; husband-and-wife duo Rose Previte and David Greene met years ago at the soon-to-close Pour House—he's now an NPR Morning Edition cohost—and partner Mike Schuster co-owns Trusty's, Star and Shamrock, and other Capitol Hill spots. Here's what to look for in the funky 65-seat space, now open on T Street.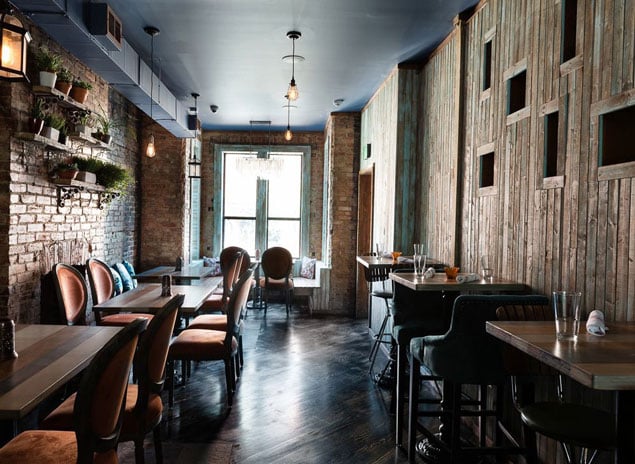 Street fare from Argentina to Tunisia
Damato's kitchen may be small, but it turns out a globe-trotting assortment of dishes inspired by street food and travel. You could start with Georgian khachapuri, a rich cheese bread that Previte and Greene fell in love with during a three-year stint in Russia, then move on to Brazilian red shrimp spiced with pink peppercorns and pineapple or, closer to home, mini sausage corn dogs. A section of snacks provides sustenance for drinkers, but you're not limited to grazing. Many plates are meal-size, such as the Chilean lomito sandwich stuffed with roast pork, avocado, and spicy nduja sausage.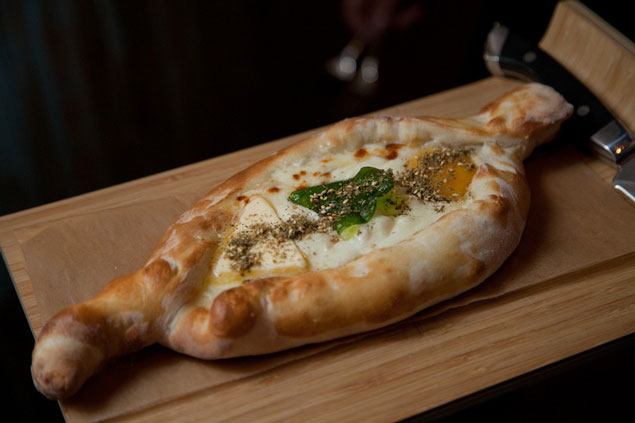 Georgian "black wine" and house rosewater
The beverage lineup is just as eclectic as the food, with even more unusual finds. Need a date-night conversation starter? Try ordering Lebanese 961 Red Ale from the only microbrewery in the Middle East, or the Georgian house red, nicknamed "black wine" for its deep color and robust taste. On warmer nights you may want to opt for interesting cocktails such as the Summer Night in Beirut, made with Hangar 1 blueberry vodka, fresh lemonade, and house-made rosewater.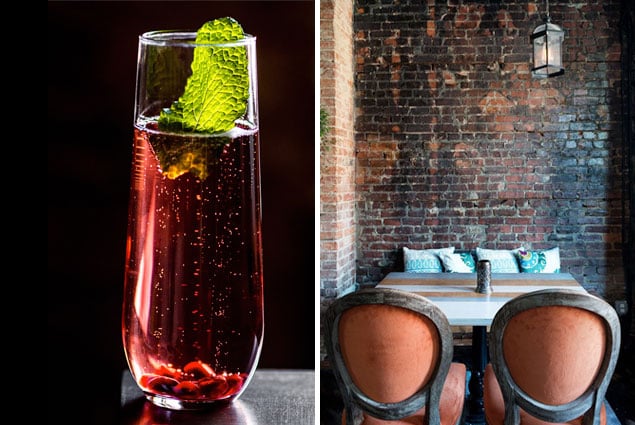 The outdoors inside
The cozy space mixes urban and outdoor touches. A large skylight illuminates brick walls lined with potted plants, repurposed wood surfaces, and a blue ceiling meant to evoke the sky. For true al fresco dining, a front patio is set to open this week with about ten seats.
Late-night eats and hours
Two dining rooms and a bar may give the appearance of a restaurant, but Previte says the space was equally designed for snacking and drinking. Stop in for a happy-hour libation, or drop by post-dinner to spend the night sipping Czechvar beers. A late-night menu—a condensed version of the regular offerings—is currently in the works.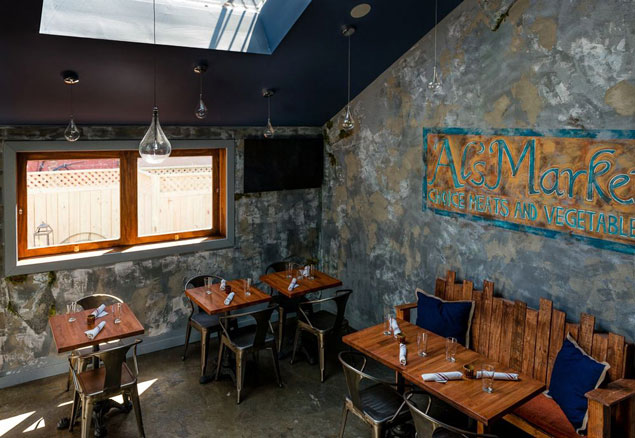 A living-room vibe
"My husband and I live upstairs, so it's kind of an extension of our living room," says Previte. They searched for a space with an apartment attached, following in the tradition of Previte's grandfather, who lived above his grocery store for many years. The aim is for a welcoming vibe, a continuation of their experience at the Pour House, where Previte was a server and Greene a regular. (Many in the bar's extended family of staff and customers attended their wedding.) "With the Pour House is closing at the end of this month, I hope the neighborhood spirit comes over here," says Previte.
Compass Rose. 1346 T St., NW; 202-506-4765. Open Monday through Thursday 5 to 2, Friday and Saturday 5 to 3, and Sunday 5 to 2.