Thai food inspired by Bangkok's night markets and creative cocktails land in Foggy Bottom on Monday with the opening of Soi 38. The golden-hued spot, outfitted with graffiti murals by artist Gaia, debuts for lunch and dinner.
We got an exclusive preview of the space and menu earlier this month. While staples such as satays and pad Thai dot the menu, the majority of dishes are lesser-known specialties from Thailand's vibrant markets—think grilled pork neck or fried chicken with lemongrass—as well as dishes from chef Mitchai Pankham's native northern region. Barman JP Caceres designed a cocktail menu with Asian flavors to match, including sips like whiskey-tamarind punch and spicy Singapore Slings on draft.
Reservations are accepted for the dining room, while a first-come, first-serve bar is the place to sip drinks or grab a place at the communal table. Once the restaurant is up and running, look for online ordering for carryout meals. A 52-seat patio is the place to savor house-made Thai ice creams over the summer.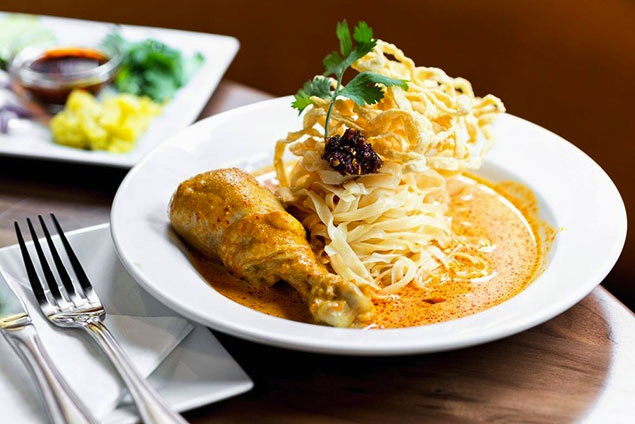 Soi 38. 2101 L St., NW; 202-558-9215. Open Monday through Thursday and Sunday 11 to 10, and Thursday through Saturday 11 to 10:30.