Unlike a maze, a labyrinth has a single path leading to its center and back out—there's just one way to go, with no decisions to make about which way to turn. This is by design. The idea is to allow those who walk a labyrinth to focus on inner thoughts.
"People walk a labyrinth for centering, feeling grounded, as prayer, for aspirations and yearnings," says Sue Mosher, who offers guided labyrinth walks throughout Washington. "They allow the labyrinth to speak to them so they make space for their inner lives."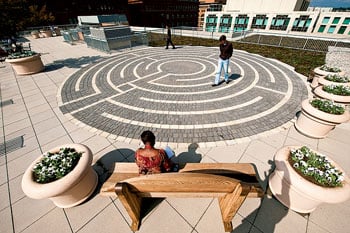 Interested in trying one? While labyrinths date back four millennia, there's been renewed interest in recent years, and two dozen labyrinths now exist within a ten-mile radius of DC. There are also versions as small as a smartphone app.
Starting in 2009, the Labyrinth Society designated the first Saturday in May—this year, May 3—as World Labyrinth Day, when, at 1 pm local time, people are invited to walk a labyrinth. To find one near you, check labyrinthlocator.com. For more information about labyrinths, see labyrinthsociety.org.
These six labyrinths, representing a range of designs, are open to the public. Although the patterns vary, the effect is the same. Unless otherwise noted, they're open daily from sunrise to sunset or a bit after.
American Psychological Association
On a green rooftop near Union Station, the 42-foot labyrinth features trellises, plantings, tables, a journal, and a finger labyrinth that you can "walk" with your fingers—a good option for those with ambulatory issues. Open Monday through Friday 7 to 7. Sign in at the security desk to go up to the roof, or call Holly Siprelle (202-336-5519) to arrange a guided walk. 10 G St., NE.
Barton Park
Part of the former Northern Virginia Whitman-Walker Clinic's healing garden, the 37-foot labyrinth of precast stone and pavers went into storage when that branch of the clinic closed, then it was moved to this Arlington public park in late 2013. Two benches sit amid the trees and plantings. Corner of North Barton and 10th St. N., Arlington.
Georgetown Waterfront Park
Although this ten-acre park can be busy, its paved labyrinth offers not only views of the Potomac River, Roosevelt Island, and Key Bridge but also a chance to quiet any outside noise. It's accessible for wheelchair users and stroller-pushers. A contemplative bench is nearby with a journal for your thoughts. 33rd and K sts., NW.
St. Aidan's Episcopal Church
Set among old pines and other trees, the 40-foot labyrinth is made of rubber mulch with white stones outlining the path and is set near a memorial garden with benches. At nearby Art at the Center, parishioner Kathryn Horn Coneway offers workshops on making finger labyrinths from clay. 8531 Riverside Rd., Alexandria.
St. Luke's Episcopal Church
A 62-foot labyrinth is made from turf and pavers, while a 36-by-36-inch plexiglass finger labyrinth is also available. A journal for your thoughts is under the bench. 6030 Grosvenor La., Bethesda.
University of Maryland
The Garden of Reflection and Remembrance labyrinth is adjacent to the campus chapel. Guided walks, yoga sessions, and special events are regularly scheduled. Benches, trees, and water elements help visitors connect with nature. 7600 Baltimore Ave., College Park.
Judy Colbert (judy@judycolbert.com) is coauthor of Peaceful Places Washington, DC.
This article appears in the April 2014 issue of Washingtonian.