Judging from the packed crowd on a recent Monday night—which included White House chef Sam Kass hanging out at the bar—the DC spinoff of famed Miami Beach restaurant Joe's Stone Crab is one of the hottest places in town. Maybe some are there for the Betty Draper-era formality (servers in tuxes, silver bowls for discarded crab shells) or have heard that the bar stirs up a mean mojito and old fashioned. Maybe others just want a break from small plates or dishes that have been taken apart, powdered, and tweezed beyond recognition. Or maybe they're fans of the South Beach original, which attracts such droves of tourists that you need to slip the maître d' $20 to get seated in less than a couple of hours.
If you're in the latter camp, you'll find little to recognize here. This version of Joe's is run by a restaurant group out of Chicago, and palm fronds and Florida-style decor have been traded for a soaring, marble-encrusted former bank. The only vestiges of the original come in the form of nostalgic black-and-white photos.
What does taste familiar are many Joe's standards: tangy-sweet coleslaw, tossed tableside; dense coconut cream pie; and, when they're in season from October to May, those famed pink-and-black stone-crab claws served with creamy mustard sauce. The chilled claws thus far have been underwhelming—lacking both sweetness and flavor—especially given their over-the-top price. (Incidentally, I visited the Joe's in Miami Beach last month and found the crabs paling in comparison with years past there as well.) I'd save my $50 and focus a seafood craving on the jumbo shrimp stuffed with crab, the supremely crunchy calamari, and the garlicky, scampi-like shrimp De Jonghe, which is showered in buttery bread crumbs. Less successful: the Maryland-style crabcake, packed with sadly bland lump meat, and oysters Rockefeller blanketed in a thick, flat-tasting cream.
Much of the rest of the menu calls to mind a typical steakhouse. And you'll be fine sticking to the traditional stuff—a really good, blue-cheese-heavy wedge salad (much better than the cafeteria-level Caesar), nicely crusty hash browns, an excellent, juicy bone-in rib eye. But it's worth seeking out some of the less predictable creations, such as beautifully sweet sea scallops with kale and strips of pork belly or lamb chops with bracing mint chimichurri.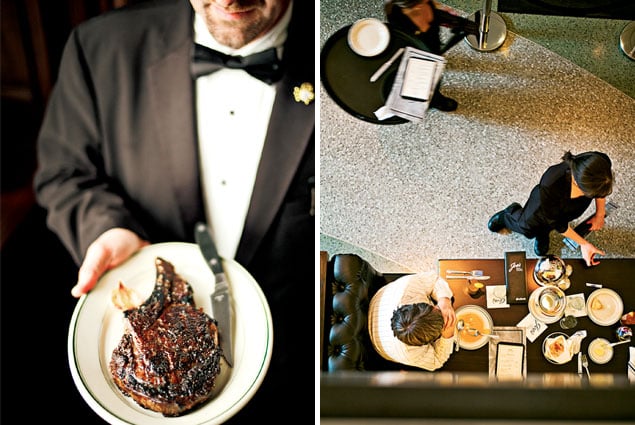 Sides—including a praline-butter-drenched sweet potato, lyonnaise-style potatoes with plenty of caramelized onion, and puffily fried asparagus with lemon butter—are served à la carte and, though the servers don't always tell you, available in half portions. So are the desserts, which are mostly of the refrigerated-pie variety (go for the chocolate-glazed Boston cream).
Looking around the buzzy dining room, you get the sense that lots of corporate cards are being set down. (A $54.95 New York strip? Why not?) But if you're on your own, the best perches are in the 150-seat bar room, where you can snag a walk-in banquette, sip an expertly made mojito, and take in what has become one of Washington's most quintessential scenes.
This article appears in the May 2014 issue of Washingtonian.
---