"You either do what people want and hope they're right," says Dean Gold, "or do what you want and hope they like it."
The Dino's Grotto owner quotes his mentor, a saying that comes to mind on the eve of opening his new Shaw restaurant with wife/partner Kay Zimmerman. The original Dino operated in Cleveland Park for nearly nine years before closing in February. The cozy Italian spot was a local favorite—evidenced, in part, by the $21,000 the team was able to raise in a crowd-funding campaign essential to opening the new eatery. Gold envisions the Grotto as a truer incarnation of the restaurant he always wanted when it opens on May 15. While the original idea for Dino was to be more flexible and more Italian in the dining approach—sharing, snacking—he found patrons wanting a traditional three-course structure.
"We became a different restaurant than I wanted to be because of that," says Gold.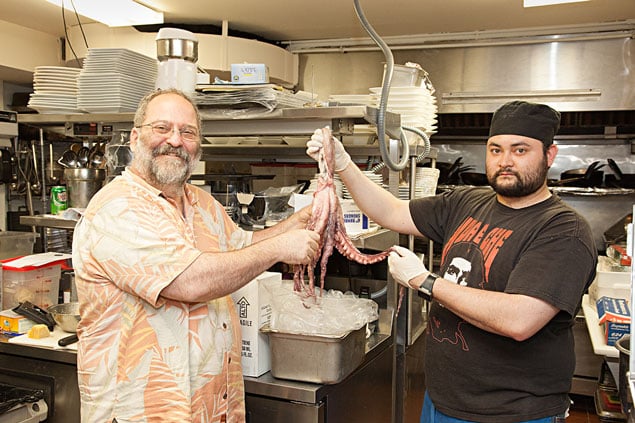 That's not to say Gold isn't listening to customers. Half the menu (a sample, subject to change) is categorized as "Dino regulars," with dishes such as meatballs in spicy tomato sauce, East Coast cioppino, wild-boar pappardelle, and Jewish-Italian mashups like the duck-schmaltz soup; dishes that regulars expressed sadness over losing, and happiness in regaining, when news came of Dino's demise and reincarnation ("Social media really allows you to learn what people love," says Gold). As for event regulars, you can also expect a return of major Jewish holiday celebrations/feasts with Gold's house-made gefilte fish, Seder meals, and other specialties.
The menu's other half, "market," plays more to the idea of flexibility. Here you'll find seasonal specialties such as a five-deep selection of local vegetable antipasto, morel risotto, and Chesapeake soft-shell crabs. More adventurous ingredients also dot the menu—pickled lamb tongue with salsa verde, bone-in goat pot roast—but you'll also find several varieties of burgers on ciabatta, from beef to vegan. Offerings in both sections are fewer than at the flagship, making the menu easier to change and source locally, a longtime commitment Dean looks forward to continuing.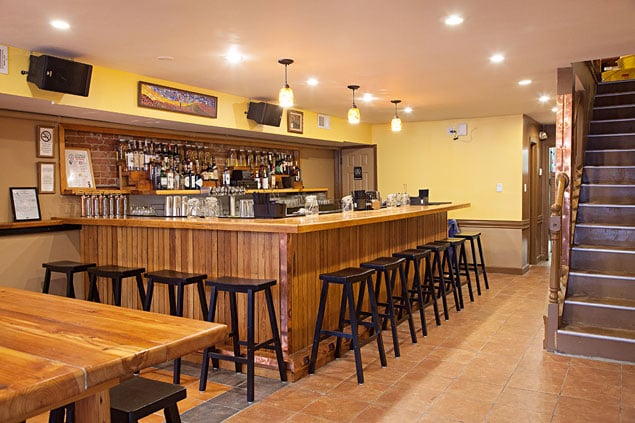 The space is also smaller—76-seats compared with 104—but has a larger, basement-level bar area for 24. While snacking and sharing is encouraged across the board, the den is the place to order cicchetti, cheeses, cured meats, and while away a few hours. Barmen Fabian Malone and John Dynan have a homemade focus when it comes to drinks, making Meyer lemon limoncello, infusing rum with peak-of-season blackberries, and sourcing a larger list of whiskeys and mezcals than you might expect for an Italian restaurant. Wine, of course, plays a large role, with a Coravin system that allows the bar to pour pricier and/or older Amarone and Brunello by the glass. In a few weeks look for a late-night menu with dishes such as Italian "pho" made with hearty chicken stock, loaded with meats and noodles, and topped with basil. Gold hopes the guests like it.
Dino's Grotto. 1914 Ninth St., NW; 202-686-2966. Current hours (as of May 15): Open Monday through Thursday 5 to midnight, Friday and Saturday 5 to 1, and Sunday, 4 to 10.