The newest and most anticipated bakery in town, Bread Furst, arrives from a veteran on the food scene: Mark Furstenberg, the master baker who helped bring artisan bread to Washington in the '90s with Marvelous Market and Breadline.
Though no longer affiliated with either business (coincidentally, the final Marvelous Market closed last week) Furstenberg is most enthusiastic about the new venture, calling it his "dream bakery." The rustic space features white walls, marble countertops, and hardwood floors and shelving. Diners can watch bakers Ben Arnold and Jack Revelle—former pastry chefs at Restaurant Eve and the White House, respectively—through large glass windows. "It's beautiful," Furstenberg says of the space. "It's planned just the way I wanted it to be—and I've had enough experience now to know what I wanted."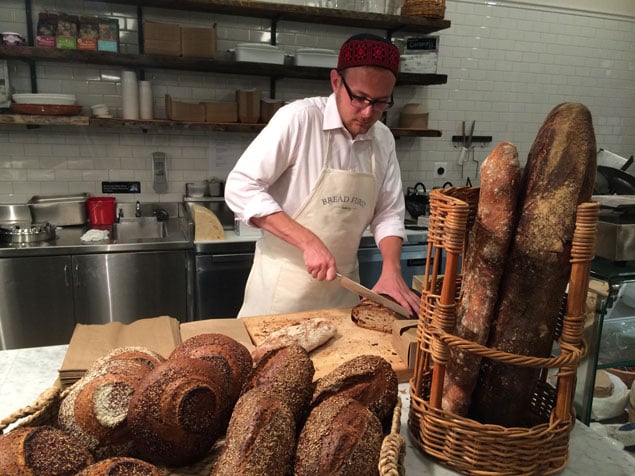 What he wanted this time around was to create a communal place in the residential (and restaurant-scarce) Van Ness location. People can stop by for coffee and pastry on their morning commute, pick up deli-style entrées to take home, and drop by with their kids for frozen treats in the summertime. "Mostly I care about being really immersed in the neighborhood," Furstenberg says.
Here's what to look for when you stop by this weekend. Take note: Items have been selling out quickly and may not all be available.
Fresh bagels
New York expats (and the rest of us), rejoice: Furstenberg serves what he describes as "chewy, not bready" bagels from scratch. They're made the old-fashioned way, boiled in malt-sweetened water to caramelize the crust, then baked on a hearth. On weekends you can try specialties such as bialys, the bagel's lesser-known yet delicious cousin, and challah bread on Fridays.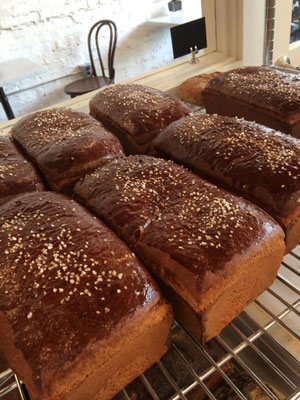 Lunch and dinner to go
Guests can order lunch from a menu of light fare, such as roast beet, fennel, and avocado salads or harissa-spiced chicken sandwiches with chickpea spread. Dinner launches later this month (see a sample menu), with dishes that vary daily. Furstenberg says the offerings will skew Mediterranean and vegetarian, highlighting local produce and whole grains. Still, you may also find comfort dishes like chicken à la king and beef stroganoff.
Serious brews
Beverage director John Flemming is a man whose life, according to Furstenberg, "seems to revolve around coffee." Order Madcap Coffee Company espresso drinks and drip brews alongside teas and house-made sodas. Don't plan to linger with a laptop; Furstenberg opted against wi-fi. "I want people to come because they like our breads and our food so much," he says. "I want people to come here and talk to each other."
Bread first
Bread, after all, is the main event. Staples include a country levain, the Palladin—a ciabatta-based recipe and ode to the legendary chef Jean-Louis Palladin—and French baguettes, baked fresh every four hours. You'll also find ryes, ancient-grain breads, flatbreads, and rich brioche.
Sweets and a soda fountain
The pastry spread includes something for every sweet tooth, from dainty lemon-mint bundt cakes to orange-poppyseed muffins. Croissants, danishes, and doughnuts round out the morning menu, while classic American desserts including apple pies and chocolate chip cookies fill the case throughout the day. Soon the long marble counter will transform into an old-fashioned soda fountain, complete with house-made ice cream.
Though floats, shakes, and egg creams may seem like an odd fit for a serious bread operation, Furstenberg says the soda fountain made sense for the neighborhood. "I wanted to do a classic American bakery," he says, and that meant doing it all.
Bread Furst. 4434 Connecticut Ave., NW; 202-765-1200. Open Monday through Friday 7 to 8, Saturday 8 to 6, and Sunday 9 to 5.