The melding of French and Southern cuisines isn't anything new; half the beloved Louisiana classics wouldn't exist without the fusion. Still you won't find crawfish étouffée or boudin balls on the menu at Macon Bistro & Larder, where chef/owner Tony Brown brings his own style of Franco-American cuisine to Chevy Chase. The two inspirations: Macon, Georgia, and Mâcon (pronounced Mah-con), France, both places he spent time growing up between his family's Georgian heritage and father's time in the military.
"Both cultures have agrarian roots, relying on what's in season and raised in the community," says Brown. "I wanted to bring together country-Southern and country-French."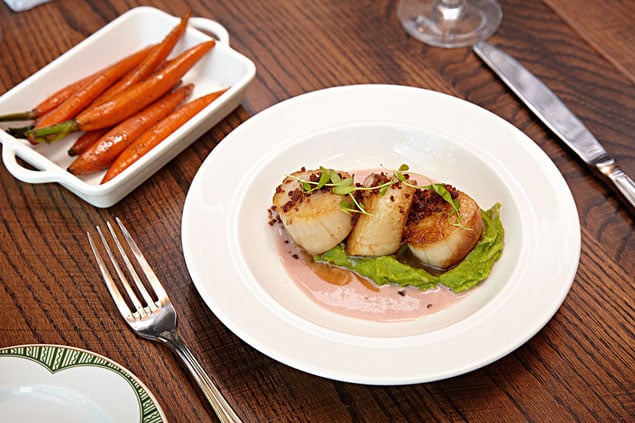 The result: hybrid dishes such as pimiento cheese on toasted brioche, scallops with beurre rouge and butter bean mash, or "mac-on cheese" bound with creamy cheddar Mornay. Brown and chef de cuisine Michael Matis—most recently from Miami's Southern hotspot Yardbird—also create more traditional American and French items (check out the menu here). You might slather Essie's biscuits with honey butter, a recipe from Brown's grandmother, or order hanger steak frites. A section of daily changing blue-plate (a.k.a. plat du jour) specials also run classic, from beef bourguignon to buttermilk-brined fried chicken. Dessert brings extra tastes of the South, with more of grandma's recipes for blackberry cobbler and coconut cake, and s'mores stacked with house-made graham crackers and marshmallows.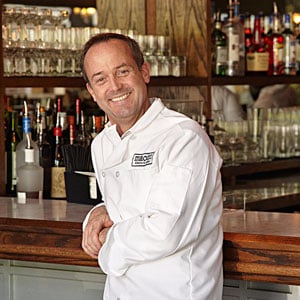 Dinner is the focus (for now) in the 60-seat bistro, but the "larder" isn't just a colloquialism. Currently you'll find take-home jams, jellies, cheddar biscuits, and cookies in the pantry section, with snacks like deviled eggs and heat-and-eat meals such as chicken pot pie and blanquette de veau to come. Brunch is also in the works for mid-June, as well as two patios for an extra 40 seats. Though the restaurant is geared toward an older crowd, a kids' menu will also be available.
One can't talk about French or Southern dining without drinks, and the bar stocks plenty. Former Blue Duck Tavern sommelier Gene Alexeyev curates a wine list wholly sourced from France, with a bountiful number of options by the glass. Beers run local and farther south, while cocktails straddle the continental divide: on the one, a French 75; for the other, the Southern Belle, mixed with vodka, pomegranate liqueur, and of course, sweet peach tea.
Macon Bistro & Larder. 5520 Connecticut Ave., NW; 202-248-7807. Open for dinner daily at 5.