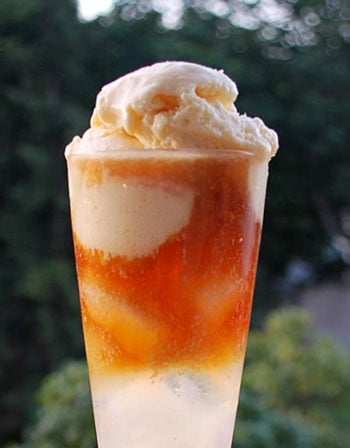 Todd Kliman
"Under the sea" at Fiola Mare
This is exactly the sort of dish you would hope for from a fish and seafood restaurant with a chef, Fabio Trabbochi, who once commanded the top kitchen in the area.
Imagine a cioppino. Now dress it up and take it to the opera. The quality of the fish and seafood is more than first-rate; it's peerless. Maya prawns, a hunk of branzino, a tail of lobster, maybe a cracked langoustine—all so fresh that you half-expect them to quiver in the bowl. (That freshness, of course, comes at a price: the night I had it, the charge was $40; a week later it was $50, owing, the restaurant said, to fluctuations in the market.)
If it were only a vehicle for superior shopping and exquisite simple cooking, it would be an enormous success. What makes it unforgettable are the various changes that Trabocchi, riffing as exuberantly as an Art Tatum, rings on the familiar.
That lusciously soft filet that you initially think is a sea bass poached long and slow—nope: foie gras. A sumptuous dish becomes … sumptuous-er.
The thick lobe of fattened duck liver is a carefully lodged detail. This isn't an Italian preparation. The broth has an espresso-like intensity and is made with the rinds from a wheel of Parmigiano, but it's a dashi—the base for many misos and ramens. And quinoa? It may have made its way to Italy in recent years, but it originated in the Americas.
Maestro, the restaurant in the Ritz-CarltonTysons Corner where Trabocchi made his name, is long gone. In his second act in D.C., the chef has opted for more rustic, more lived-in. This dish gloriously spans the two eras.
Ann Limpert
Fried-chicken sandwich at Roofers Union
There was an almost comically bad start to my weeknight dinner on the rooftop at this Adams Morgan triple-decker restaurant. The frozen cocktail maker was on the fritz ("our drink machine doesn't work in warm weather," the server said). Lags waiting for drinks and food were long, given that only two waitresses were assigned to a whole lot of al fresco diners. Then, everything we ordered, from appetizers to sides to entrees, showed up all at once and traffic-jammed our tiny table.
But I'd come back all over again for this hefty sandwich, a boneless fried chicken thigh painted with a spicy/sweet Sriracha-honey glaze and set on thick, mayo-slathered white toast. The crunchy chicken called to mind the best kind of candy-coated American Chinese food, and even Bonchon wings. It's the kind of thing you'd kill for after a long night on 18th Street (and aren't they all?).
Anna Spiegel
Dark and Stormy ice cream from Ice Cream Jubilee
I'm not big on sweets, but cocktails? That's another story. My taste doesn't run sugary in that category, either—a gin martini is the go-to order—but it's tough to pass up a Dark and Stormy on a summer day. The blend of dark rum, quality ginger beer, and spritz of lime just tastes like vacation, even at home.
Drinks aside, Ice Cream Jubilee's Dark and Stormy treat is worth a try. Local attorney-turned-ice cream maker Victoria Lai crafts unusual flavors like mango-habanero, strawberry-black tea, and baklava. The one fashioned after Bermuda's national cocktail is lusciously creamy, but gets a kick from ginger, lime, and of course, rum. I can only imagine it's better scooped into an actual Dark and Stormy, or drizzled with homemade caramel sauce. I'm perfectly content eating it straight out of the package with a spoon.
An Ice Cream Jubilee shop is set to open at the Yards Park this summer. In the meantime grab a container at Glen's Garden Market, Each Peach Market, or from RelayFoods.com.