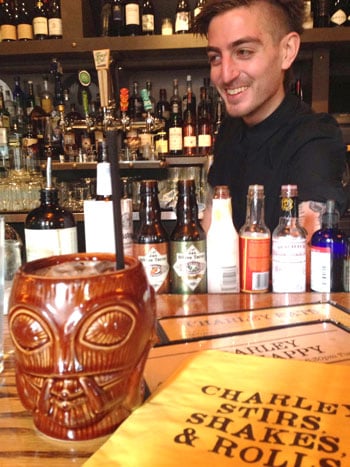 Summer drinking weather is upon us, and we're always looking for new recipes when it's time to whip up a refreshing beverage. We asked Bar Charley cocktail master Nick Nazdin to share one of his favorite tiki cocktails: the Molokai Mule, which originated at the Kon-Tiki restaurant in Hawaii in the 1960s.
"It's a much more citrus-heavy drink than most other tiki cocktails, which I really enjoy," says Nazdin. "Most tiki drinks have people well on their way to the end of their night after one or two."
The party-friendly formula is a tasty balance of fresh orange and lime juice, brandy, and plenty of rum. The only exotic ingredient you'll see is orgeat, an almond-flavored syrup you can buy at specialty liquor stores such as Ace Beverage or online (Nazdin likes Fee Brothers). If you'd rather leave mixing to the experts, head to Bar Charley for Trader Nick's Tiki Sundays, where you'll find Nazdin concocting five different tiki cocktails.
Molokai Mule
Makes 1 drink
2 ounces orange juice
1 ounce lime juice
1 ounce orgeat syrup
1 ounce brandy
1 ounce silver rum
1 ounce dark rum
A heavy dash of Angostura bitters
Combine all ingredients in a cocktail shaker, shake, and strain over ice.