Drink in the Beauty
1.5 hours
AOL cofounder Steve Case and his wife, Jean, have recently opened chic new Early Mountain Vineyards (540-948-9005) near Charlottesville. A highlight of the property is a romantic guesthouse with a flagstone patio overlooking the vines and rolling hills. Also luxe is the winery's stylish tasting room. Rates at the guesthouse, which books up early, begin at $350 a night.
—Andrea C. Poe
Take the Train to See Classic Movies
90 mins.
Hop aboard Amtrak from DC's Union Station to the newly hip, historic town of Culpeper, Virginia, where the train lets you off at a visitors' center in a restored 1904 train station. Across the street, a giant "Love" sculpture made from old film reels hints at your mission: Thursday through Saturday nights, plus Saturday afternoons, the Packard Campus Theater at Mount Pony (19053 Mount Pony Rd.; 202-707-9994)—the Library of Congress's state-of-the-art auditorium—shows free classic films and foreign documentaries, while Sunday matinees ($6) are in downtown's newly restored State Theatre (305 S. Main St.; 540-829-0292).
When not watching movies, you can browse East Davis Street's shops, such as Harriet's General (172 E. Davis St.; 540-317-5995) for American-made wares, the Culpeper Cheese Company (129 E. Davis St.; 540-827-4757) with 100-plus varieties, and My Secret Stash (162 E. Davis St.; 540-825-4694), where throwback candies share real estate with vintage jewelry and furniture.
Book ahead for a Mediterranean-inspired dinner at Foti's Restaurant (219 E. Davis St.; 540-829-8400). Stay at the Euro-elegant Thyme Inn (from $125), with downy duvets and fireplaces.
—Jordan Wright
Spa With the Girls
2.5 hours
The spa at Pennsylvania's Hotel Hershey is tailor-made for a getaway with your besties. Indulge in one of the lushly scented treatments such as the heady Rose Garden Massage, using pure rose oil ($130 to $140 for 50 minutes), or the silky Chocolate Fondue Wrap ($125 to $135 for 60 minutes). Then head to the steam room, sauna, or whirlpool or to the Oasis lounge's patio for a spa lunch overlooking formal gardens. Inside, with its wall tapestries, the lounge channels a Moroccan vibe. By night, the Circular—the hotel's newly redone circular dining room dating to the 1930s—is the place to be, with its amber-lit bar-in-the-round, Prohibition-era cocktails, plates to share, and chocolate-centric dessert station. Outdoor pools, fitness classes, and hands-on chocolate classes are among the other diversions. Rooms start at $299 in spring, and spa packages are available.
—Cynthia Hacinli
Spark Romance at a Cozy Inn
90 minutes
On 33 acres that include woods, koi ponds, gardens, and peaceful patios, the Inn at White Oak in Gettysburg, Pennsylvania, is the ultimate romantic hideaway. Guests can play billiards, swim in a heated indoor pool flanked by stone fireplaces, or watch movies from oversize recliners in the theater room. Each of the six elegant suites has a fireplace, plush robes, and a flat-screen TV. The Commander's Quarters also boasts a three-sided glass bathroom with a six-foot-long copper tub and sweeping views. Complimentary perks include a gourmet house-made breakfast, fresh-baked treats, and assorted beverages. The Secret Service Package offers extra privacy, with breakfast in bed and a couples massage en suite or in the small spa. The inn is an easy drive of 15 minutes or less to downtown Gettysburg and the battlefield. Rates range from $179 to $299 a night.
—Christine Koubek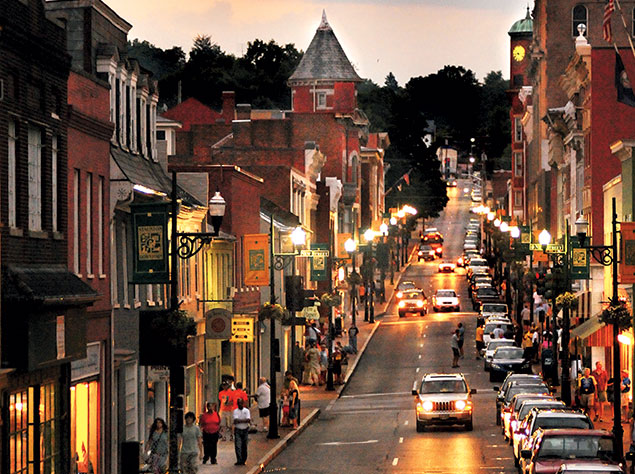 Explore a Small Town's Charms
2.5 hours
While historic towns can be quaint, they also can be sleepy. Not so Staunton, an architectural gem in Virginia's Shenandoah Valley. Pronounced "Stanton," it's a fun place to walk about, with its nice shops and Victorian red-brick architecture. The 18th-century hamlet boasts numerous visual- and performing-arts venues, including the Blackfriars Playhouse (10 S. Market St.; 877-682-4236), where Shakespeare is performed in a recreation of the Bard's theater.
Foodies will find epicurean delights such as Zynodoa (115 E. Beverley St.; 540-885-7775) and the Shack (105 S. Coalter St.; 540-490-1961), which Esquire dubbed "the incredible restaurant in the middle of nowhere that nobody knows about."
Visitors can check out the Woodrow Wilson Presidential Library & Museum (20 N. Coalter St.; 540-885-0897)—Wilson was born in Staunton; horseback riding at Star B Stables (2926 Barterbrook Rd.; 540-885-8855); and the working farm at the Frontier Culture Museum (1290 Richmond Ave.; 540-332-7850).
Stay downtown at the Stonewall Jackson Hotel (from $161) or the Frederick House (from $115).
—Renee Sklarew