The redesign of Stephanie Stack's Alexandria home was like something out of an HGTV makeover show.
"The fun part was that they said, 'We want it turnkey,'" says interior decorator Kelley Proxmire, who undertook the project. "'We want to go away for a week, and come back, and have it be done.'" Their hope was to walk right into a completed house.
And that's just what happened. In August 2011, Stack, a singer, her executive husband, Larry, and their two sons left for a getaway in New England. Proxmire, her team, and a dozen workmen then sprang into action. A few high jinks ensued (including a precarious moment in which the electrician had Proxmire's assistant swing from the rafters to prove that the weighty foyer chandelier would hold). But the wallpaper was pasted, the rugs laid, the furniture installed. At the end of the week, the Stacks returned to their Belle Haven neighborhood—and to a home that looked right out of an issue of Domino.
"We left, and the rooms were empty, with plain white walls. When we came back, it was like Christmas, sneaking up to the doors," says Stack, 44. "I was speechless. I kept saying, 'Is this my house?'"
Her reaction is understandable. The historic house—a 1931 Beaux-Arts formerly owned by Marvin Bush, which Stack has dubbed the "grande dame"—now bursts with youthful spirit. An undercurrent of apple green, crisp white, cool blue, and chocolate brown connects the design of the first level, which is layered with texture and pattern.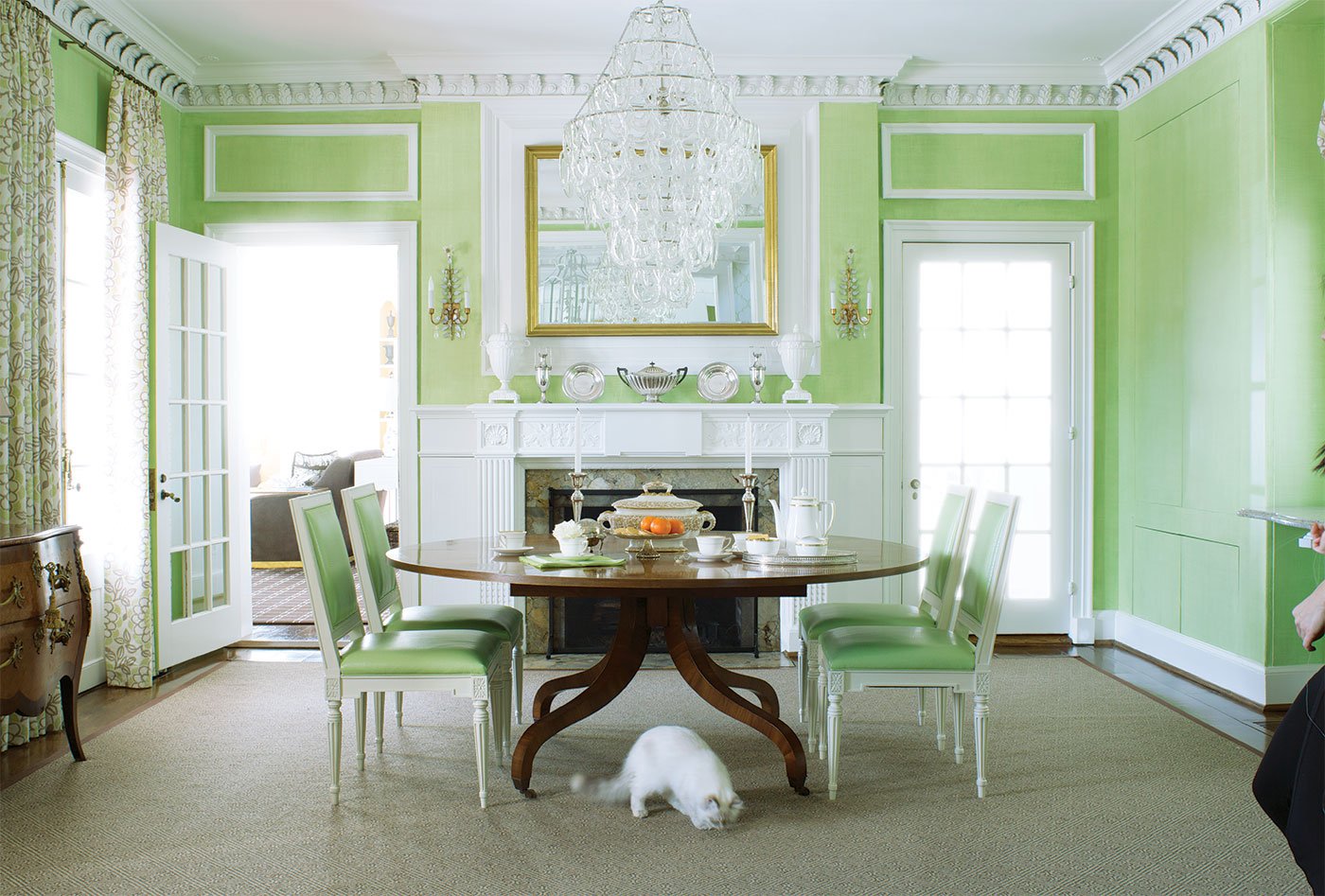 While the house is spectacularly well-appointed, it is also home to two young children. Stack and her husband share the space with their sons Leighton, ten, and Everett, seven, plus a fluffy Siberian cat named Chloe. The family aspect was foremost in the design scheme.
"I wanted to make sure the house was sophisticated to meet our desires but also comfortable for the children," says Stack. "I wanted them to be able to really live in the house and not feel like they are in a museum."
Proxmire was on board. The designer cites "pretty and practical" as her mantra, so kid-friendly features abound. In the dining room, a dramatic chandelier of glass horseshoes dangles dramatically over the formal walnut table—but the chairs are upholstered in an easy-to-wipe leather. Dark-brown carpet helps conceal any stray crumbs or spills. Next door in the family room, outdoor fabrics cover the seat cushions to bolster durability —a good thing, as Stack's sons have been known to monkey around on the zebra-print ottoman during an enthusiastic Wii session—and baskets under the white lacquer console table conceal a stash of toys.
"What I love the most are the fabrics—how luscious they are and that they look so exquisite but then, of course, are practical, too," says Stack. "With two boys who are very active, it was really important to have those two elements."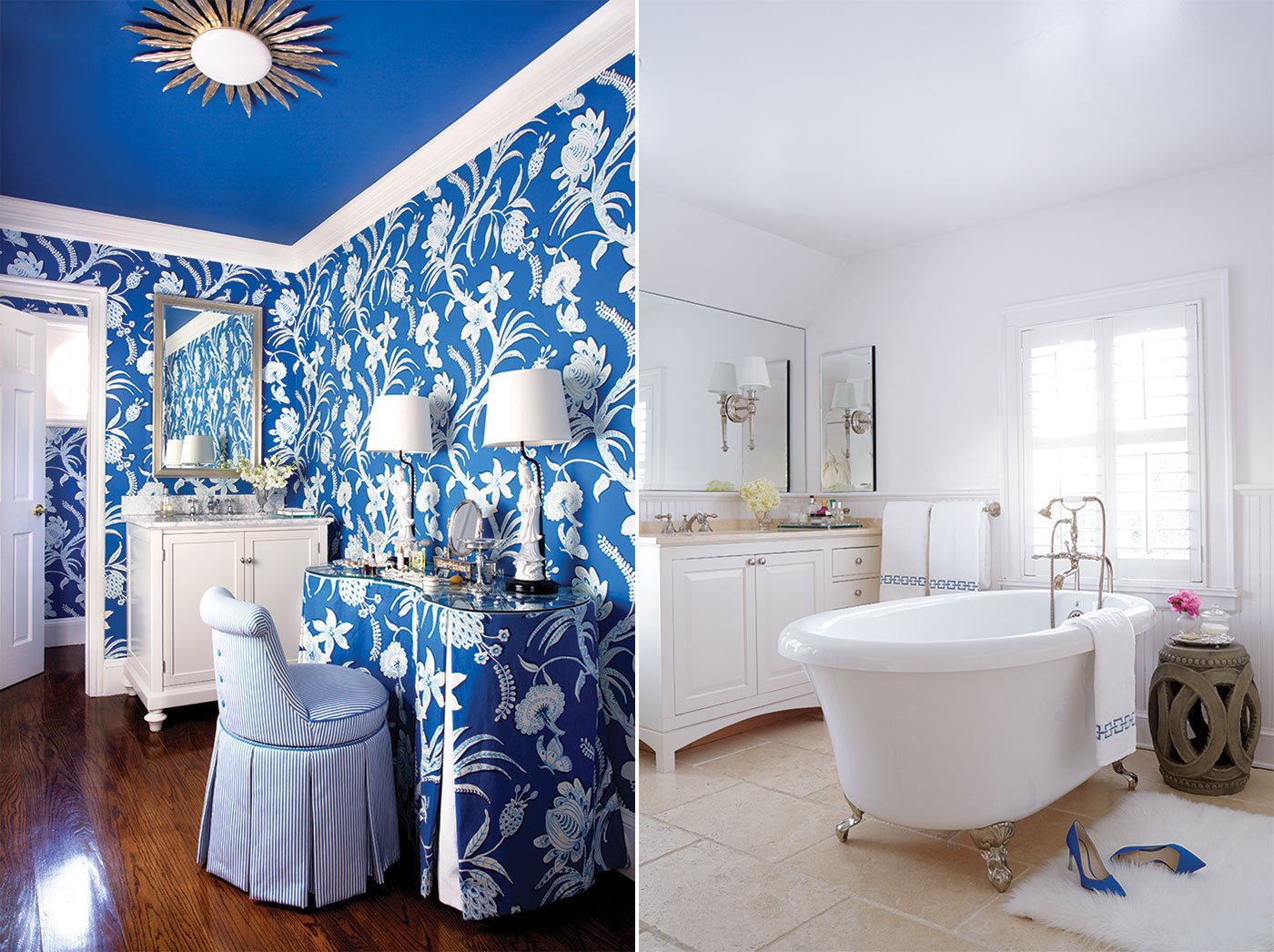 While most of the living space is meant to accommodate the needs of an active clan, a few rooms were designed with Stack's interests in mind. The sitting room off the foyer is a child-free zone, which Proxmire transformed into a sophisticated entertaining salon, complete with a black baby-grand piano where Stack can work on her music. A Lucite table makes a modern statement, flanked by a white couch, bright-lime drapery, and a pale-blue cheetah-print rug. A nearby powder room is also suited to grownups, wallpapered in bold blue floral and outfitted with a small sitting area. (No detail is left unattended: Coordinating blue and white mints sit atop the dressing table.)
The dichotomy of child-friendly functionality and sophisticated taste reflects Stack's approach to parenting. "It's important to have your own personal identity," she says. "And I think your kids want you to have that."
Stack has been carving out that identity over the past several years, as she pursues a singing career that she began soon after the birth of her second child. "I wanted my kids to know that even though I am their mom and that's a very important role, I still have something of my own that I want to share with people," she explains. "I wanted them to be proud of me and my accomplishments." After a stint singing opera locally, she decided to give mainstream pop a go. She recorded a 12-track album, I Can, in 2011; the first single, "Crazy Love," hit 31 on the Mediabase Adult Contemporary Chart. Her next single, "What I'd Rather Do," ranked 61st. Next up? Her sights are set on Top 40.
"When I first started singing I was really experimenting, and I didn't know what my brand was. I was just trying to figure that out," she says. "But after designing with Kelley and finding myself a little bit more musically, I decided I wanted to create a brand of fashion and design."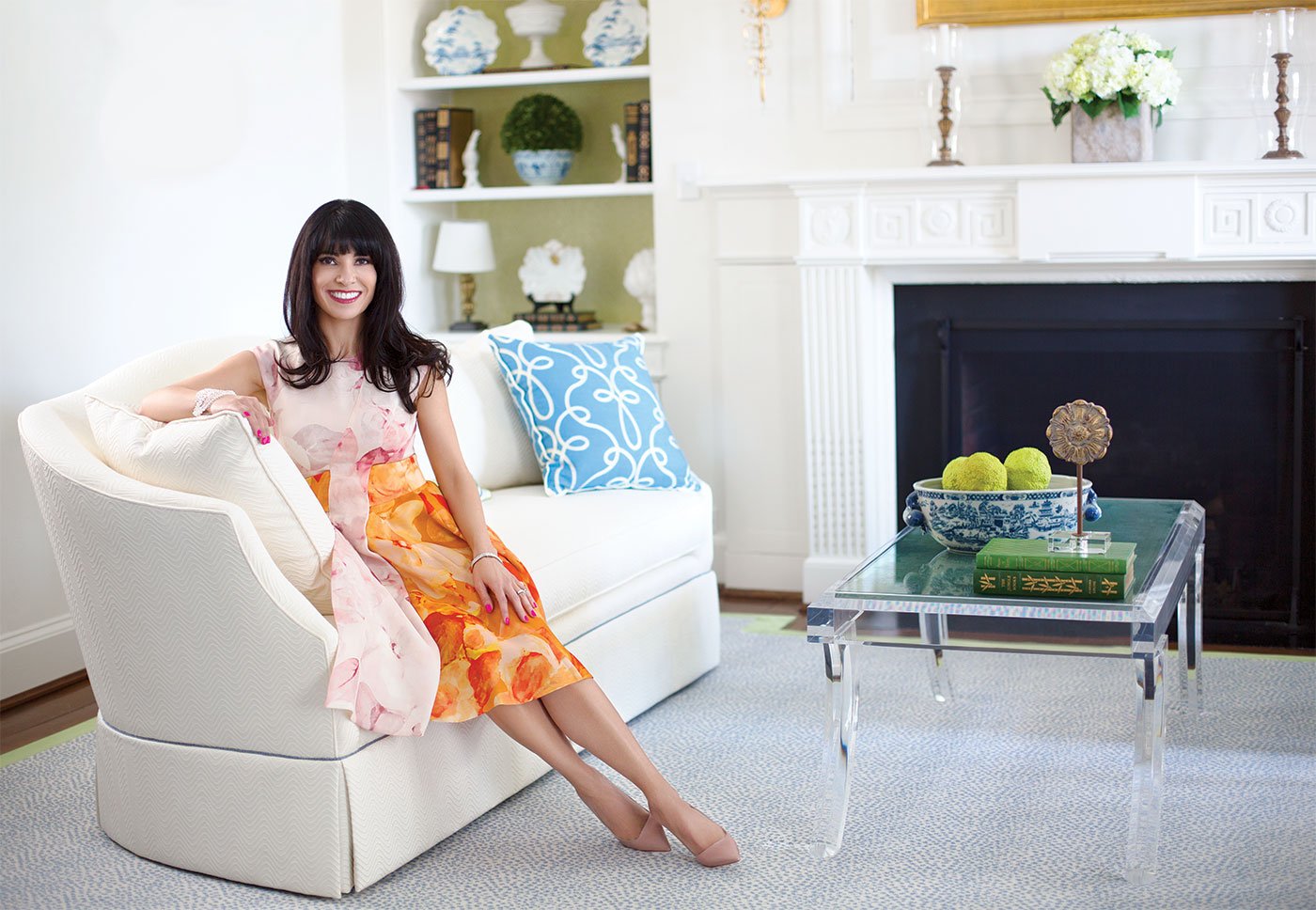 True to form, the petite brunette is impeccably turned out on this springlike winter day. A self-proclaimed clotheshorse, she's paired a full black Azzedine Alaïa skirt and sleek navy turtleneck with a Lanvin bow belt and towering Fendi platform heels. It's a reserved palette, but a flash of a neon-pink manicure hints at Stack's bubbly personality and love of color.
Stack tries to infuse that love of fashion into her new songs, which she's currently composing via Skype with her cowriter in Los Angeles. She travels regularly to write and record in such entertainment meccas as LA and Nashville, though she also occasionally records at a studio in nearby Springfield and hopes eventually to install a home studio upstairs. The work is demanding, but she makes a point to bring her sons when she can and prioritizes family time when she's home. Each Friday night the family makes pizza and watches a movie together in the family room; Saturday is date night for Stack and her husband. Still, finding time isn't always easy.
"There are times when it is challenging," she says. "When I was in the studio and I was doing a lot of singing, it was hard to juggle a schedule with the boys, and I felt like I was away from them a lot. I really felt like I was missing out. Luckily, being in the studio is short-lived; it's sort of like taking a business trip. You have work to do, but when you come back, the kids are still there—and they love you no matter what."
Stack's husband's job frequently takes him to California, and Stack travels there often to pursue her musical career, which begs the question: Why continue to live in Washington?
"I like living here. It's fun to be in the middle of it, but I really like my boys to be here," Stack says. "This is home."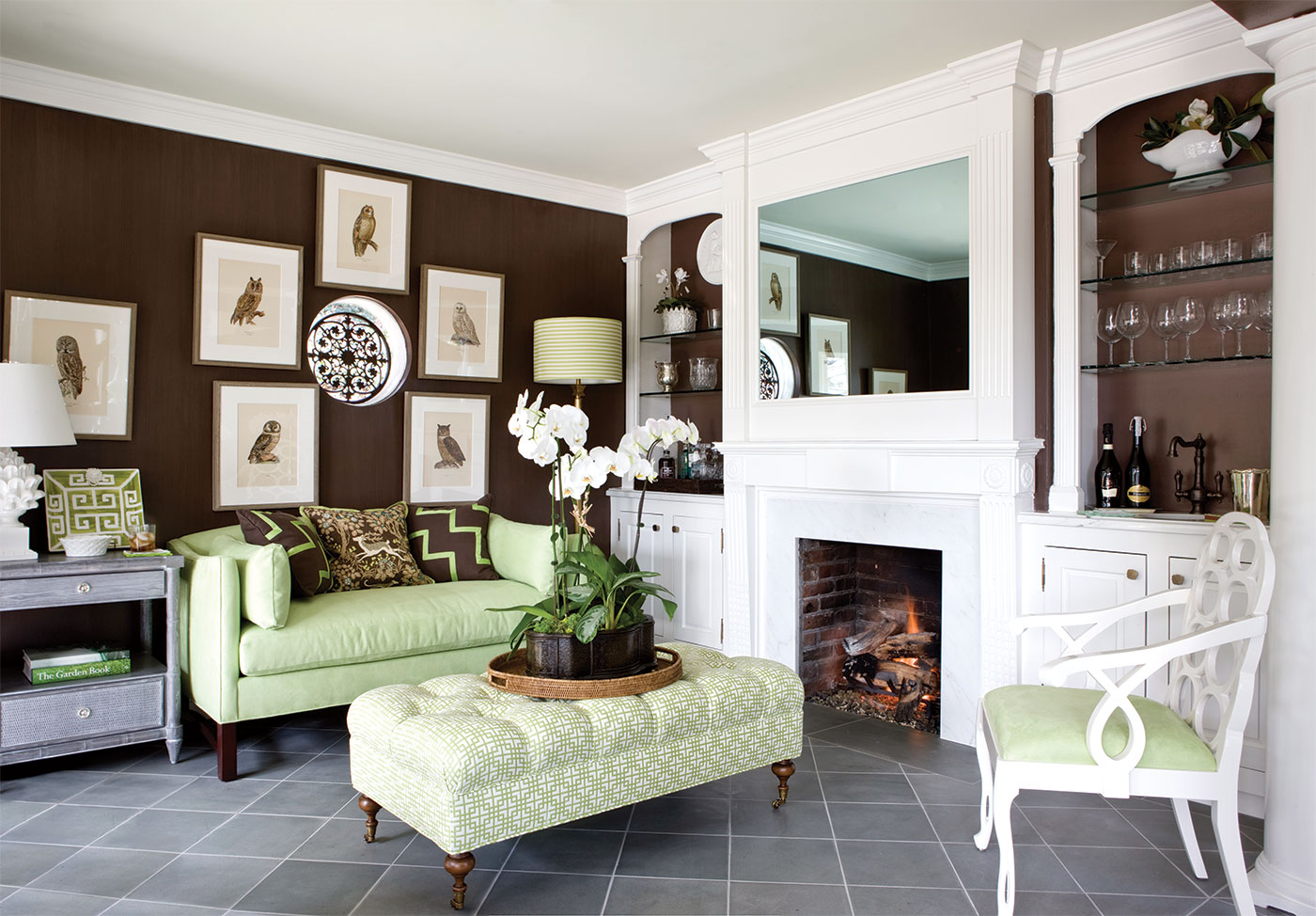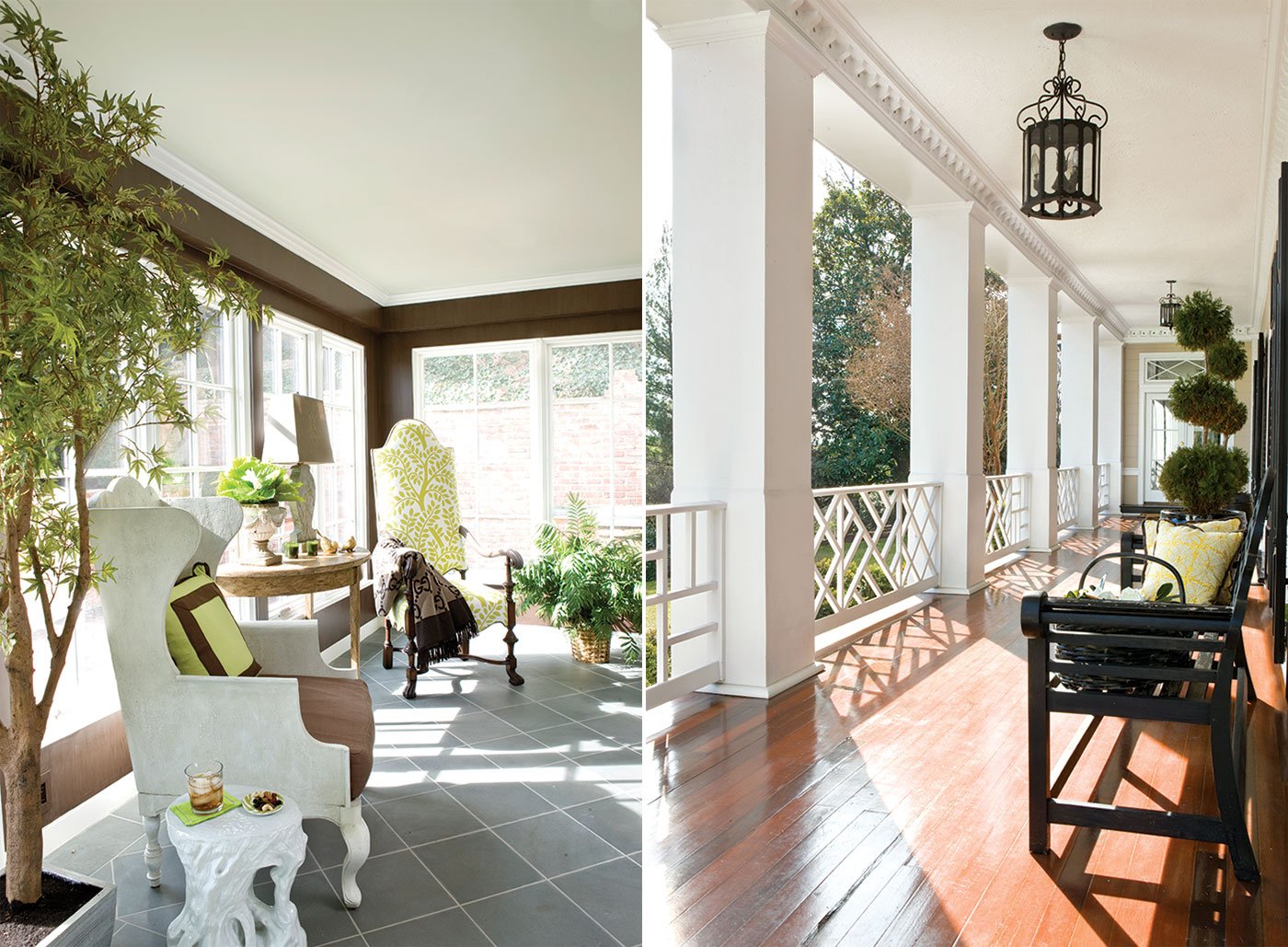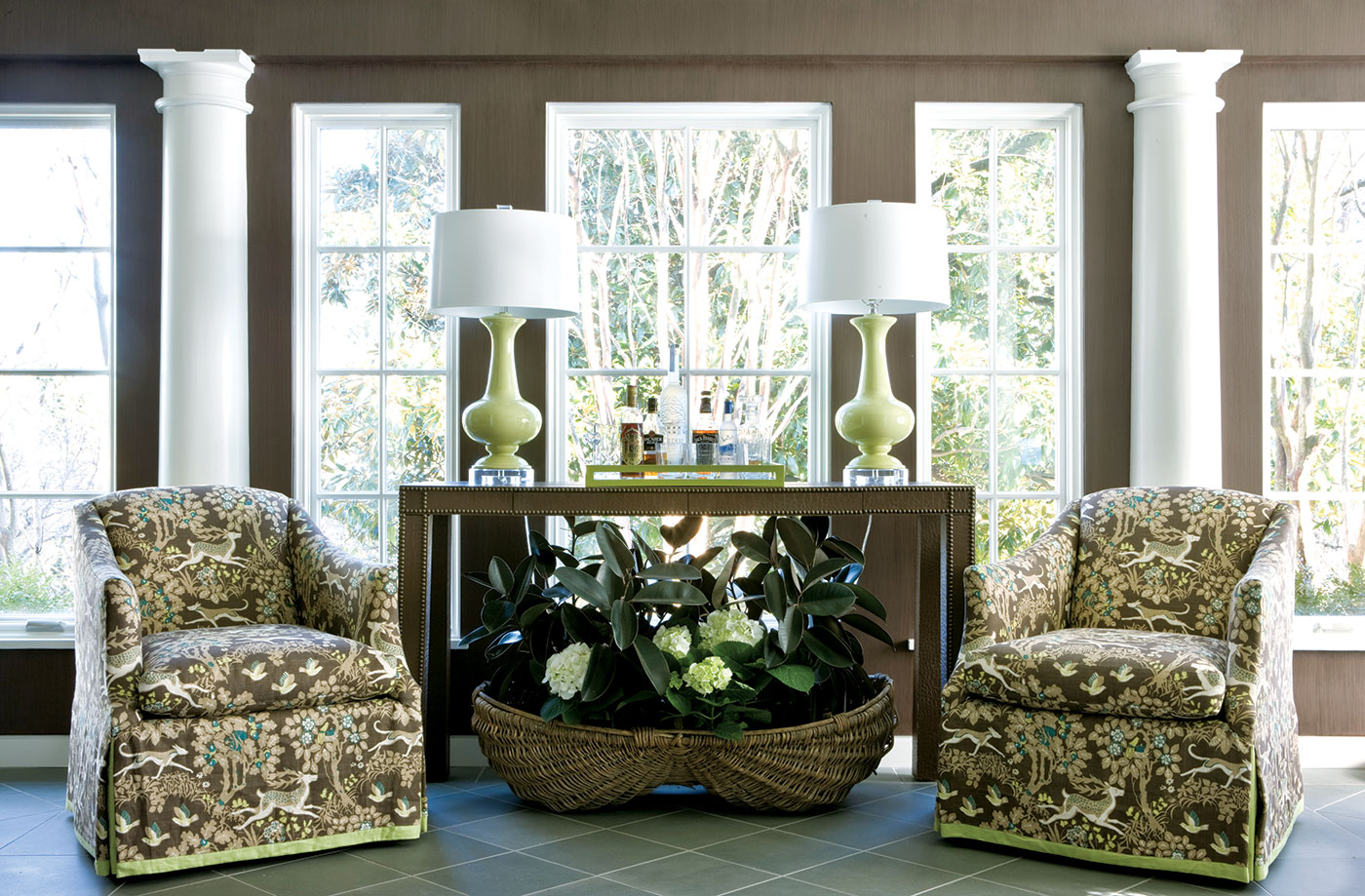 Q&A
Favorite Local Family Activity:
Sailing, paddling, and kayaking on the Potomac.
Wardrobe Staple:
A Michael Kors black sheath dress. I love to pair it with fun, funky ankle booties and a sassy handbag.
Go-To Hostess Gift:
A faceted soap necklace from Soap Baubles. It pampers, and it's totally unexpected.
Guilty Pleasure:
Handmade sea-salt caramels at the Sugar Cube in Alexandria. They are little melt-in-your-mouth pieces of heaven.
Favorite Place To Take My Kids:
As a singer, I love to take them to the Kennedy Center, where they can experience the arts, whether it's a musical, a symphony, or a concert.
Secret To Staying Organized:
The holy grail of organization for me is lidded woven baskets. I like everything to be put away and out of sight.
Current Obsession:
Anything by Sophia Webster. Her shoes are to die for.
Favorite Flower:
Parrot tulips. They remind me of my travels to Holland as a child.
Favorite Source Of Creative Inspiration:
Fashion. It's relevant, bold, whimsical, and flirty.
Signature Scent:
For my home I use the Japanese quince diffuser and mist by Seda France. For me, it's Le Parfum by Carven.
Beauty Product I Can't Live Without:
Smashbox Artificial Light lotion.
Favorite Place To Shop For Clothes:
Nordstrom—I am fickle, and they have a good return policy.
Favorite Place To Shop For My Home:
J. Brown & Co. in Old Town.
Favorite Date-Night Restaurant:
Komi! A foodie extravaganza. Each course is a delightful surprise.
Favorite Indulgence:
French fries. They are my biggest weakness.
Prized Possession:
My "diamonds, rubies, and pearls"— in other words, all costume jewelry my boys shower me with courtesy of their winnings at Chuck E. Cheese.
You Can Tell I'm A Mom Because:
I drive a car that seats seven; you must always make room for lots of friends and sports gear.