Father's Day is this Sunday, June 15. While not the brunch-tacular event that is Mother's Day, plenty of restaurants host special meals throughout the day, from whiskey tastings to barbecue pop-ups. Is your dad not a special-event guy? We have recommendations for low-key feasts and high-end steakhouses, meals with the kids, and more.
Dads who love barbecue (in town):
415 New Jersey Ave., NW
Celebrate a day early during chef Wes Morton's Saturday Supper, which takes on the theme of a Texas barbecue and will be held outdoors on the patio, weather permitting. The family-style meal includes everything from deviled eggs and charred scallion hushpuppies to pork ribs and pie, plus beers from Austin's Jester King Brewery ($65 per person).
For a more casual affair the day of, hit Hill Country (410 Seventh St., NW) for the addictive brisket and a Father's Day special that includes a hot link, house-made Shiner kraut, German potato salad, and cornbread ($13.50).
Dads who love barbecue (in the 'burbs):
KBQ Real Barbeque (note: reopened in a new location, below)
9100 Woodmore Centre Dr., Lanham
Pitmaster Kerry Britt makes ribs worth a drive. Bring the kids for family-style feasts that can include a slab of ribs and 24 wings, two large sides, and cornbread. You'll also find individual children's meals that come with a small side and juice box.
If dad is more of a Korean-barbecue guy, try Kogiya (4220 Annandale Rd., Annandale). The friendly spot is one of the best in Koreatown, and offers all-you-can-eat specials for lunch and dinner, starting as low as $21.
Dads who prefer Champagne and oysters:
7750 Woodmont Ave., Bethesda
Not all fathers crave meat and whiskey. Treat him to Black's unlimited buffet of raw-bar fare (oysters, clams, shrimp, seafood salads), hot breakfast and carving stations, bakery items, and more ($43 adults; $10 kids under 12). Add bottomless bubbly for $12.
Dads with young kids:
1604 Wisconsin Ave., NW
Families can break between rounds of bowling and bocce for a canal-side barbecue with grilled steaks, burgers, ribs, sides, and more from 9:30 to 3 ($30 for adults, $15 for kids 6 to 12, free under 5). After 3 you'll find the barbecue offerings inside at the bistro.
Dads who want to act like kids:
7134 Main St., Clifton
If taking shots of whiskey from a bone luge says "Happy Father's Day," then head to Clifton on Thursday, June 12 at 6 for Trummer's outdoor party. Dads can sample four top-shelf bourbons, sip booze from the bone, and bring their own cigars to puff on the patio ($50 per person).
Dads who love whiskey:
2007 18th St., NW
Bring your father to the largest whiskey collection in DC/the Western Hemisphere (no joke) for the $40 "Dad deal." The evening includes a flight of bourbon or Scotch, a three-course dinner with dishes such as beef brisket and fresh cornbread, and a cigar to finish.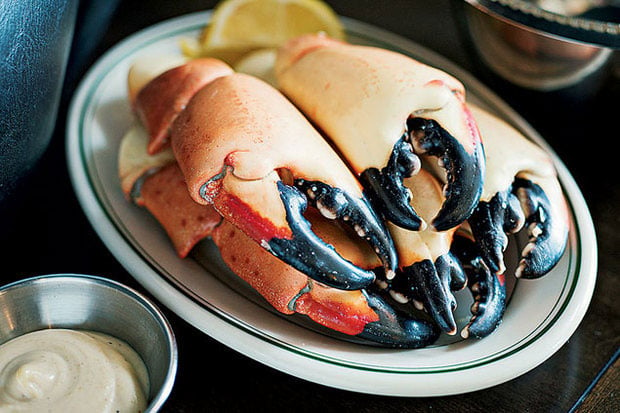 Dads who want free pizza:
400 S. Maple Ave., Falls Church
The first 100 dads who dine at this pizzeria from the 2941 team can opt for a buy-one-get-one-free pie when ordering an entrée of equal or greater value. The spot is open for brunch with a variety of egg dishes and breakfast pizzas, as well as dinner.
Dads who are fans of Puerto Rican celebrity chef Wilo Benet:
1110 Vermont Ave., NW
Chef Benet, owner of Pikayo restaurant and host of Fox Latino's Sabores De Ensueño con Wilo Benet, guest-cooks at Mio June 9 through 16. His special Father's Day brunch menu will be served from 11:30 to 2:30 on Sunday, with à-la-carte dishes such as yellow chili tuna tartare, mini bistec sandwiches, marinated swordfish with yuzu emulsion, and more (prices range from $14 to $30).
Dads who like a fancy steak (and crab) house:
Joe's Seafood Prime Steak & Stone Crab
750 15th St., NW
Treat dad to an upscale meal near the White House, where both bone-in steaks and crab are king. In addition to the regular menu you'll find two "Joe's classics" options for Father's Day, with either filet mignon or Alaskan king crab, sides, and pie, plus a gift of Joe's Steak Spice.
Dads who prefer a low-key steakhouse:
2300 Wilson Blvd., Arlington
An oldie but a great-y, where you can still find those steak-tartare-filled deviled eggs, sherried crab bisque, and a wealth of meats (many around $25) in a no-frills atmosphere.
Dads who love porchetta:
1813 Columbia Rd., NW
There's no lack of swine in this town, but for pork-wrapped pork, we're fans of chef Cedric Maupillier's Sunday-only porchetta dinners (availability based on local supply). You can also stop in earlier with Dad for brunch, with swine-heavy dishes such as a Basque-style pig hash and wood-fired heritage ham with poached eggs.