Eric McFadden and Victor DeFrancis had a specific idea of what they wanted in a second home. They envisioned something remote and secluded with water views. And they didn't want to drive more than two hours or cross the Bay Bridge to get there.
Their search led them first to Maryland's Calvert County. "We kept finding tear-downs that were in densely populated neighborhoods," McFadden says. "There would be water on one side but then houses all around us."
After six weeks of house-hunting, they decided to push farther south, into St. Mary's County. "I didn't even know this area existed when we started looking," McFadden says. They were struck by the county's unspoiled rural landscape, water views, and more affordable prices.
Eventually, they came upon a small rancher on the Potomac River in Leonardtown that had been built as a summer cottage in the 1940s. To get to it, you have to drive through cornfields that wind by several barns. Although the house sits on only a half acre and has neighbors on both sides, it feels private: "There's a farm out back and the water on the other side," McFadden says. "You can see six miles across to Virginia."
The original plan was to renovate. The couple hired DC architect Todd Ray of Studio Twenty Seven Architecture and told him they wanted to stick to a modest budget of about $100,000.
Ray discovered that the rear portion of the house was infested with termites and riddled with mold and mildew, making the renovation much more expensive. "The challenge became: Can we create something new out of prefabricated materials that sticks to their budget?" he says.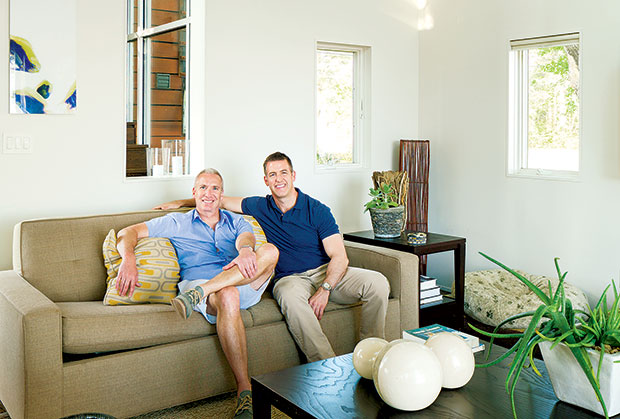 McFadden and DeFrancis—lawyers whose main residence is on Capitol Hill—wanted something mimimalist that respected the landscape and took advantage of water views. The design started as one simple box made of structurally insulated plywood panels. After briefly considering installing a Murphy bed for guests, they decided to expand their budget and add a second bedroom. Because of strict zoning regulations about building along the waterfront, whatever they constructed couldn't exceed the original footprint.
Ray designed a second box closer to the road, with a glass structure connecting the two pieces. "It's very simple: two boxes connected by two bridges," he says.
The box closest to the water houses an open two-story space—the main living area with kitchen and living and dining rooms on the first floor and, above that, a lofted master suite. The second box contains the guest bedroom and two bathrooms, one on each floor.
Ray made sure that from every spot in the house there were views of either the water or the farm: "The idea was to create a series of portals to see the landscape." Twenty-foot ceilings and three big windows in the main living area make the small house—only 1,527 square feet—feel larger.
A slatted cedar rain screen on the smaller box adds warmth to the spare design and echoes an aging wooden tobacco barn that visitors drive by when approaching the house. Ray describes it as "a gesture towards contextualism."
McFadden and DeFrancis spend every weekend at the house in the summer and go at least twice a month in the winter. They've fallen in love with the community, which they say has welcomed them—and their boxy modern home. Says McFadden: "We have lots of neighbors who knock on the door and ask, 'Can we look inside?' "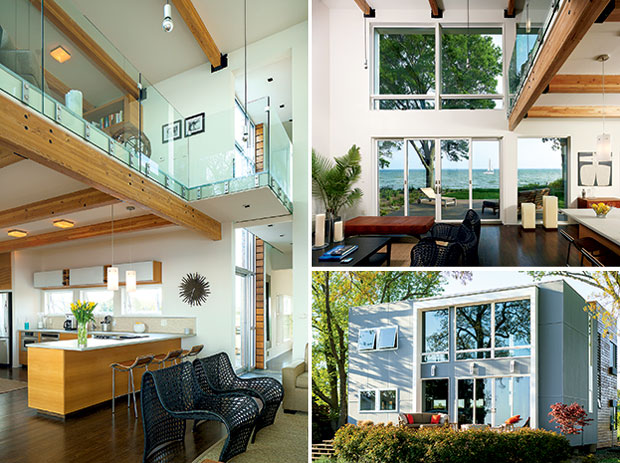 This article appears in the June 2014 of Washingtonian.