There are certain truths about restaurants we hold to be self-evident. Among them:
That no place looking out over the water is ever any good.
That a magnet for the beautiful people doesn't give a shiitake about putting beauty on the plate.
That a menu with a single token meat dish is doomed to fail, especially in a steak-and-potatoes town.
Well, the new Fiola Mare explodes these assumptions with a vigilante's glee.
Even its location bucks conventional wisdom. When the chef and owner, Fabio Trabocchi, launched the restaurant earlier this year at Washington Harbour, a tourist trap at the southern edge of Georgetown, it wasn't unreasonable to think he'd conceived of the restaurant as a vehicle to provide a steady cash flow for his other two ventures, Fiola and Casa Luca.
So far at least, the opposite has proven true: Fiola Mare appears to have emerged as the centerpiece of his operation, demonstrating more coherence and assurance than either of its siblings showed in their infancy and drawing streams of diners to the waterfront.
"I'm sorry, there's just no way this is going to be bad," a friend said one night as he settled into his chair and looked out across the rippling Potomac at sunset—taking in the Kennedy Center and Roosevelt Island. Minutes later, he was reconsidering his long-held position that a good view was a guarantee of mediocrity as we feasted on tuna and yellowtail so fresh it's a wonder it wasn't wriggling on the plate.
Fish this good needs little in the way of enhancement, and Trabocchi has been wise to take a largely hands-off approach, packing his menu with sparkling plates of crudo, tiered platters of shellfish on ice, and a market-style preparation common to trattorias up and down the Italian coast—whole, head-on fish swabbed with olive oil and grilled with fresh herbs.
Alas, the daily catch comes with a catch. The fish are sold only by the pound. One night, a waiter pitched me on the wild turbot, disclosing the key detail only when asked: The fish was a three-pounder, which, at $40 a pound, would have nearly doubled the bill for two.
The prices, though, won't matter to the swells who have made the restaurant a serious threat to dislodge Georgetown's Cafe Milano as DC's preeminent perch for the rich and famous. Nor to the wannabe swells, who no doubt will gladly forgo weeks of lattes to come and gawk at the likes of emaciated rocker Steven Tyler.
But most of the rest of us will take one look at those prices and consign Fiola Mare to the dustbin of places we go once a year, if that.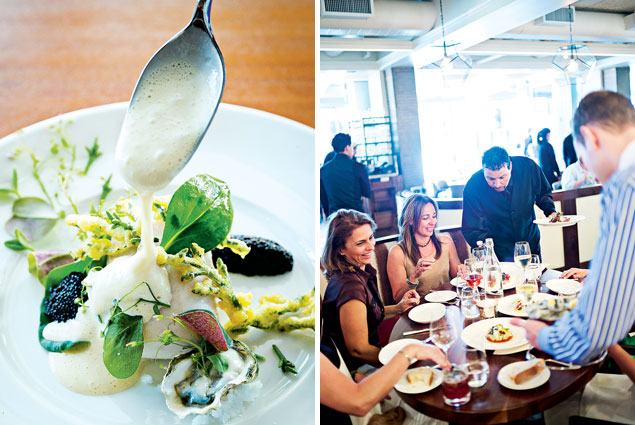 Before you do, however, you should know this: No restaurant in Washington, not even the best sushi bar, treats fish with this much love and reverence.
Trabocchi knows that fish isn't a flaky, pale substitute for meat. It has its own set of rules and its own range of possibilities.
Thrilling as it can be when the chef allows the product to speak for itself, it's even better when he chooses to speak for himself through it—pairing, for instance, wild turbot with fork-smashed smoked potatoes and charred spring onions, showing how fire and water can coexist. You can easily imagine his olive-oil-poached sea bass perched atop a mound of cheesy polenta, along with some wilted greens: a nice, summery plate. But Trabocchi, intent on proving that you don't need pork, beef, or lamb to create something rich and memorable, sets the pearlescent fish down into a foamy zabaglione sweetened with Cape Cod oysters and melted leeks. To finish: a crowning dollop of spoonbill caviar. When the salty black beads fall from their precarious perch, they mix with the sweet and creamy sauce. At Fiola Mare, nothing succeeds like excess.
Like many maximalists, Trabocchi takes a more-is-more approach not simply to demonstrate his virtuosity but to embellish a mood or theme. Take a dish of seared scallops, which subjugates the star to choral work in an ensemble that includes pickled mushrooms, prosciutto, and a porcini-mushroom purée so concentrated in its flavor that you might guess it's been fermented. Far from the pleasantly innocuous dish most preparations of scallop lead you to expect, it has the hearty intensity of an osso buco, and its umami richness coats the tongue like foie gras.
A surf that eats like a turf is exactly the sort of puzzle the knowledgeable but approachable sommelier, Jennifer Knowles, loves solving. She'll split the differences with a funky, earthy Beaujolais plucked from her deep reserve. You wish she would also pull up a chair and drink with you.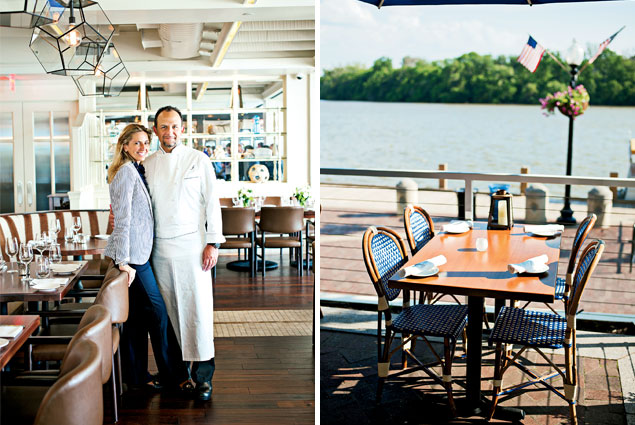 No one on the floor is having as much fun, but this is a well-drilled crew that knows the menu and understands food. (You may have to lean in and cup your ear, however, to absorb that knowledge.)
If there's a loose wing on this otherwise glittering edifice, it's the pastas—oversaucing doomed a bucatini with prawns and sea urchin, while the flavors in a cavatelli with ricotta were muddied to the point that the intended contrasts were lost. The ones to get are the hard-to-botch spaghetti and clams and the lobster-filled ravioli.
Of course, you also can get either of these at Fiola. What you can't get is a glorious bowl of langoustines, wild turbot, Icelandic cod, scallops, and prawns called Under the Sea. The inspiration looks to be an Italian fisherman's stew, but wait—what's foie gras doing in here? That broth, meanwhile—a light blond color and flavored with Parmigiano rinds—is actually dashi, the foundation for a miso or ramen. The bits of crunch at the bottom of the bowl? Toasted quinoa.
This is globe-spanning, genre-bending cooking at its best and most exciting, the last thing you'd expect to find at a restaurant on the water. Or at a place where the beautiful people flock. It's fantastic that Trabocchi remains committed to extending his borders. That's the best reason to pay Fiola Mare a visit or two this summer. Yes, even with the view.
This article appears in the July 2014 issue of Washingtonian.
---