Of all the appropriation and upscaling that restaurants have perpetrated (ethnic chic, picnic chic, dive-bar chic), perhaps the most perplexing is the attempt to conjure blue-collar spirit at Roofers Union in DC's Adams Morgan.
There are ghostly work suits and rusty tools hanging across one wall of an otherwise generically airy, reclaimed-wood-heavy dining room. A graphic of a laborer with a hammer is stamped on the beer glasses holding the oak-aged IPA. (Alas, there were no actual workers to be found when the dining room's roof sprang a leak during a recent evening rainstorm.)
And beyond the red plastic sandwich baskets and a plate of $8 hot dogs, there's nothing particularly salt-of-the-earth about the menu. Chef Marjorie Meek-Bradley—who also oversees the Cleveland Park restaurant Ripple—has culled an odd but approachable collection of boozing-friendly snacks, sausages, and entrées. You might find yourself in front of an elegant (and wonderful) skillet of sweet-and-sour cauliflower dotted with mint and golden raisins. Or a po' boy with an unexpected stuffing—perfectly fried sweetbreads.
At Ripple, Meek-Bradley is known for her way with charcuterie and meat. Here that virtuosity is on display in an appetizer of lamb ribs with a spicy-sweet glaze whose addictiveness competes with that of the cumin yogurt it's served alongside. And I could nibble all day long on the crispy pig ears that are threaded through a frisée salad. (The other salads—a haphazard wedge and a blandly dressed Caesar—you can skip.)
But aside from a snappy kielbasa smothered in peppers and roasted potatoes, the sausage section of the menu has been disappointing. The best thing about an andouille corn dog was the cheddar spread it came with. (It made a great dip for the side of house-made chips.) A beer-cooked brat was devoid of flavor; a spiral of merguez sausage was ferociously salty. When it came to larger entrées, the skirt steak that was the centerpiece of the steak frites was juicy enough on its own; it didn't need to be swimming in herbed butter.
The food will be beside the point for many who pay a visit—this is the heart of Adams Morgan, after all, home of Jell-O shots and Jumbo Slices. And Roofers Union, which took over the tri-level space that was once the Reef, has a major selling point for the "let's get hammered, bro" set in its sprawling rooftop, which has a bar of its own.
On each of four visits, the sloshy scene up there made the sparsely populated dining room feel as quiet as a church service. Still, a dearth of servers meant it was a frustrating place to eat, with long lags followed by a traffic jam of appetizers and entrées.
The narrow downstairs bar, with its smart, on-point bartenders and terrific happy hour (discounted bar snacks, cocktails, beer, and wine daily from 5 to 7), might just be the best place to camp out over a crock of gooey artichoke dip or a Sriracha-and-honey-glazed fried chicken-thigh sandwich. A big bonus: It's pretty much free of the faux working-stiff shtick.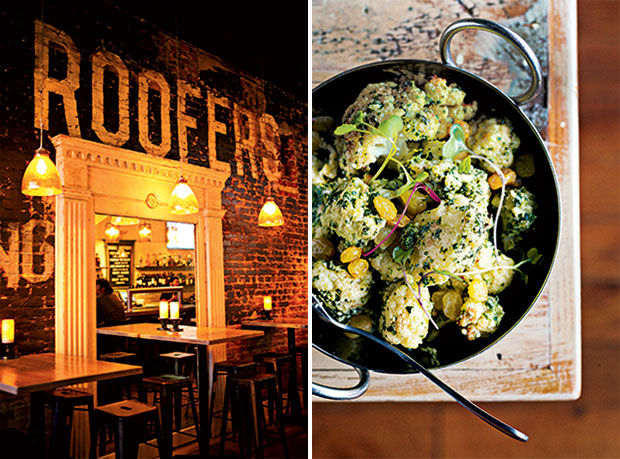 This article appears in the July 2014 issue of Washingtonian.
---