Rachel Goslins achieved a good amount of what would be considered success by the time she was a few years into her career as an intellectual-property attorney. By her early thirties, she had worked for a large New York firm, then for the US Copyright Office in Washington; she contributed to the amicus brief for the Napster case heard by the Supreme Court; she went to Uzbekistan to assist that country in rewriting its copyright law; she spent a lot of time at the World Trade Organization in Geneva, working on the TRIPS Agreement. She was accomplished, she was seeing the world, she had responsibility—and then she walked away. "As much fun as it was, it wasn't my passion," she says.
She ditched law, fell in love with the man who became her husband, former FCC chairman Julius Genachowski, moved back to Manhattan, studied film at New York University, and applied for any menial gig she could find, so long as it was learning the ropes at a production company. "My first job was as an intern on a PBS special; that was a humbling experience," says Goslins, now 45. "In the span of about six months, I went from representing the United States of America on large international delegations to being the coffee and FedEx girl for an office of filmmakers." In the process, she discovered she loved making documentaries, and earned her stripes on documentary television series before moving on to direct her first feature film, 'Bama Girl, about an African-American woman vying to become homecoming queen at the University of Alabama. "From there, I went on to direct other films, and also got into arts administration, helping to organize film festivals, working to get films online, and consulting." In 2009, Goslins was appointed executive director of the President's Committee on the Arts and the Humanities, where today she orchestrates cultural diplomacy, arts and humanities educational programs, and assists the White House (specifically President Obama and First Lady Michelle Obama) with cultural events and workshops. "It's not necessarily the kind of job you can train for—but it utilizes pretty much all of my skills and talents at close to 100 percent," she says. The committee comprises 12 public members (heads of federal agencies such as the Department of State and the National Endowment for the Arts) and 36 private citizens appointed by the President. "Everything I learned in my different careers, about art, about business, about storytelling and strategy, and government and people, it all comes into play here."
There are plenty of "pinch me" moments for Goslins, who often is in the presence of talented artist committee members such as Yo-Yo Ma, Chuck Close, Forest Whitaker, Jhumpa Lahiri, and Edward Norton, not to mention some notable glamazons. "Honestly," she says, "with people like Sarah Jessica Parker, Kerry Washington, and Anna Wintour on the committee, this job should have come with a shoe budget."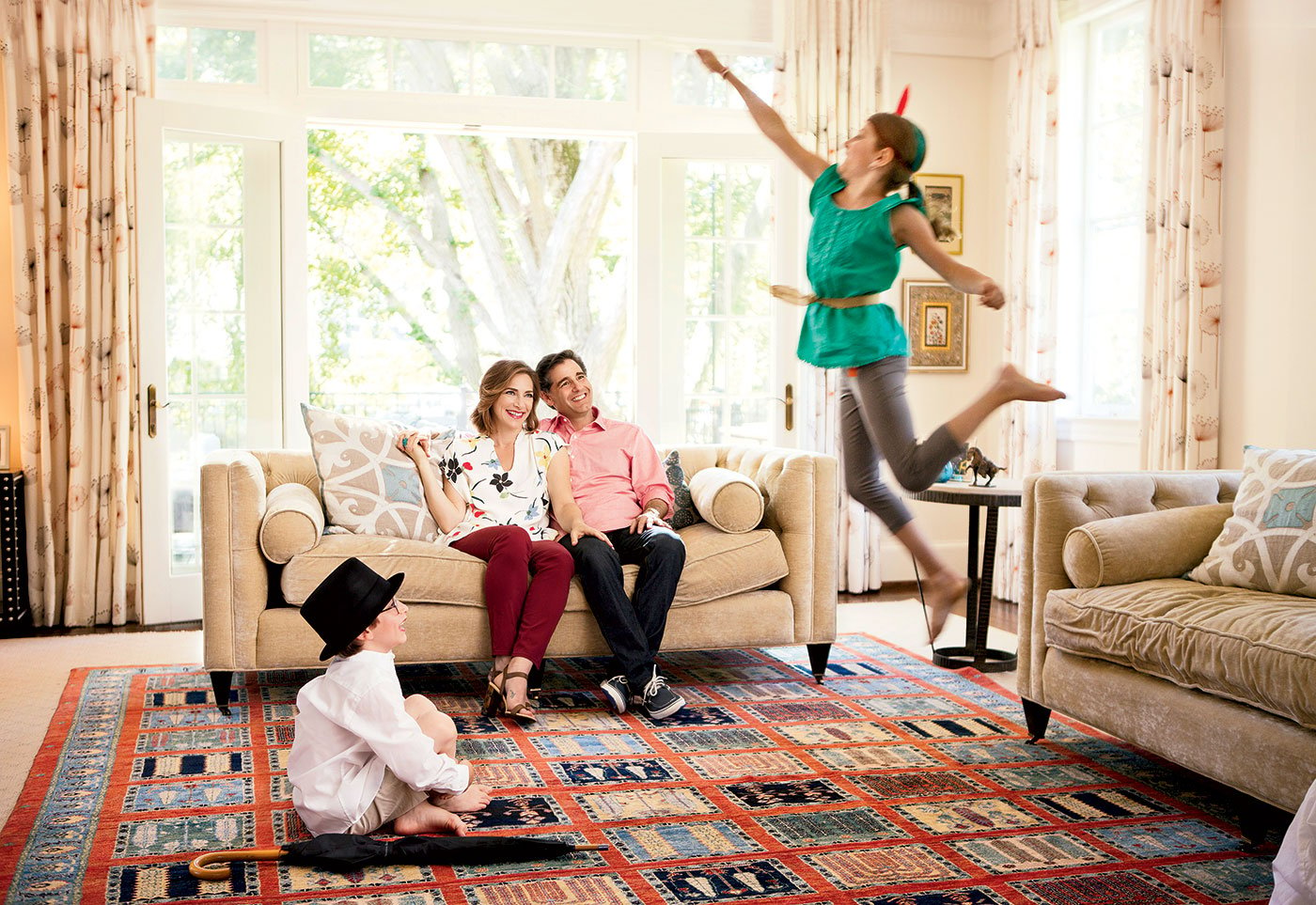 Neither stuffy politico nor power-suited tiger lady, Goslins is in a Washington league of her own: busy mom of two, wife, stepmother, close friend, eschewer of bureaucratic minutia, warm, humorous, realistic. Her children, Lilah, 9, Aaron, 7, and stepson Jake, 22, reap the rewards of all these qualities. "Jake is one of the best guys I know, sweet and funny, and incredibly patient with his little brother and sister. Aaron is the artist and the goofball; for better or worse, his emotions are an inch from the surface. He loves to sing and dance, plays the guitar, and draws for hours. Lilah is the old soul in the family, responsible and kind, and she has a conscience the size of Lake Michigan," says Goslins, who lives in Cleveland Park. When Lilah was little more than four years old, she declared herself a vegetarian; her recent school projects have included starting a Gorilla Club to raise money for the endangered species. "She is also a reader. We've had to institute rules about reading at breakfast and in the car, otherwise we can't get her to talk to us."
Goslins credits a lot of her parenting ability to her husband, whom she met on a blind date—"It was the first one I'd had that wasn't an unmitigated disaster," she laughs. They had a long dinner, stayed up late, and ended the evening climbing around the Lincoln Memorial at midnight, looking for a typo she had heard was hidden in the inscription of the Second Inaugural Address. "With Julius, everything was different. When I got home that night I had a big, goofy smile on my face." Married 13 years, the pair are committed to being good role models and providing a loving foundation for their children, while admitting they are inalterably tied to their respective careers. "I just wish I had more time—for my kids, for my work, for my marriage, and for my friends. There are definitely many days when I feel like I'm doing a half-assed job at everything," Goslins says, "and I hate that."
"I try to remember that there is no perfect parent, or perfect balance. We all muddle through, we all make decisions from our gut, 85 percent of which are entirely right, and 15 percent of which are entirely wrong," she says. "We all sometimes let our kids swallow un-bisected grapes before age two, let them watch too much TV or have too much candy because we need a damn break, and buy their Halloween costumes at the last minute, even if that means Target is sold out of everything but 'Sexy Nurse Elmo.'" With all of that, and admitting that her cooking skills "usually involve the instructions 'pierce film two to three times to vent,'" Goslins knows deep down that she's doing a good job, that her kids are more than okay. "I look at them and see that they are happy, healthy, and full of personality, and I feel like I'm not totally screwing them up." Goslins, who prides herself on her role as a public servant and devoted champion to arts education, isn't into over-analyzing or comprehending "having it all." In fact, she's quite content to hop aboard the roller coaster, without always knowing which day will be an up, and which will be a down.
"It turns out marriage is hard, parenting is hard, and life has its share of challenges," she says with the authority of someone familiar with unexpected detours. "But I think in the end, that makes it all sweeter. The things you have to fight for are the ones you value the most."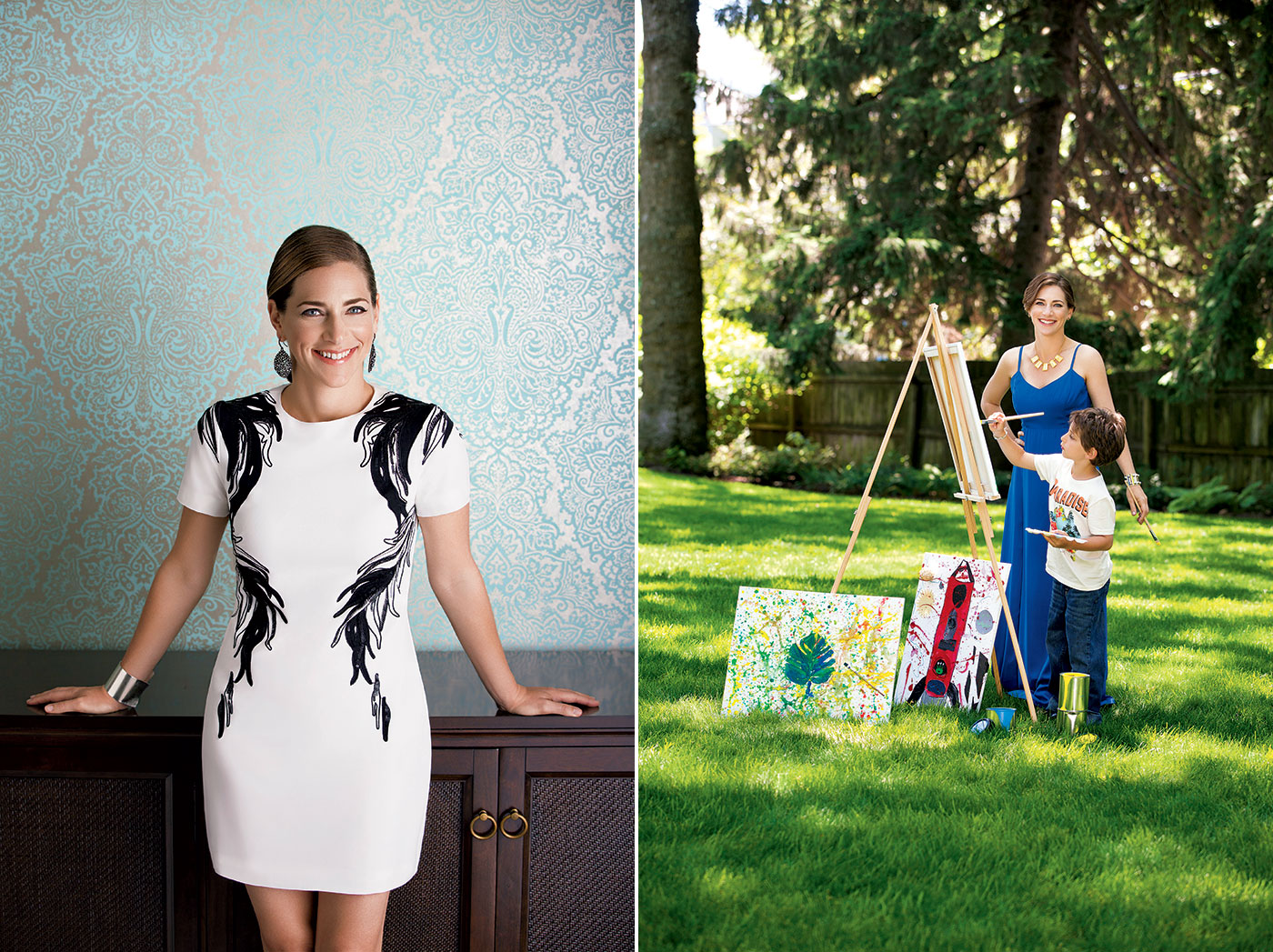 Just the Facts
Favorite vacation Rome for a weekend, Big Sur for a week, India for a month.
Favorite Kind of Music I'd love to say something esoteric and intellectual, but I'm a classic R&B and funk kind of girl—Stevie Wonder, Prince, Aretha Franklin.
Go-to outfits DVF wrap dress or Alice + Olivia pants and a sweater for work; cotton, button-down shirt, jean capris, and flip-flops for a weekend.
What no one told you about being a mom I think people told me everything, I just didn't believe them. Both about how much you would love your kids, and how hard it would be.
Person You Admire Whoever invented the Rabbit Corkscrew.
Favorite Outing with the Kids ArtJamz on a Sunday. We all get canvases and just get messy and creative for a few hours.
Favorite Date-Night Restaurant Komi. We try to go there for our anniversary every year.
When All Else Fails Laugh. It's usually funny, even if only in retrospect.
Most-Worn Pair of Shoes Kate Spade gray, snakeskin sling-backs with a little platform. They go with everything, but are just a little bit unexpected.
Photography by Cade Martin; Creative by Polygraph; Hair & Makeup by Patti Nelson for T.H.E Artist Agency; Styling by Pascale Lemaire for T.H.E Artist Agency.