In the past year, I've had deviled eggs topped with preserved tuna, boquerones, and salmon roe. I've had them pickled and pink, deep-fried, and deconstructed. Each time, I wind up hankering for the deviled eggs of picnics and family reunions past—from before tweezers were used for anything other than deboning fish and the word espuma was ever uttered in a kitchen.
So I was overjoyed at the trio of egg halves in front of me one night at Macon Bistro & Larder. I'd managed to elbow my way into snagging the last barstool (on a Tuesday) and spotted them on the chalkboard menu of bar snacks, right above the pimiento cheese. The glossy, firm whites held a mound of pickle-juice-sweetened yolk that was as rich as it was airy and fluffy. Topped with bacon bits for a little crunch, the whole thing was divine.
Named for both Macon, Georgia, and Mâcon, France, the restaurant aims to celebrate rather than marry these two parts of the world. Accordingly, the excellent buttermilk biscuits are faithful to chef/owner Tony Brown's grandmother's recipe and are served with honey butter and runny pepper jelly. Thickly cut fried green tomatoes get their kick from an addictive tomato aïoli sweetened with tomato jam and spiked with cayenne. (The cubes of pork belly atop them make for an awkward third wheel but are easy to ignore.) And aside from a few cornichons, an all-pork charcuterie board is French in name only.
Although the menu calls the fries pommes frites—and you'll find ratatouille here and lardons there—most of the Gallic influence is on the wine list (overseen by former Blue Duck Tavern sommelier Gene Alexeyev) and in the boomingly loud, packed dining room, with its bistro chairs, beaded chandeliers, and dusky gray walls. It's become a kind of neighborhood clubhouse for a moneyed upper Northwest crowd, where there are as many tweens as there are grandparents and you always seem to run into somebody you know (over two visits, I spotted three alums of my high school) or at least someone you know from TV (a surprisingly subdued Pat Collins). Brown, a Chevy Chase resident, fostered the community vibe early, with a Kickstarter campaign that raised more than $30,000.
If you were to graze on appetizers, load up on Steve Oshana's excellent cocktails—the bracing Hay House Magnolia, with tamarind and gin, or the citrusy and fragrant Water Lillets—and indulge in dessert, you'd likely have a pretty great time. Where Macon's kitchen fumbles is the bigger plates. A cut of pork tenderloin was juicy and well cooked and went nicely with a dollop of peach preserves, but it clashed with the thick layer of goat-cheese sauce swiped across the bottom of the plate. Sea scallops had a similar problem—the scallops themselves were sweet enough and nicely seared but set atop an underwhelming, underseasoned mash of butter beans. The worst offender, though, was a stringy, dry short rib perched over watery grits. Adding to the problem: a dreary culinary palette straight from the '70s—lots of salmon pink and olive green. (The rainbow trout with pecan persillade and lentils might as well be called Fifty Shades of Brown.)
There are some hiccups with service, too. The crispest can be found at the marble bar, where even on the busiest night the bartenders are affable and attentive. The table waitstaff is mostly earnest, if a little flighty. But with those crowds, you'll need a reservation. Getting my (fake) name on the books was a comedy of abrupt hangups, callbacks, mistaken dates and times, and, after all that, a lost reservation.
Things pick back up at dessert. Mason jars might be as tired as martini glasses were after the late '90s, but they're vehicles for two delicious sweets: a praline-laced coffee sundae and a tart blackberry cobbler with spoonfuls of house-made crème fraîche. Best of all is a slab of coconut cake crowned with sesame ice cream. Its homey decadence isn't surprising when you find out the source of the recipe: Naturally, it's Brown's grandmother.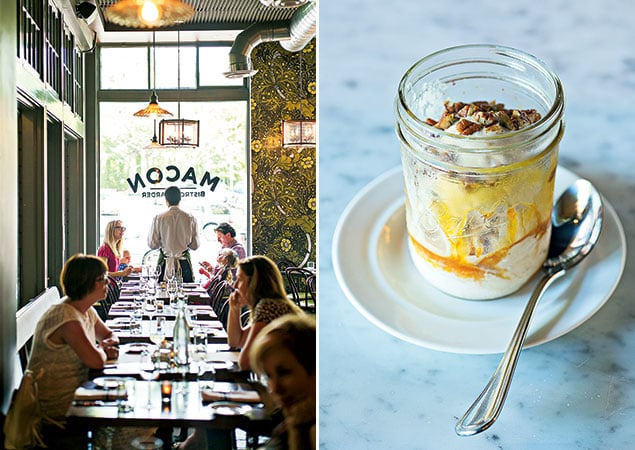 This article appears in the August 2014 issue of Washingtonian.
---