One of the biggest summer restaurant openings is upon us with the debut of Gypsy Soul, which serves its first dinner on Wednesday night. The Mosaic District eatery is the second for chef RJ Cooper, who also owns Rogue 24 in Shaw. Here's what to expect at the travel-inspired spot.
The vibe: Modern-rustic, much like the cuisine. The 135-seat space mixes wood floors and tables with exposed pipes and cast metals. An open "show kitchen," where you can watch Cooper and his chefs at work, is the focal point of the room.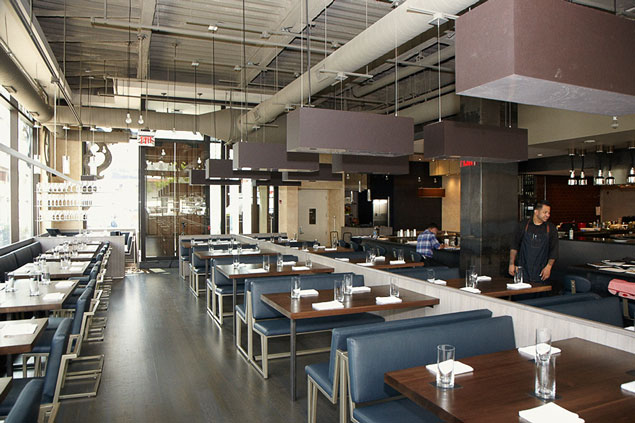 The crowd-pleasing food: A section devoted to macaroni and cheeses, anyone? Many of the robust, Southern-inspired dishes hark back to Cooper's days at Vidalia, where he earned a James Beard Award for Best Chef Mid-Atlantic. You'll find bread baskets filled with buttery rolls and sage biscuits, jumbo lump crabcakes with homey potato salad, and short ribs atop Carolina-rice risotto. A few items also nod to Cooper's Detroit upbringing, such as a cheffy version of a Greek diner salad (think barrel-aged feta and house-pickled beets instead of canned).
The more adventurous food: "Beef marrow/sea urchins/antler mustard/ink toast." Menu descriptions like this one look like they're off Rogue's modernist menu, though you won't find tweezers in the Gypsy kitchen. The actual dish is more rustic than it sounds (translation: roasted bone marrow topped with uni and mustard greens). Lovers of other oddities can find Asian-style lettuce wraps with crispy pig ears and fermented cucumbers, chicken-skin cracklings, and a stuffed pork head.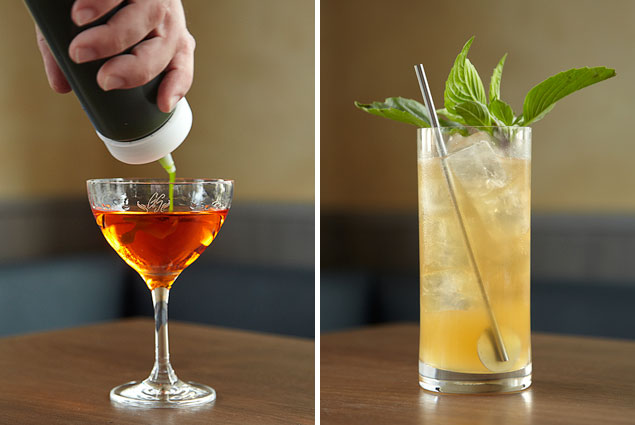 The drinks: Inspired by travel. Cocktail expert Bryan Tetorakis (aka the "Cheftender") has carved his own niche at Rogue 24, running a separate drinks tasting menu. Here you'll find similarly creative sips, such as the Gnome, with vodka, Aperol, black pepper, and liquid arugula. The wine and beer list reads majority local and American. House-made sodas and fresh-brewed peach tea are on tap for the non-drinking crowd, along with a selection of La Colombe coffees.
The conversation piece: Biker-inspired bar stools. The comfy leather perches were modeled after Cooper's own motorcycle, named Pumpkin for its orange coloring. Another fun fact: His license plate reads "BRAISE."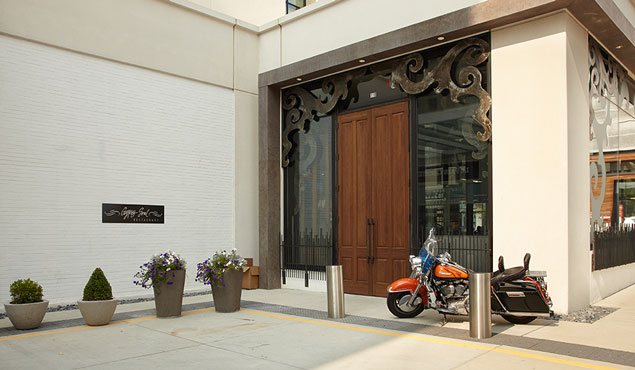 On the horizon (short-term): Lunch and brunch. Saturday and Sunday brunch are expected to start the weekend after Labor Day, with afternoon service to follow. Entrée salads and more sandwiches are planned for lunch—we're looking forward to trying that "redneck cheesesteak"—while brunch will bring Bloody Marys galore and over-the-top dishes such as duck confit hash with duck eggs and foie gras béarnaise, and fried chicken and waffles.
On the horizon (long-term): Big dishes and an ever bigger rooftop. Once the kitchen hits its stride, you'll find a number of platters for two in each section of the menu, such as whole roast fish, racks of ribs, and slate-roasted 30-ounce rib eye. As for outdoor dining, the restaurant's 80-seat rooftop is scheduled to debut in spring 2015.
Gypsy Soul. 8296 Glass Alley, Fairfax; 703-992-0933. Reservations accepted. Open (currently) for dinner, Monday through Thursday 5:30 to 10, Friday and Saturday 5:30 to 11:30, Sunday 5 to 9. Lunch and brunch to follow.
Find Anna Spiegel on Twitter at @annaspiegs.