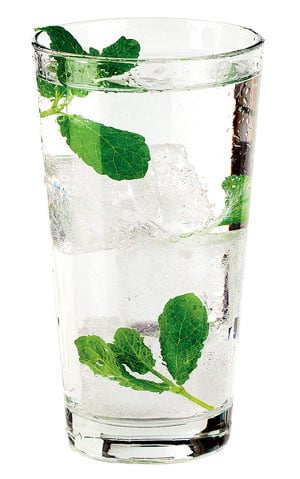 Sitting on the patio at Bourbon Steak, it would be easy to think the most popular summer drink this year is water garnished with mint. That is until you take a sip of barman Duane Sylvestre's crystalline concoction—a clarified mojito—which looks like H2O but packs the rum-fueled punch of the Cuban classic.
Sylvestre isn't the only Washington bartender playing with clarification, a method that removes solid particles and color from a liquid—most often a citrus juice—yet retains the flavor. Most, like Sylvestre, use the powdered plant agar, also a popular substance in avant-garde kitchens like DC's Minibar. The agar changes liquid to a substance similar to Jell-O, and a clear fluid is then gently extracted through cheesecloth.
Bartenders such as Sylvestre favor clarifying for its aesthetic appeal as well as its ability to lengthen the juice's shelf life by a day. (Many cocktail bars spend an hour daily juicing fresh fruit.) Others, including Trevor Frye at Jack Rose Dining Saloon, see a significant bump in taste.
"You're unveiling the better flavors of the citrus," says Frye, who mixes clarified lemon juice with Talisker Scotch and maraschino liqueur at Jack Rose's reservation-only cocktail bar, Dram & Grain. It's one of the few constants on the frequently changing menu. "The tartness goes away and you get a much brighter citrus taste."
The only dangerous side: Drinking too much of the smooth results can make things decidedly less clear.
This article appears in the August 2014 issue of Washingtonian.