Remember the childhood joy of being served a sticky-sweet grenadine and ginger ale combo, with one of those suspiciously red maraschino cherries on top? The default drink for kids while parents sipped something far more glamorous? It's time for an update.
1. The Sophisticated Lady
Jessica Botta, director of restaurants Fiola, Casa Luca and Fiola Mare, shares a mocktail recipe that puts the good ole Shirley Temple to shame. "Families who come to our restaurants have kids who are used to eating out, and our mocktails reflect that," says Botta, who changes her nonalcoholic drink menus seasonally.
Ingredients:
3 oz sparkling apple cider
1 oz pomegranate juice
½ oz club soda
½ oz fresh lemon juice
Method:
Shake and double strain into a Champagne flute; top with additional cider and garnish with a lemon twist.
Mocktail to Cocktail: Sub in Prosecco for half the sparking cider.
2. Calpico Punch
Duane Sylvestre, head bartender at Bourbon Steak, spent his wedding anniversary trip to Tokyo hunting for new tastes and flavors—and found one in the vending machines. "Everywhere I went, there were Calpis, which looked like milky water, but I fell in love with it."
And he brings this delicious flavor back home in a refreshing, lemony mocktail for kiddos.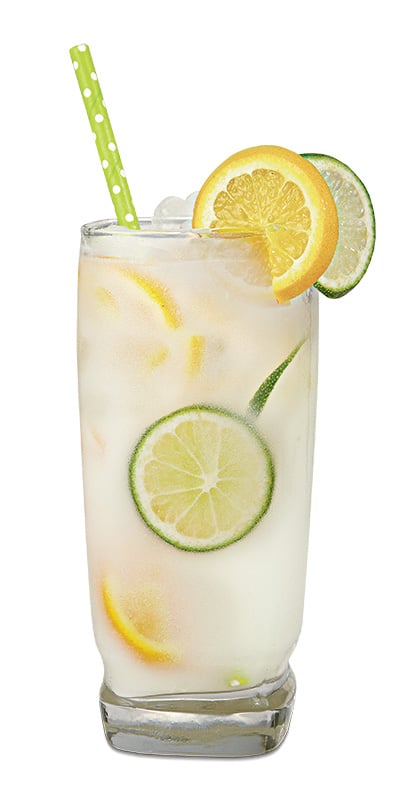 Ingredients:
For the Calpis base:
2¼ cups plain yogurt
2 cups sugar
2 teaspoons lemon juice
For the punch:
5 oz club soda
½ oz choice of citrus juice (lemon, lime, or yuzu)
1 oz Calpis base, see above
Method:
Place yogurt and sugar in a bowl over simmering water and whisk until smooth. Continue whisking for 15 minutes or until the mixture reaches 180 degrees. Do not let it boil.
Remove from heat and cool to room temperature. Whisk in 2 teaspoons lemon juice and store in the fridge (up to three days).
Combine 1 ounce Calpis base with club soda and citrus juice. Stir and serve in a tall glass with crushed ice. Garnish with seasonal fruit.
Mocktail to Cocktail: Add a shot of pisco or gin and serve.
3. Cucumber Mint Limeade
Adults have sweet, sweet wine—"the nectar of the Gods," if you will. And kids have their own version of sweet sips: a cucumber mint limeade.
Glendon Hartley, the beverage director of Cava Mezze, Cava Grill and Sugo, relies on the natural sweetness of fruit, trying to keep added sugar to a minimum. "Kids also like bright colors, which we can achieve using fruit that's been steeped."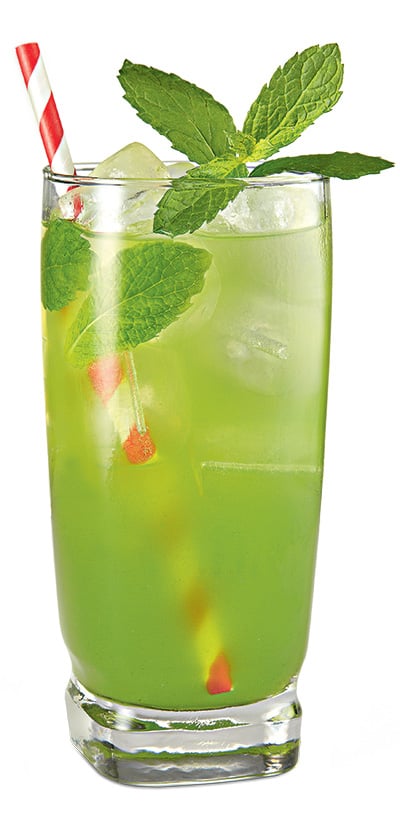 Ingredients:
2 quarts cucumber juice
1 quart mint syrup
1 cup lime juice
2 cups filtered water
6 mint leaves
Method:
Make a quart of simple syrup, using a one-to-one ratio of sugar to water. Agave or honey can be substituted for sugar.
Steep the mint in the simple syrup over medium heat for at least15 minutes, or overnight.
For the cucumber juice: Juice two cucumbers, either in a Breville juicer or a blender with water (approximately two cups water for each cucumber). Let the mixture sit overnight and then strain through a cheesecloth.
Whisk together the cucumber juice, mint syrup, lime juice, and water. Serve over ice in a collins glass, garnished with mint.
Mocktail to cocktail: Add gin, shake, serve in a martini glass.
4. Nicolaki
Picture this: You're about to take a bite of cool, creamy Greek yogurt that's been drizzled with honey and just a touch of lemon juice. It's indulgent, healthy and as it happens, your kids love it, too. It's the perfect satisfyingly light breakfast, but what if you—and the kids—could have this dessert-like food at any time of day?
Jeff Faile, bar and spirits director of Neighborhood Restaurant Group, has made this a reality with the Nicolaki, a drink-all-day mocktail. He uses breakfast ingredients—honey, yogurt, and lemon—as inspiration behind this mocktail. Faile's Nicolaki has been a big hit with adults and kids, who appreciate the novelty of using Greek yogurt in a drink.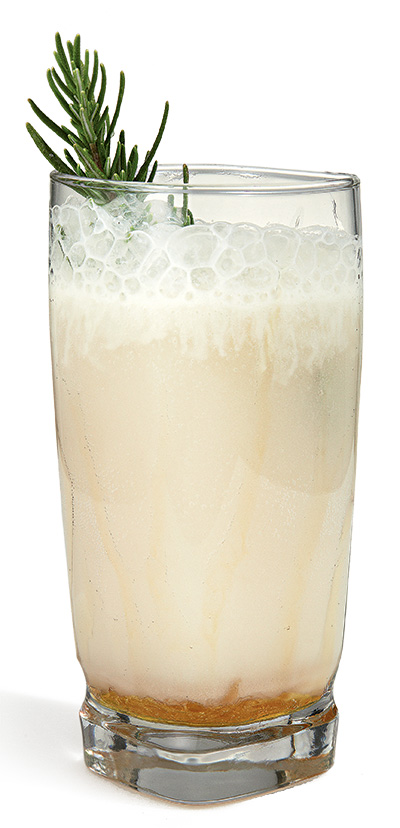 Ingredients:
1 oz honey syrup
½ oz lemon juice
Spoonful of Greek yogurt
Large pinch of rosemary needles
Ginger ale
Method:
To make the honey syrup, combine equal parts honey and hot (not boiling) water. Stir until the honey is completely dissolved.
Shake the honey syrup with the lemon juice, yogurt, and rosemary, then strain into a collins glass and top with ginger ale.
Mocktail to cocktail: Add 1 ½ oz vodka in the initial shake and omit the ginger ale. Serve in a martini glass.
5. Strawberry Sage Lemonade
Shelley Musleh, the bar and dining room manager at Ris, finds her inspiration for this fruitful drink at the farmer's market. In addition to strawberry and sage, Musleh suggests other fruit and herb pairings: blueberries and basil, or citrus and apricot. "It's so much healthier than a juice box."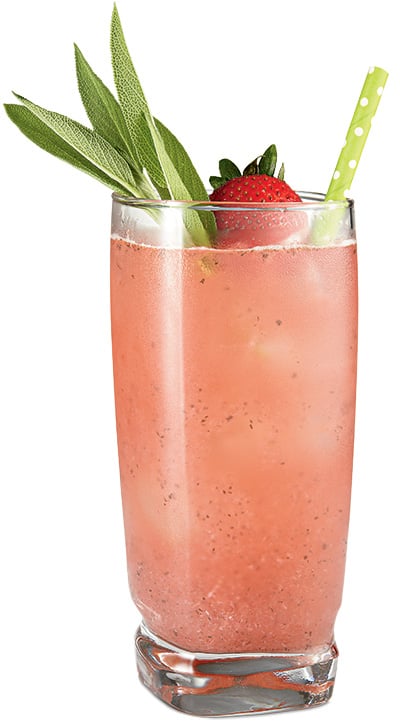 Ingredients:
1½ quarts fresh lemon juice
1 quart simple syrup (stir even parts sugar and boiling water until completely dissolved)
3 quarts filtered water
8 medium to large strawberries
4 large sage leaves
Method:
Wash the strawberries and remove the stems; blend with the sage leaves until smooth.
Combine everything in a large pitcher and stir well. Serve over ice in a collins glass and garnish with a strawberry or sage lea
Mocktail to cocktail: Add tequila and Cointreau for a twist on a classic margarita.
6. Babycino
We all remember that glorious moment when we were finally—finally—able to take those first sips of coffee, a priviledge saved for those 18 and up.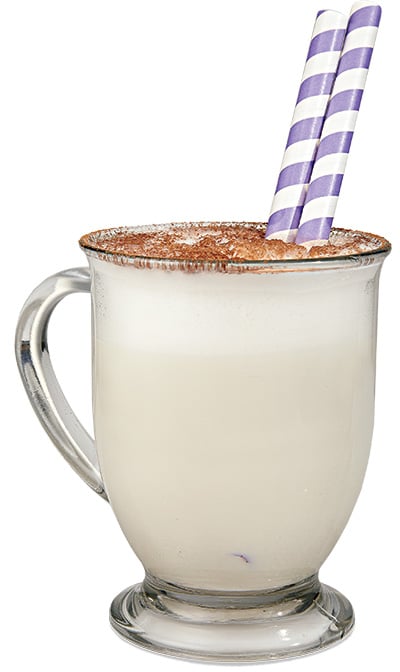 Chris Vigilante, owner of a Vigilante Coffee, understands this plight of kids who want nothing more than to upgrade their hot chocolate to a cup of coffee.
As parents visited Vigilante's pop-up coffee shops for their caffeine fix with kids in tow, he came up with the Babycino. "They wanted their own drinks," says the entrepreneur, who plans to open a coffee bar on H Street, Northeast, this fall.
Ingredients:
A glass of milk
Pinch of cocoa powder
Method:
Using a milk frother, whisk warm milk (Vigilante recommends whole milk, but any kind will work). Serve in coffee mug garnished with a sprinkle of cocoa.
Mocktail to cocktail: Add a shot of espresso or Bailey's Irish Cream.