Leigh Daily
Hairstylist and makeup artist, 33
Daily staples: "Dresses that flow, pants with leather trim, and tank tops."
Her thing: "I would call my style bohemian glam-rocker."
The key: "Finding balance. If it's soft and pretty, I pair it with leather boots and bold jewelry."
Style influence: "I'm a fan of Coco Rocha and Rooney Mara."
Washington fashion is: "Navy blue."
Three go-to items: "Moccasin boots, Free People slips, and leather pants."
On Daily: Midnight-blue dress by Free People, $400 at Bloomingdale's (Chevy Chase); Eilisain Vespa III citrine ring, $300 at Redeem (1810 14th St., NW; 202-332-7447); Phyllis & Rosie "Julia" quartz necklace, $125, and "Linett" coin necklace, $176, at She's Unique (205 King St., Alexandria; 703-836-8863); gold cuff bracelet with agate, $120 at Lou Lou (Bethesda); floral crown with roses by B Floral and Event Design (202-487-0871).
H. Frank Neely
Acupuncturist, 40
His thing: "Slacks or linen pants and a button-down shirt. My weekend uniform is usually jeans and a T-shirt. I like to shop in other countries when I travel, most recently in London and Amsterdam."
Insider tip: "Never pay full price."
Surprise! "It has taken me 20 years to grow my hair this long."
Washington fashion is: "Centered around work and happy hour."
Three go-to items: "Jeans, Chucks, and a Divided jacket I bought in 2006."
On Neely: Ted Baker "Decjac" wool blazer, $548, and "Dectro" trousers, $248, at Bloomingdale's; Etro pocket square, $110 at Saks Fifth Avenue Men's Store (Chevy Chase).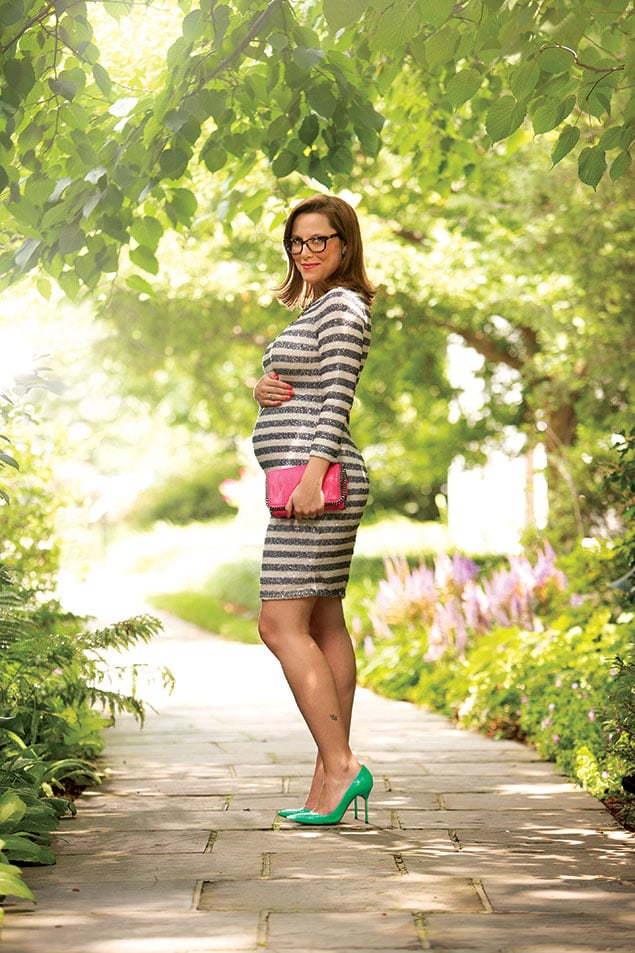 S.E. Cupp
Writer and CNN political commentator, 35
Her thing: "I dress how I dress. So whether I want to wear 'boring' pearls or 'edgy' leather boots, I've stopped trying to dress for other people."
Academic cred: "I have a BA in art history from Cornell and a master's in faith studies from New York University."
Surprise! "I have a tattoo on my lower leg of Wassily Kandinsky's signature. I was six when I first saw one of his paintings at the National Gallery of Art, and it stuck with me."
Power piece: "The source of all my power lies in my eyewear."
New addition: "I have a baby boy on the way."
Washington fashion is: "Preppy."
On Cupp: "Pammy" sequin dress by Alice and Olivia, $440 at Saks Fifth Avenue (Chevy Chase); Loren Hope earrings, $118, and necklace, $298, at Bishop Boutique (815-B King St., Alexandria; 571-312-0042); Stella McCartney "Shaggy Deer" fold-over clutch in pink, $895 at Saks Fifth Avenue; Cupp's own Manolo Blahnik pumps.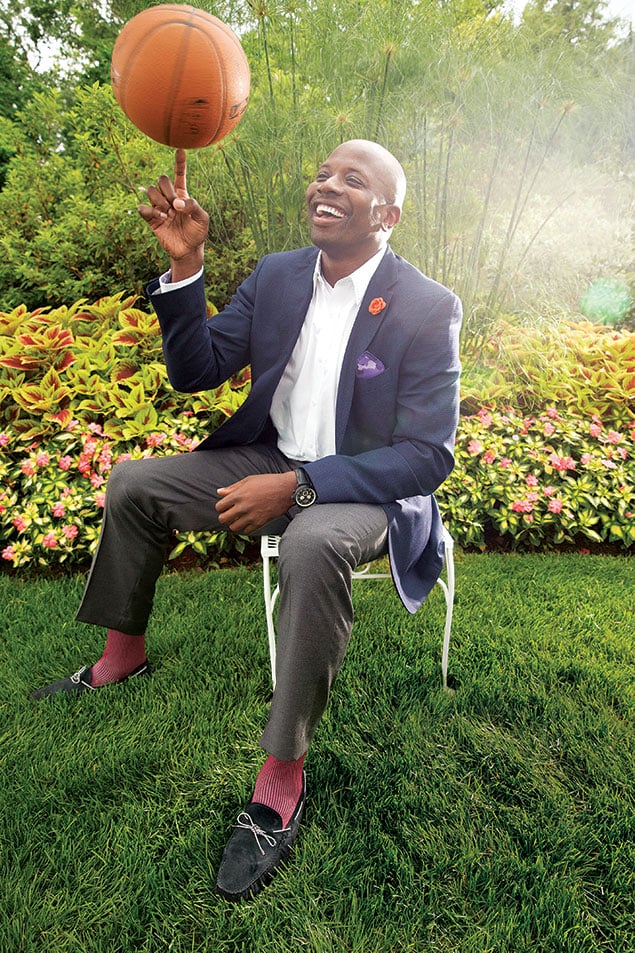 Reginald Love
Vice president and partner at Transatlantic Holdings and a former special assistant to President Barack Obama, 32
His thing: "Simple and easy. It needs to be packable and not require ironing."
In his closet: "Overly organized, by type of shirt, color, and frequency of wear."
Off-duty look: "Nike sweatpants, Lululemon V-neckT-shirt or long-sleeved shirt, Vince hoodie, and Crocs flip-flops."
Reality shopping: "I use Trunk Club because I don't like going to stores."
Insider tip: "When it comes to style, it's all confidence, no second-guessing."
Icon: "My father, who is the coolest man on the planet—fact."
Uniform: "For day, a blue suit, royal-blue shirt, handkerchief, brown shoes, brown belt. It's comfort mixed with professionalism. I'm trying to get the handkerchief to kill the tie."
On Love: His own custom jacket and slacks and Johnston & Murphy white paisley-print shirt; Hook & Albert orange flower lapel pin, $30, at Saks Fifth Avenue Men's Store; purple camouflage pocket square, $55 at Saks Fifth Avenue Men's Store;Shinola Runwell Chronograph watch, $800; similar styles at Tiny Jewel Box (1147 Connecticut Ave., NW; 202-393-27747).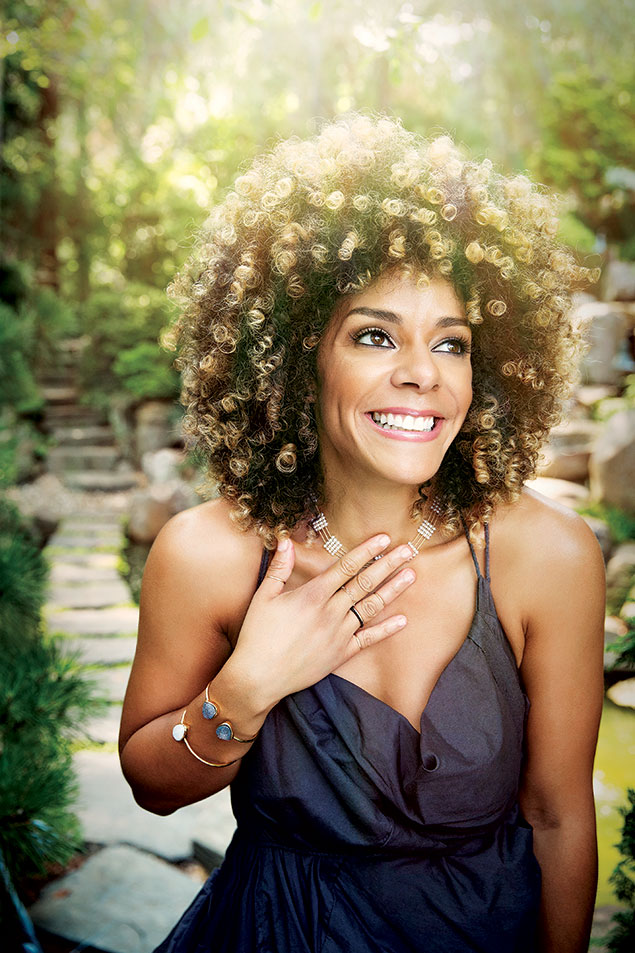 Melissa Burgos
Management analyst for the Department of Health and Human Services, 34
Style influence: "Diana Ross."
You can find her at: "Barcelona. Great wine list, chic atmosphere."
Surprise! "I served ten years' active duty in the United States Navy."
Washington fashion is: "Conservative."
Insider tip: "Thrift stores in Arlington, like Goodwill and Columbia Pike Thrift Shop, have amazing coats and dresses."
Most Used Apps: "Instagram and the Daily Horoscope."
On Burgos: Her own AllSaints dress; Margaret Elizabeth druzy-quartz and white-moonstone bangles, $88 each at Bishop Boutique; Estyn Hulbert freshwater-pearl-and-gold necklace, $1,100 at Mia Gemma (933 F St., NW; 202-393-4367).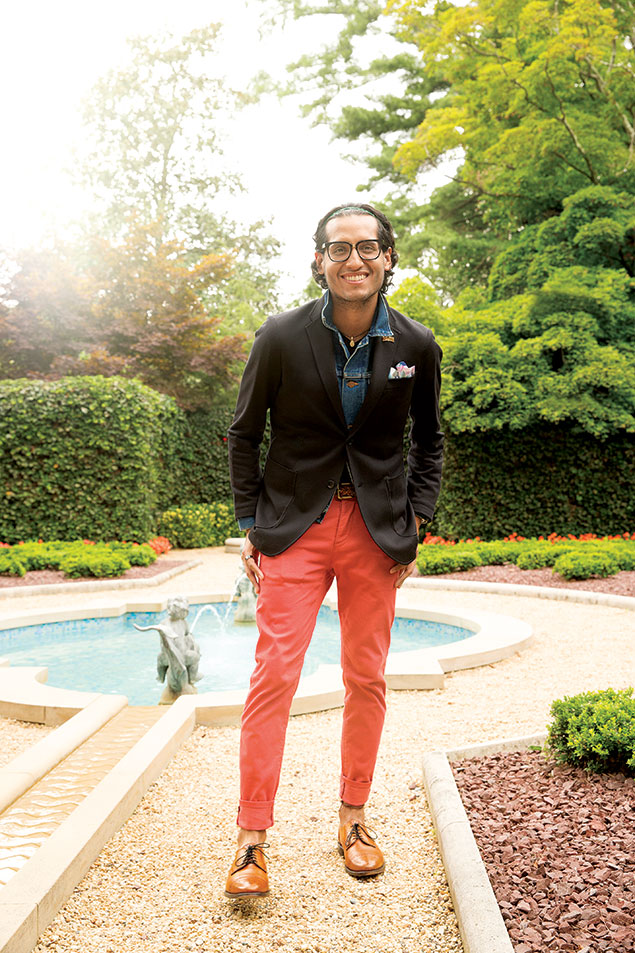 Freddy Reyes Jr.
Brand marketer, 27
Daily staples: "I don't think anyone, even me, can define my style. I change it up every day and mix everything. Today I looked like a grunge rocker, but yesterday I looked like an avant-garde ninja with my all-black clothes from Rick Owens and Yohji Yamamoto."
In his closet: "An array of color, from cobalt to camo to red. I also have an obsession with vintage and rare leather jackets I've been acquiring through the years."
You can find Him at: "Kangaroo Boxing Club in Columbia Heights enjoying a glass of whiskey, a plate of pastrami, and the good people who work there."
Washington fashion is: "Pushing me to be bold. I like being part of the exception, not the rule."
On Reyes: Uniqlo jacket; vintage denim jacket by Wrangler; chino pants by ASOS, Pokémon Company pocket square; Allen Edmonds shoes; eyeglasses by Super; Adidas headband. All items Reyes's own.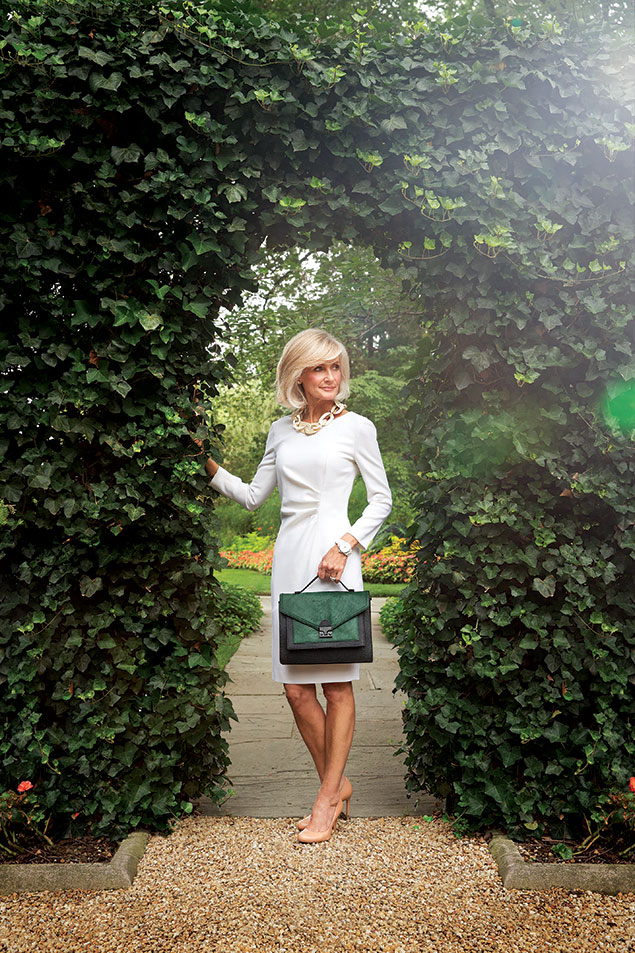 Linda Daschle
President of LHD & Associates, 59
Her thing: "There is nothing better than a dress, pumps, and a great handbag."
Surprise! "I have five grandchildren—they call me Mimi."
Fantasy shopping: "Dior."
Icons: "Jackie Kennedy, Grace Kelly, Audrey Hepburn."
Three go-to items: "White jeans, black workout pants, my Thunder [Oklahoma City NBA team] T-shirt."
Should probably get rid of: "My Ugg boots."
On Daschle: Stretch wool dress by Emilio Pucci, $1,490 at Saks Fifth Avenue (Chevy Chase); ivory-and-gold-resin necklace by Simonetta, $310 at Keith Lipert Gallery (2922 M St., NW; 202-965-9736); black tumbled-leather and forest-green haircalf "Rider" bag by Loeffler Randall, $595 at Bishop Boutique.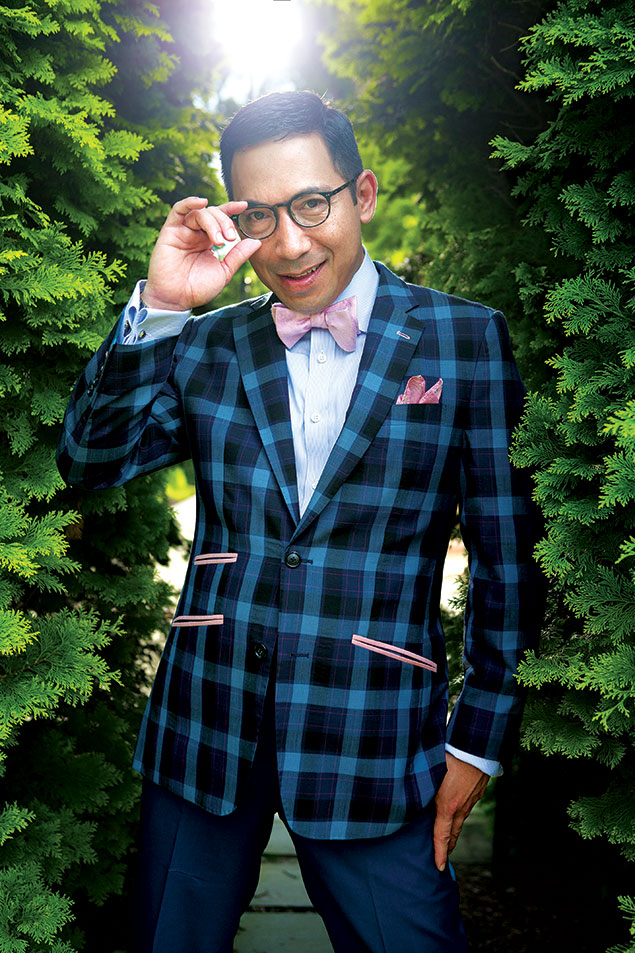 Michael Deltette
Director of special events,Park Hyatt Washington, 43
Retro romance: "When I was a teenager, I owned The Official Preppy Handbook, and I'm delighted this style has come back."
In his closet: "Shoes, shoes, shoes, and bespoke suits from the Tailored Man. Rows of dress shirts. And a steamer."
Power piece: "A vintage Rolex given to me by my father."
Never without: "Jo Malone Pomegranate Noir cologne."
DC Pet Peeve: "Ill-fitting suits. They don't have to be custom-tailored, but please, wear the right size."
Washington fashion is: "Evolving."
On Deltette: Custom merino-wool suit in navy-blue-and-pink plaid with pink silk pocket trim; blue-and-white dobby cotton shirt; pink silk-and-linen Corneliani bow tie; silk paisley pocket square. All Deltette's own, by the Tailored Man.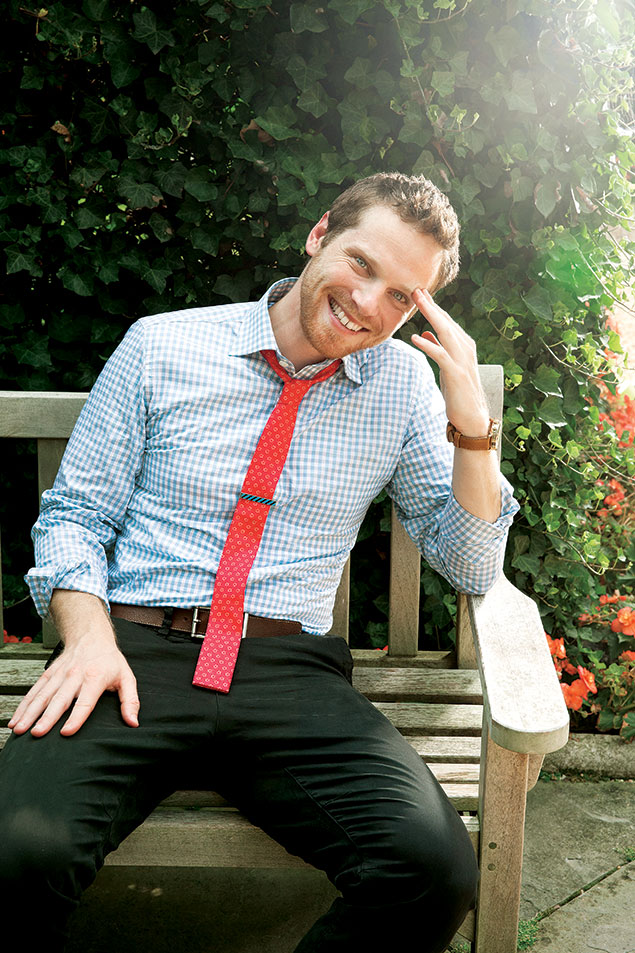 Will Byrne
Cofounder and CEO of Groundswell, 30
Daily uniform: "Jeans, wide-spread-collar button-down shirt, and kicks."
Three go-to items: "All shoes—Nike Air Max, Adidas Stan Smiths, and Steve Madden gray lace-ups for more formal stuff."
Should probably get rid of: "Basketball jerseys from my days on the Vassar team."
Style influence: "In my early twenties, I was lucky to live for a bit in East Berlin, which was full of students, creatives, artists, and general troublemakers. I loved the look of the people. I try to bring a little more color to my look—and I smile more—but there's an influence there."
Never without: "My iPhone, with Spotify rolling at almost all times, unless I'm in a meeting."
Surprise! "I play the drums."
Most used app: "Google Maps. I try to walk everywhere possible to off-set carbon emissions from my travels."
On Byrne: "Willamette" spread-collar shirt in teal gingham, $85, and "Concord" tie, $25, both at Hugh & Crye (3212 O St., NW, Suite 5; 202-250-3807); rep stripe tie bar, $88 at Jack Spade (1250 Wisconsin Ave., NW; 202-333-1905); Chapter Rautha chinos, $115 at Redeem; Ted Baker reversible belt, $75 at Bloomingdale's; Shinola Runwell chronograph watch, $800 at Shinola.com.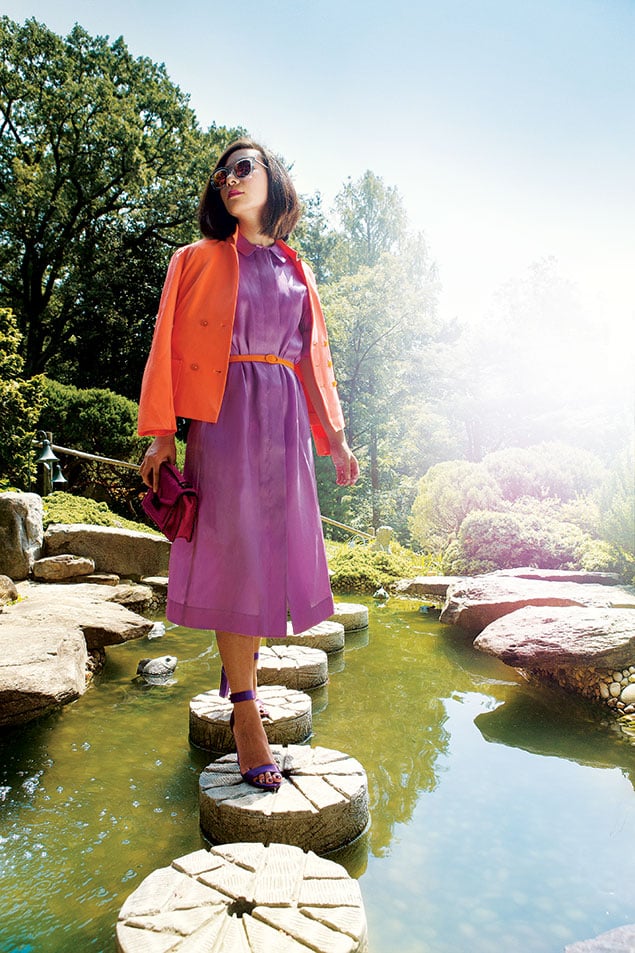 Monling Lee
Architect, 31
Her thing: "Linen oxford shirts in solid colors with sleeves rolled up high, belted oversize linen skirts in analogous colors, minimalist dresses with architectural silhouettes, pumps, and bold lipstick."
Washington fashion is: "Classic. Well groomed."
Can't get rid of: "My mother's vast collection of pencil skirts, tailor-made in Taiwan in the '80s."
Style influence: "Miroslava Duma, CarolineIssa, Yasmin Sewell, and Jenna Lyons. However, their style is only a reflection of their visionary and entrepreneurial spirits, which are qualities I find even more inspiring."
You can find her at: "Lotus Cafe in Silver Spring, for its incredible selection of cheap Vietnamese eats."
On Lee: Her own BCBG dress, Jil Sander jacket, J. Crew shoes. Loeffler Randall mini-"Rider" magenta haircalf bag, $495 at Bishop Boutique; Le Specs Runaways Luxe sunglasses, $85 at Redeem.
Photographs by Dean Alexander. Location: Hillwood Estate, Museum & Gardens. Hair and Makeup by Carl Ray for George Salon at The Four Seasons and Ryan Krasney for Blend Events. This article appears in the September 2014 issue of Washingtonian.