What does a bad restaurant look like? At a certain level and at first glance, it can look an awful lot like a good restaurant.
Consider the case of America Eats Tavern, a fresh arrival to traffic-choked, restaurant-starved Tysons.
The menu is inviting, the service polished, the dishes attractively presented. The man staging and conducting the show is José Andrés, the celebrated chef behind some of the area's most exciting restaurants, including Jaleo and Zaytinya.
The mission? To celebrate the rustic simplicity of regional American cookery. A small fortune was lavished on the space, onetime home of Fabio Trabocchi's Maestro in the Ritz-Carlton. It ought to add up to something special. Or at least something interesting.
But America Eats Tavern is contrived where it should be inspired, stiff where it should be lived-in, and tone-deaf to the spirit of what it aspires to capture.
You'll search in vain for any signs of passion. Or joy. But not for incongruities. Emblazoned above the open kitchen are the first words of the Constitution: "We the People." We the people who charge $25 for a burger.
The small disk of foie gras that sits atop it is presumably luxurious justification, but what is one of the most creative, genre-defying chefs in the country doing repeating ideas that were in vogue 15 years ago? The kitchen compounds the error by serving the burger on a sheet of butcher paper—as if somehow to reassert its rustic roots.
The meat is local and ground by hand, but the night I ordered it, the more important detail was ignored: The kitchen cooked it well past the promised medium rare.
Dinner ended that evening with the presentation of a book; the check sat inside. The book, fraying at the edges, was a children's story. About a mouse. Published in England. The table nearby received a copy of Robinson Crusoe—another English work. So wait: all-American wines, hams, oysters, and cheeses. But in this instance it sufficed, simply, to be old?
The remarkable thing is that America Eats has actually improved since it debuted two years ago as a pop-up at the old Café Atlántico in Penn Quarter.
It's a huge step up, after all, from "laughably awful" to "disappointingly bad."
You watched, then, in disbelief as a chicken pot pie was carved tableside as if it were Dover sole. When a waiter deposited a plate of peanut-butter-and-jelly sandwiches (made with hand-ground peanut butter!) and held forth on the provenance of the small jug of milk, you wondered if someone was laughing in the wings, surreptitiously filming your reaction. Key-lime pie was "deconstructed," a fancy term to describe the disassembly and desecration of a simple, soul-satisfying thing. Each element of the pie was served separately—the filling as a narrow rectangle of curd, the crust as a pile of crumbs, the whipped cream as dabs around the plate.
Not everything was a parody of how twee and ridiculous fine dining can be. And several dishes were delicious. But the effort so missed the spirit of American cooking that you came away thinking it was less about reviving a forgotten past and more about one man's effort to show his adopted country how he could improve upon its bland, plainspoken fare.
The restaged restaurant is the effort of a chastened chef. There are no deconstructions this time, and the peanut-butter sandwiches have been jettisoned. The desserts include two cakes, and they actually look and taste like cakes: tall, layered, and held under glass domes. There's a lemon meringue pie, and no assembly is required: Lightly browned meringue gives way to a gorgeous, nearly frozen lemon curd and a rich shortbread crust.
But if the pretension and prissiness have been winnowed away, so has much of the energy. You'd never guess this is the same chef who dared to put a mojito into an atomizer and turn olive oil into a semi-frozen solid.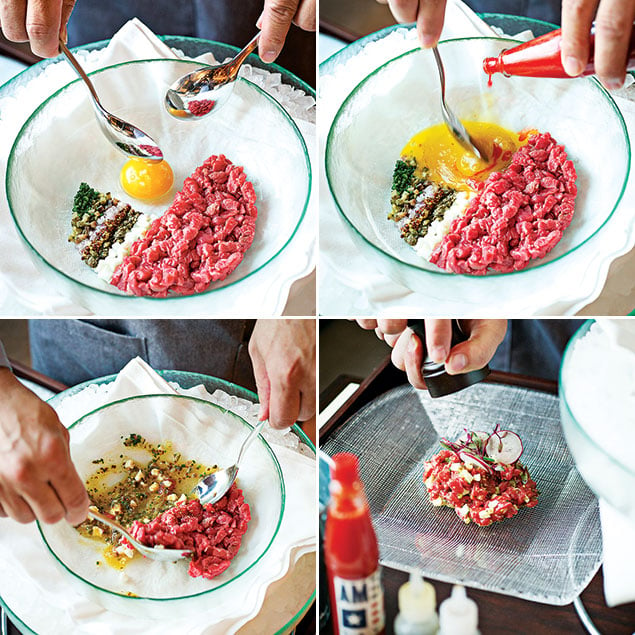 Apart from a finishing application of crushed corn nuts—a fetish of Andrés's that can be traced back to the original Minibar—you'd be hard-put to distinguish this version of shrimp and grits from anyone else's. Likewise, the fried chicken: passable, but nothing you'd return for. We turn to chefs like Andrés to make us see a familiar thing in a new light, to intensify the flavors we know and love. The steak tartare is mixed tableside but otherwise plays it safe; it's as if Andrés couldn't bear, this time around, to risk looking like someone who would mess with something as perfect as a simple steak tartare. The Chicago dog looks almost exactly like a Chicago dog. That's not a bad thing; not everything has to be made new. What is a bad thing is that there's no conviction in it, no love—as if not making it new is somehow an excuse to slack off. The $21 lobster roll is great, on paper—fresh claw and knuckle meat topped with an espuma, a foamy sauce—but turns out to be little more than mayonnaise on a roll.
America Eats is Andrés's first foray into American cooking. But that's not the important first here. The important first is that this is his first restaurant to stray from the small-plates format that defines him as much as does his hyperactive personality. It shows, awkwardly, in the sketchy conception of several dishes—mutton (yes, mutton) with fried oysters, potatoes, and house-made ketchup is a study in shades of brown—and in the sometimes imprecise execution. She-crab soup was excellent but arrived lukewarm. Chicken and dumplings was oversalted to the point of being inedible. An homage to the great Paul Prudhomme—beautifully blackened scallops atop corn relish—was undone by a lemon foam whose salty tartness almost made me think someone had spilled a margarita over my plate. I had to send back a $45 Delmonico steak, which was dry and pale pink where it should have been juicy and red. The refired steak was better than the regrilled burger, which still came back medium.
The best dish at the three meals I ate was one the Spanish chef has been cranking out for decades: an expertly tangy gazpacho.
Is it worth pointing out that I always drank well? The Martinez—with gin, vermouth, and lavender and orange bitters—was excellent. But it wasn't $17 excellent. And although it was a rare treat to be able to drink a Bordeaux blend from Virginia's RdV Vineyards,the price for that pleasure was steep: $18.
Andrés recently became an American citizen. Let's hope next time he can come up with a better thank-you to his adopted country than this gutless homage.
This article appears in the September 2014 issue of Washingtonian.
---