What Muriel Bowser says:
"I don't run away from people asking questions."
What she means: Watch me run away from questions to deprive my opponent of the microphone.
"I appreciated a very genuine handshake that [Vince Gray] offered
to me this morning."
What she means: The mayor and I revile each other.
"If you're not married at 42, people think there's something wrong
with you. I date all the time. I am private, that's for sure."
What she means: No, I am not gay.
"I don't think everything has to change in the government"
What she means: Hey, black voters who turned out my political mentor: I'm no
Adrian Fenty.
"You're not mayor until you are mayor."
What she means: Quit worrying about my not seeming "mayoral."
What David Catania says:
"It's past time for the candidates of this race to engage in a public discussion about the future or our city."
What he means: Help! Until Bowser agrees to debate, I got no game.
"A label alone never puts food on the table . . . never educates
children, and it doesn't provide health care."
What he means: Because I'm running against a Democrat in one of the nation's
bluest cities, my only prayer is to convince DC voters to abandon
their party.
"People understand that even if they don't necessarily agree with
me all the time . . . I roll up my sleeves and I'm serious about
getting solutions."
What he means: My hard work makes up for my embarrassing lack of civility.
"Let me be clear—I will not be seeking reelection as a member of
the council. I am running for mayor of the District of Columbia."
What he means: After 17 years, I couldn't stand another term on the DC
Council.
"The [Democratic] primary was about who shouldn't be mayor, not
who should be."
What he means: I really wanted to run against Vince Gray.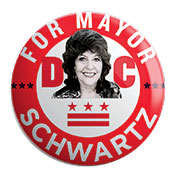 What Carol Schwartz says "I just want you to
take me a little bit more seriously."
What Carol Schwartz means . . . Before I
disappear again to Rehoboth.
This article appears in the September 2014 issue of Washingtonian.