Camping in a Vineyard
Custom Adventure Tours arranges everything except steaks for the grill at Cobbler Mountain Cellars' "Wine Under the Stars" camp-out. Arrive at your leisure on Friday afternoon, then relax over a tasting of Cobbler Mountain's wines and hard ciders while your creekside campsite is set up with tents, inflatable mattresses, cots, sleeping bags, and camp chairs. Canopy tents and tables create an outdoor dining room, where you can mingle with the few dozen other campers over dinner. Fresh-grilled corn, salads, and breads complement the rib eyes or other main course you bring to grill, and campfires blaze until midnight.
In the morning, a healthy breakfast of fruit, muffins, orange juice, and coffee also includes trail mix—fortification for the moderate, guided hike up the mountain. Live music accompanies the cornhole, bocce, volleyball, and horseshoe competitions all afternoon. The $165-a-person price for three days and two nights includes all gear ($105 with no gear rental); side dishes for dinner; breakfast; winetastings all weekend (maximum three); the guided hike; and games. September 5 through 7 or October 3 through 5. Kids and pets welcome. 5909 Long Fall La., Delaplane; 540-364-2802; cobblercellars.com.
Friday Evening in Paradise
"Swagger Friday and Cigar Bar" lights up the patio at Paradise Springs Winery the third Friday of every month from 5 to 9. Choose from a variety of stogies for sale—with a cigar purchase, you get a free tasting of Swagger, a fortified port-style wine. Or bring your own cigars and buy Swagger by the glass. Virginia Wine & Cigar Trail (vawineandcigar.com) offers other smoke-and-sip venues. 13219 Yates Ford Rd., Clifton; 703-830-9463; paradisespringswinery.com.
Crush Course
Wine boot camps teach winemaker wannabes to taste as the pros do, navigate a wine shop, handle a cork, and pair food and wine fearlessly. Several wineries in the region offer boot camps, including Little Washington Winery,which hosts four camps every weekend. The cost is $40 a person for the 2½-hour class, which includes a chocolate pairing, lunch, and a glass of wine. 72 Christmas Tree La., Washington; 540-987-8330; littlewashingtonwinery.com.
For a deeper dive into winemaking, try the "Winemaker for a Day" program at Sunset Hills Vineyard. Participants create their own blend and even custom-bottle their creation. The next sessions are November 7 and 9 and cost $40. 38295 Fremont Overlook La., Purcellville; 540-882-4560; sunsethillsvineyard.com.
Or consider a weekend-long wine camp at Veramar Vineyard ($1,800 for two nights' lodging, meals, and tastings for two people; 905 Quarry Rd., Berryville; 540-955-5510; veramar.com) or at the Virginia Wine Camp hosted by the new upscale Inn at Vineyards Crossing ($1,200 for two nights' lodging, meals, and tastings for two people; 5024 Leeds Manor Rd., Hume; 540-364-2466; vineyardscrossing.com).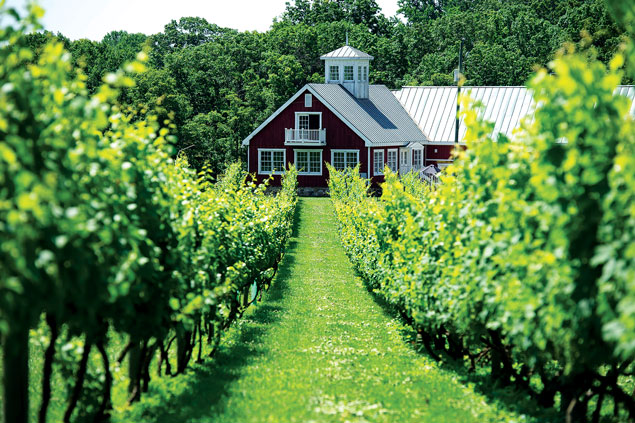 More Fun Winery Events
Strike a Pose: Perk up your prana with "Yoga at the Vineyard." All levels are welcome the third Saturday of the month, 10:30 to 11:30 am. Free. Stone Tower Winery, 19925 Hogback Mountain Rd., Leesburg; 703-777-2797; stonetowerwinery.com.
Set Up an Easel: Capture the autumn vineyard on canvas—and enjoy a complimentary glass of wine as an artist—during "En Plein Air Weekend: The Art of Winescapes," October 4 and 5; free. Philip Carter Winery, 4366 Stillhouse Rd., Hume; 540-364-1203; pcwinery.com.
Light Up the Night: Celebrate Diwali, the Indian festival of lights, with a harvest bonfire and fireworks at dusk on Saturday, October 18. Daytime festivities include wine and food specials, raffles, and music. Free admission. Narmada Winery, 43 Narmada La., Amissville; 540-937-8215; narmadawinery.com.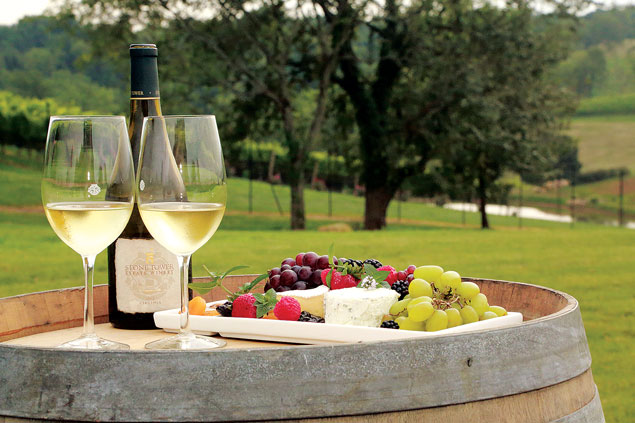 Get Spooked: Get into the Halloween spirit with haunted-vineyard tours featuring actors, storytellers, and a ghostly bog monster. October 30 to November 1; around $25, including mulled wine. Notaviva Vineyards, 13274 Sagle Rd., Purcellville; 540-668-6756; notavivavineyards.com.
Read Minds: Get an up-close look at mentalist and magician Max Major's popular show, "Think: An Evening of Mind Reading and Magic," September 12 from 8:30 to 10. $40 to $69 a person; wine available for purchase. The Winery at Bull Run, 15950 Lee Hwy., Centreville; 703-815-2233; wineryatbullrun.com.
Sip and Slice: Pair Sunset Hills Vineyard's new releases with made-to-order pizza from Wood Fired Foods' pizza truck. September 13 and 14, 1 to 5 pm. Free admission; charge for wine and pizza. 38295 Fremont Overlook La., Purcellville; 540-882-4560; sunsethillsvineyard.com.
Nancy Bauer Collier (nancy@nancybauer.com) co-created Virginia Wine in My Pocket, a social-media website and travel app. This article appears in the September 2014 issue of Washingtonian.