"Authenticity" is a word that's bandied about a lot in culinary circles, especially now that we're in an age when American chefs are coopting cuisines that stretch far beyond the States and Europe. Take Johnny Monis, who sticks about as faithfully to tradition as you can at his northern Thai hideaway, Little Serow, right down to the searingly hot flavors and the baskets of sticky rice on each table. The goal, it seems, is to channel the spice-grinding grandmother rather than the ambitious chef.
On the other end of the spectrum there is, most famously, David Chang, whose confident Americanization of Korean and Japanese flavors at New York's Momofuku inspired a generation of genre-bending, Wu-Tang-blaringizakayas and ramen bars.
For much of his career, chef Michael Schlow put himself in the former camp, turning out rustic Bologneses and caponatas at his Boston Italian restaurants. But in recent years, he's gone a more ADD route, doing eclectic small plates in LA, farm-to-table American in New Hampshire, and a mix tape of a Latin American menu at Tico in Boston and, as of 2½ months ago, in DC.
Here, the menu is a virtual middle finger to the authenticity question, with a grab bag of American, Spanish, Mexican, and Colombian influences. Asian-accented ceviches are next to tacos stuffed with fried chicken. A terrific made-to-order Manchego mac and cheese and a towering cheeseburger might land on the same table as a textbook tapas-house gambas al ajillo. All of this is presented in a space that looks like a surrealism-splashed garage you might stumble upon on a Barcelona side street and is set to a throbbing EDM bass line. Service is oddly slick, almost corporate—I was asked if I was "ready for the Tico experience" not once but three times.
So—is Tico the most coherently realized restaurant? No. Do the folks creating 45-minute waits on a Tuesday seem to care? Not really.
While the menu, with its frenetic styles, can be hard to navigate, much of the cooking is good, some of it excellent. In other words, the parts are better than the whole.
Schlow and his team are masterful with texture, particularly all things crunchy: His chicharrónes are fabulously light and crackly, dusted with a sweet powder of white chocolate and almonds. Fried oysters are expertly battered. And he sneaks crispy rice into the stellar scallop ceviche. The one big miss I encountered from the fryer was the fried cheese—the bites of Manchego managed to be oily, bland, and dry at the same time. And not even a handful of crushed peanuts could add interest to the dull shrimp ceviche.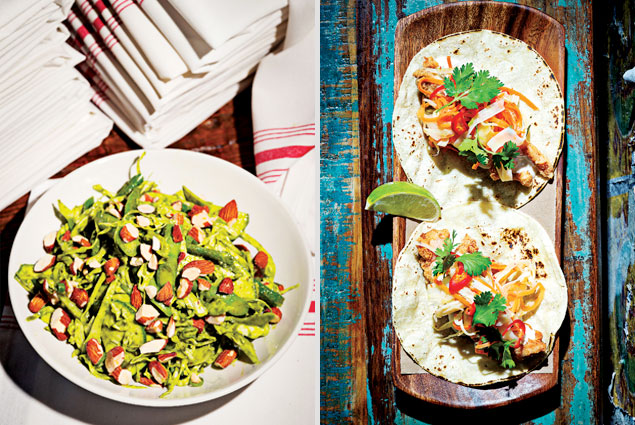 After countless dinners of cauliflower steaks and veggie plates that translate to an arrangement of ho-hum sides, vegetarians should rejoice over some of the small plates here. And everyone should front-load their meal with dishes like the pan-roasted cauliflower, tossed with creamy chipotle sauce and scattered with fava beans. Or a few of the terrific salads, such as cabbage dressed with tangy salsa verde, or roasted beets with pistachios and spiced yogurt.
Tacos come two to an order and are a better bet than many of the larger plancha-grilled plates. (The one exception is a generous main course of brick-flattened chicken.) The best of the lot are the braised-duck tacos, which get a spicy-sweet hit of papaya salsa and—again, for that touch of crunch—duck cracklings, and the fried-fish version, which usually feature hake or mahi-mahi. Two to skip: the tortillas filled with forgettable shrimp and the crab BLT.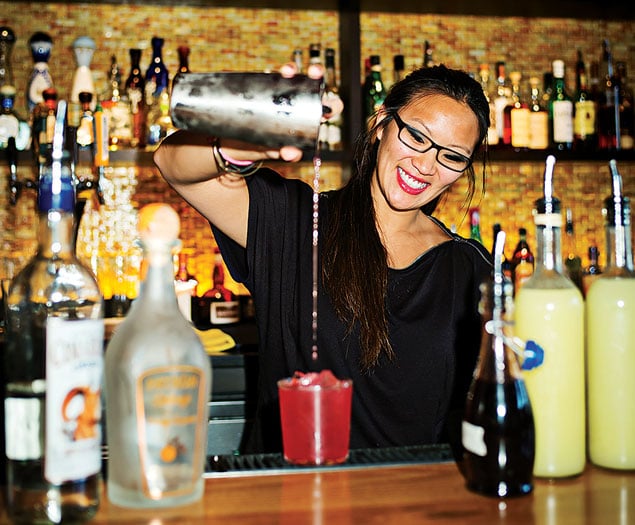 To go with it all, there are loads of tequilas—just avoid having any of them in the hibiscus margarita, which is achingly sweet and frighteningly fuchsia. Many of the cocktails, though, are well balanced, and a refreshing caipirinha made with cashew juice (from the fruit of the cashew tree) is worth a visit in itself. At the mob scene of a happy hour, you can sample many of the drinks for $6 as well as small plates and tacos on the cheap.
When dessert rolls around, the strongest choice is the most out of place: an afterschool-snack-like cookie plate, with oversize rounds of chocolate-chip and oatmeal-raisin, salty-sweet peanut-butter cookie sandwiches, and an icy glass of milk. Like much of what you'll find at Tico, it doesn't make a whole lot of sense. But it's pretty delicious.
This article appears in the September 2014 issue of Washingtonian.
---