As with pretty much every other national commemoration, the anniversary of the September 11 terrorist attacks have morphed into an opportunity for companies to extend their brands by tacking somber memorials on top of their regular promotions. Among the national brands marking the 9/11 anniversary with an awkardly timed tweet are Applebee's, Build-a-Bear Workshop, the Kardashian family, and sex-toy manufacturer Fleshlight. (Actually, Fleshlight's was probably the most respectful of those four.)
But the most blatant appropriation of 9/11 we've seen comes from our own turf with a painfully crafted promotion from Bikram Arlington. The local yoga studio began the anniversary with a one-day special offering 20 percent off class packages. Why 20 percent? Because, the studio explained in a since-deleted tweet, 20 is the sum of nine and 11. Woof.
The 9/11 yoga special sparked immediate outrage. Bikram Arlington initially defended it, and threw in a bit of trutherism for good measure: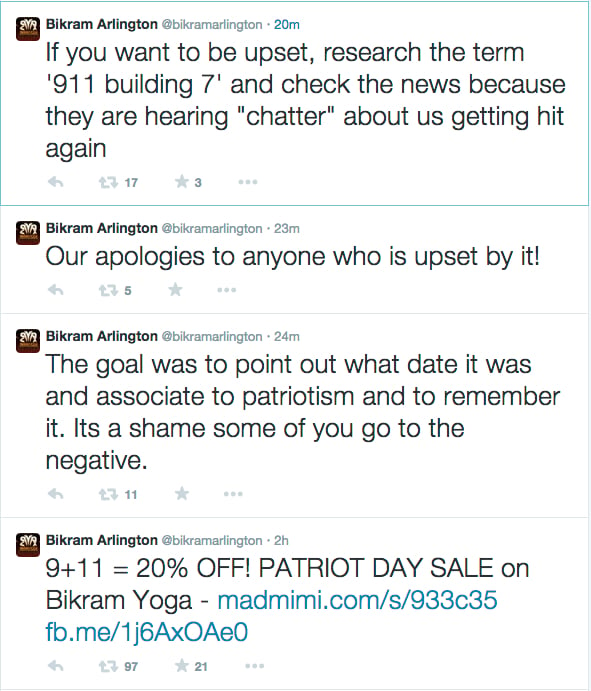 The Building 7 tweet has also since been deleted, and Bikram Arlington is now apologizing profusely.
We would like to extend a sincere apology to anybody we have offended with our previous promotion.

— Bikram Arlington (@bikramarlington) September 11, 2014


If only all brands that feel compelled to insert themselves into a national day of mourning were as tasteful as Fleshlight.