Good news for Tex-Mex fans: Austin-based Chuy's opens its first Washington location in Fairfax today. The funky chain has made a name for itself over 32 years, known for its "big as yo' face" burritos, Elvis obsession, and intolerance for Bush-twin antics (hey, some margs are just worth breaking the law). Here's what you need to know about the Texas export.
The conversation piece: The "nacho car," a.k.a. a nacho bar located inside a car trunk. If you've never scooped seasoned beef from the back of a vintage vehicle, you've been doing it wrong. The best part: Unloading this chip trunk is free during happy hour. Specials including $5.25 margaritas and $3 domestic beers run from 4 to 7 and weekdays, and you can pair your beverages with gratis queso, taco meat, salsa, and more.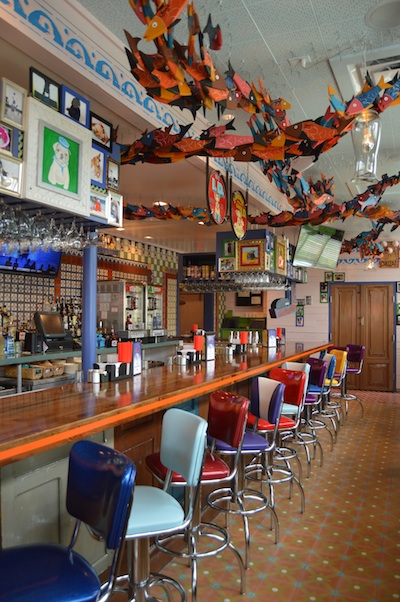 The other food: Big and Tex-ican. The grande menu reads the same at all Chuy's locations, but follows a homemade philosophy; the team promises salsa made every hour, fresh sauces daily, and tortillas rolled in front of guests. Prices are gentle, but plates are designed to be more than filling. Think fried chicken breaded with Lay's potato chips and smothered in green-chili sauce, Anaheim chiles rellenos, and blue-corn enchiladas stiffed with pulled chicken and topped with a fried egg.
The margaritas: Eclectic, and made with fresh lime juice. Traditional rocks or frozen are always options, but you can literally mix things up with a Grandma's Rockin' Rita—apparently Grandma liked hers stiff, in a pint glass with Grand Marnier—or a Texas Martini, where tequila, Cointreau, and lime juice are shaken and served up with jalapeño-stuffed olives. Booze hounds can also add a floater of tequila or various liqueurs to any drink; see the menu for all the options.
The Elvis shrine: Chuy's is a pretty colorful place, especially the spacious patio outfitted with fiesta string lights and bright red umbrellas. Indoors you'll find a rainbow-hued school of fish hung from the ceiling, another area covered with hubcaps, and pictures of local pooches above the bar. As at other locations, an Elvis shrine pays homage to the King, the "patron saint of Chuy's." Elvis fans can look forward to the annual birthday bash on January 8, commemorated at all locations with specials and plenty of impersonators.
The future: More Chuy's! The chain has already penned a lease in the Springfield Town Center (slated to open in October), with other locations possibly on the way.
Chuy's. 11219 Lee Hwy., Fairfax; 703-364-5933. Find Anna Spiegel on Twitter at @annaspiegs.