The National Harbor has a new seafood spot with the opening of Walrus & Oyster Ale House, a 150-seat eatery by the Star Restaurant Group. Longtime Washington chef Bob Kinkead consulted on the seafood-centric menu, while Kris Carr is behind beachy beverages such as the Baltimore Crush. As the outdoor sipping weather lingers, take advantage of the spot's 75-seat deck. Here's what else you should know.
The oysters: A "shucking bar" menu offers 15 varieties, divided into local and Atlantic or West Coast. Even more fun than slurping fresh bivalves is their names, including Sweet Jesus oysters from Maryland and Royal Miyagis out of California. Those looking for cooked varieties can order a basket of fried oysters and hushpuppies.
The other food: Fishy, in a good way. Seafood makes up most of the menu—think chorizo-stuffed clams, fried shrimp baskets, lobster rolls, and more. A number of dishes draw from Maryland traditions, such as a jumbo lump crabcakes and broiled oysters. Not into fin fare? Meaty eats include slow-braised beef brisket and barbecue chicken.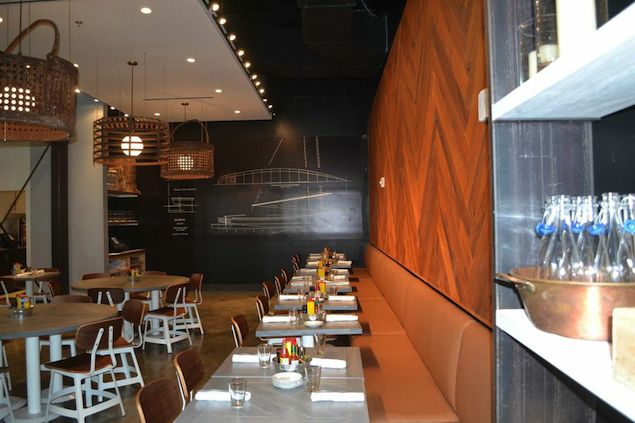 The drinks: Big and beachy. Groups can order boozy punches made with fresh fruits in 52-ounce "Walrus bowls," while ambitious solo drinkers can opt for 20-ounce goblets. Other sips include a raspberry Dark and Stormy and an Old Bay-spiked Bloody Mary made with fire-roasted tomatoes. And of course, you'll find oyster shooters.
The poem: The restaurant gets its name from Lewis Carroll's poem "The Walrus and the Carpenter." A nod to the latter can be found in the wood-filled decor, while a portion of the verses can be found on the outside wall.
The future: For now the Walrus only serves dinner, but look for lunch and weekend brunch to start in the future.

The Walrus & Oyster Ale House. 152 Waterfront St., Fort Washington (in the National Harbor); 301-567-6100. Open daily 4:30 to 11. Find Anna Spiegel on Twitter at @annaspiegs.