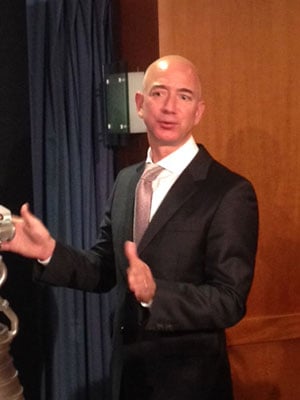 It's safe to say Jeff Bezos loves space exploration more than newspapering: He has invested twice as much into his spacecraft venture, Blue Origin, than he did to acquire the Washington Post a year ago.
At a press conference Wednesday, Bezos announced a partnership with United Launch Alliance to jointly fund Blue Origin's new rocket engine. ULA is well-established in the space industry and regularly puts satellites into orbit.
Washington Post science writer Joel Achenbach covered the event at the National Press Club. Before he questioned Bezos, Achenbach said he was with the Post.
"Excellent publication," Bezos said with a grin.
But not excellent enough to visit while he was down the street. According to sources at the Post, Bezos's trip to DC from his Seattle base came as a surprise.
Achenbach, who authors Achenblog, took the topic from space to the personal.
"Jeff," he said, "you're involved in so many things" (referring to Bezos's role as the founder of both Amazon and Blue Origin and now owner of the Post). "How do you manage your time?"
"Amazon is my day job," Bezos responded. He adores the job and "ran to the office" as soon as he returned from vacation this summer. He spends the "vast majority" of his time running Amazon.
"It's my luck that I don't have any hobbies, like golf," he said.
That is, of course, except for space.
"I've been in love with it since I was five years old," Bezos said, adding that watching Neil Armstrong walk on the moon "imprinted" him.
Bezos didn't mention the Post among his passions or regular chores.
Space News wrote in July that Bezos has invested $500 million in Blue Origin, with the goal of building spacecraft that can take earthlings on affordable trips into outer space. He spent $250 million to buy the Post.
Find Harry Jaffe on Twitter at @harryjaffe.