With more than eight intruders making their way onto the White House grounds in the past year alone (including one toddler who slipped through the fence's iron bars), the Secret Service is contemplating beefing up security around "the people's house." A timeline of the increasing fortification of the presidential mansion:
Early 19th century: The White House grounds were a very popular spot for sightseers. "[T]he iron gates to the White House grounds opened at 8 in the morning and closed at sundown. Almost anyone was likely to wander [the well-manicured gardens], along the paths," explains American historian William Seale.
1801-1809: President Jefferson replaces the rail fence surrounding the White House grounds with a high stone wall. He then begins his own tradition of opening the mansion doors every day to allow the public to enter and freely explore it.
1817-1825: President Monroe switches the White House's high stone wall to an iron fence. He also hires guards for his executive mansion on days when the public is allowed into the White House.
1835: After Richard Lawrence attempts to shoot President Jackson, a sentry "watch box" is put on the south grounds.
1922: President Harding creates the White House Police Force to protect the executive mansion and its grounds.
1930: After the White House Police Force allows an intruder into the White House dining room where President Hoover is eating, the Secret Service is put in full control of security.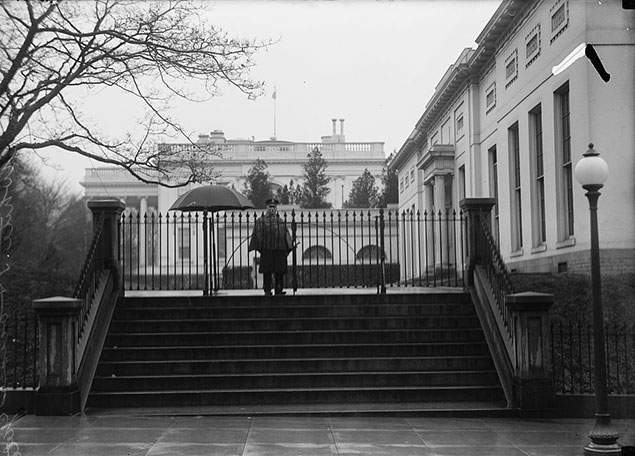 World War II: Public access to the White House grounds is discontinued. Everyone must now check in with guards at the surrounding gates.
1974: A man affixes flares to his body and drives his Chevrolet Impala into the northwest gate. The White House's wrought-iron gates are switched to reinforced gates.
1976: Tourist traffic increases to the point that tickets are issued, admitting only a certain number of visitors.
1980s: Following truck-bomb attacks on a Marine barracks, concrete Jersey barriers are put around the White House perimeter.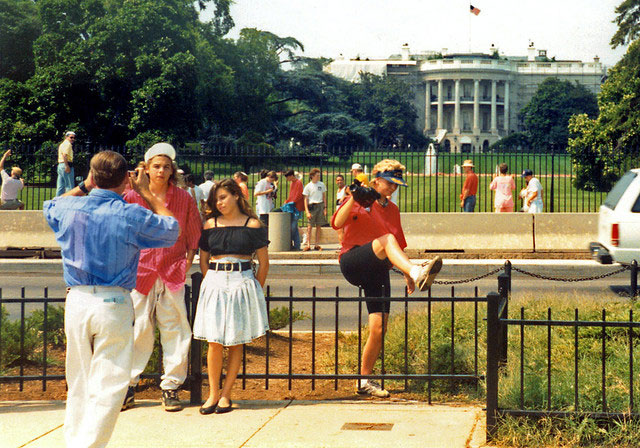 1995: After the April Oklahoma City bombing, the Treasury Department closes off two blocks of Pennsylvania Avenue directly outside the White House. "I acknowledge that the security of the President of the United States is paramount," says then-senator Rod Grams, "but . . . the need to ensure the President's safety must be balanced with the expectation of freedom inherent in a democracy."
2001: Immediately following 9/11, the White House is closed to the general public. Current procedure requires all visitors to apply at least 21 days before their visit to their congressional representative, who then passes their names on to the White House.