Is there a "how to open a Washington restaurant" manual that out-of-towner chefs receive when they reach a certain stature (or at least make it onto Iron Chef)? Pull it out and it would read a little something like this: (1) Pair up with a luxe hotel. (2) Open a steakhouse and come bearing plenty of Wagyu. (3) Choose staid and serious over playful and casual. (4) Keep those entrées above $40.
That's the route chefs like Michael Mina and Jean-Georges Vongerichten have taken to our city. The latest to follow the blueprint is Jose Garces, the chef/restaurateur behind a slew of Philly destinations (the beloved tapas hangout Amada; the extravagant dining room at Volvér), along with a smattering of other restaurants in places such as Scottsdale and Palm Springs.
Garces's DC debut is modeled on an Argentinean steakhouse. A steer's head looms above the leather booths, and vintage photographs of cows cram the walls. Stacks of chopped oak are piled high in the dining room, near the open parrilla-style grill. The menu bursts with chorizo, sweetbreads, and Uruguayan steaks. Yet you can never shake the feeling you're in a land where rolling suitcases roam, not grass-fed, Pampas-bred cattle. Rural Society is, after all, the third restaurant in five years to occupy this space in the Loews Madison Hotel.
The band that plays Maroon 5 covers during happy hour in the bar doesn't help. Nor does a staff that tends to hover and upsell. (The best thing on the menu? "The $75 tasting menu," said more than one server.) But mostly it's that one of the world's most rustic, communal, and primal culinary traditions—the feast of salted, flame-licked meats that is the Argentinean asado—has been given the cloth-napkin treatment and been rendered positively dainty. Your chimichurri, the vinegar-based parsley sauce that goes with the meats, arrives in a tiny square dish with a tiny spoon, and for all the touting of the fiery grill that sits in the middle of the hushed dining room, you'll never smell a whiff of smoke.
That's not to say you can't eat well, especially if you're not afraid to carbo-load. Start with the breadbasket and snag the one jalapeño-cheese roll in there—it's terrific with the earthy, umami-heavy Malbec butter. Then move on to the flaky, butter-enriched empanadas stuffed with a sweet-and-spicy stew of tender Wagyu belly (far tastier than the dull creamed-chard-filled version). And don't miss the puffy focaccia pizzas called fugazzas. Reminiscent of great deep-dish pies, they're best topped with a mix of creamy corn and crab. Although they're billed as appetizers, I'd be happy making dinner out of one at the bar, along with some of the finely balanced cocktails (a bracing pisco sour; a habanero-stoked mix of pineapple and tequila).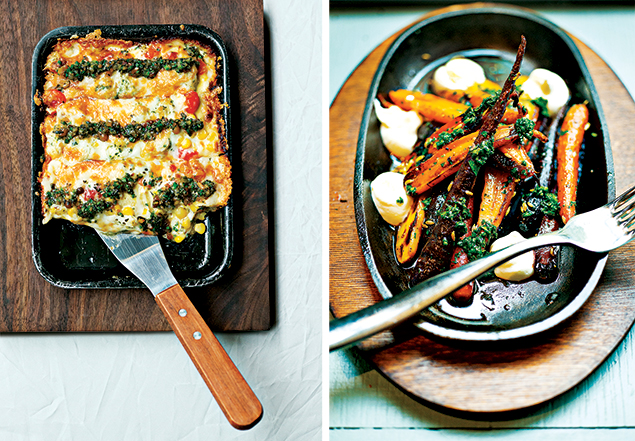 Beyond the pizzas and some nicely crafted pastas, such as saffron-tinted taglierini with briny cockles and rock shrimp, the menu is basically made up of three main food groups. These—look away, Michelle Obama—consist of potatoes, meat, and cheese. In fact, an entire section of the menu is devoted to spuds, and it holds some of the most rewarding dishes: smoothly whipped potatoes stirred with melted mozzarella curds, thick fries with aïoli, and—best of all—a bowl of crisp potato puffs with tangy truffle hollandaise for dunking. It's the best chips and dip in the city.
The meats are served on long charred-wood boards, à la carte. That means you'll be presented with a $24 half chicken served with absolutely nothing besides a few flakes of salt. If you (or at least your corporate card) can stomach that, you'll be rewarded with a carefully coddled, freshly killed jidori bird that's as tender as a game hen and tastes like what I imagine chickens tasted like before Tyson and Perdue (that is, eminently chickeny).
As for the steaks, there's a Uruguayan rib eye, which is finely grained, almost like a filet mignon but shy on fatty flavor—it calls for lots of chimichurri. It's the lesser cuts, such as a richly meaty Angus skirt steak and an American Wagyu rump steak, that are delicious enough to stand on their own.
Provoleta, a skillet of grilled provolone, is a traditional accompaniment at an asado. The rendition here is decent enough, but after all the bread and salt and meat, it feels like excess. Instead, I'd go for the menu's one salad—a mound of peppery arugula and shards of Parmesan laced with fig sauce and lots of lemon. It's lovely on its own but even better when it functions to cut the richness of pretty much everything else. Another thing you can skip: the cheese trolley, which, the night I tried it, was sparsely populated with wedges you can find at Whole Foods, without even a cracker to go with them.
Argentinean and Uruguayan sweets aren't known for their subtlety, with loads of the thick condensed-milk caramel called dulce de leche. Here they're more refined, and often they improve on tradition. There's still plenty of dulce de leche to go around, but it's far less cloying in a gorgeously eggy flan or lightened with whipped cream and piped into delicate crepes.
Finally, in this one small way, Garces has flipped the script. But his restaurant has a ways to go before it feels fully realized, rather than a place that'll just be passing through.
Cook it yourself! Washingtonian asked Rural Society for a favorite recipe—and they sent along a guide for making their Dulce de Leche Flan. Read it here and check out our complete collection of recipes from DC-area eateries on our recipes page.
This article appears in the October 2014 issue of Washingtonian.
---