When Mango Tree debuts in CityCenterDC in December, the two-story Thai eatery will be the first in the US for the Bangkok brand. Restaurateur Richard Sandoval of El Centro D.F., Masa 14, Toro Toro, and many more has teamed up with founder Pitaya Phanphensophon for the project. On the menu: classic and reinvented dishes found throughout Thailand, such as chicken satay and red curry duck with apricots.
One of the more traditoinal items is lightly spicy, aromatic tom yum soup with shrimp. This home-cook-friendly version is simple and relatively quick to prepare. Look for specialty ingredients like lemongrass and kaffir lime leaves at Asian markets, or a well-stocked Whole Foods, which often carries them.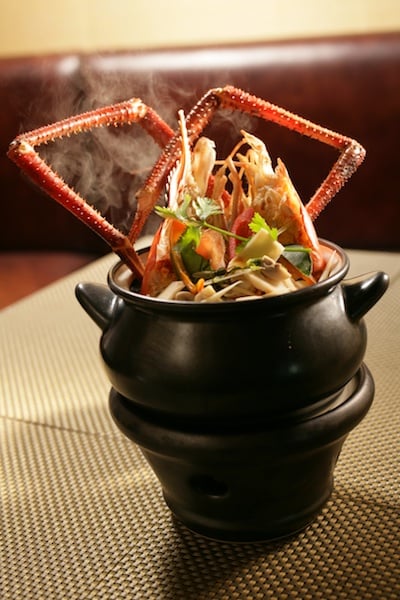 Tom Yum Soup
Serves 2
17 ounces water
10 medium shrimp, peeled and deveined
4 sticks lemongrass
1 4-inch piece galangal
6 kaffir lime leaves (available at Whole Foods)
4 bird's eye chilies
4 tablespoons fish sauce
Juice of 2 limes
4 tablespoons sugar
6 button mushrooms, cleaned and quartered
2 teaspoons Thai chili paste
4 teaspoons coconut milk
4 cilantro leaves, thinly sliced
Thai parsley for garnish
Make the soup:
Place water in a pot over high heat.
Roughly chop galangal and add it to the water.
Crush the lemongrass with a rolling pin, meat tenderizer, or heavy spoon to release the oil and flavor, and add it to water.
Tear kaffir lime leaves and add them to the water along with the lime juice.
Bring the mixture to a boil, then reduce heat to low and simmer for 20 minutes.
Remove from heat, and let stand for another 10 minutes to allow the flavors to infuse.
Using a strainer, strain the soup into a separate pot and place over medium-low heat so it's simmering but not boiling.
Serve the soup:
Add mushrooms and shrimp to the soup, and poach them for 4 to 5 minutes.
Once cooked, remove shrimp from the soup and place into two bowls.
Season the soup, stirring in the fish sauce and sugar.
Add coconut milk, Thai parsley, and Thai chili paste. Mix well.
Pour into the bowls over the shrimp and serve.