For two years, Inertia Dolce, the red-wigged alter ego of 28-year-old William Dennis, has been the runner to beat in DC's annual High Heel Race, last year finishing the three-block hoof down Dupont Circle's 17th Street in 49 seconds. Dolce—who, as Dennis, is general manager of the Dupont brunch spot Level One—competes for a third straight title on October 28. A former Division 1 cross-country and track-and-field runner at the University of North Carolina Wilmington, Dennis was born fast, but he gave us a few tips anyone can use.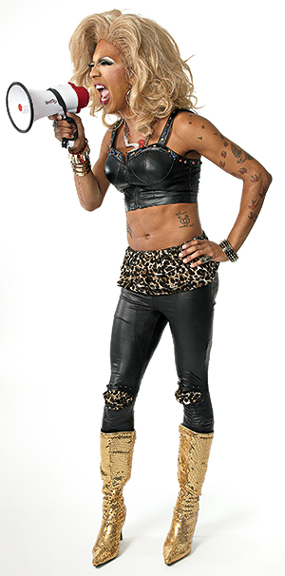 Pick function over style.
"A common mistake is that people wear a regular high heel," says Dennis, who sports calf-high boots—albeit with five-inch heels—to support his ankles. "You don't have to worry about it flying off or buckling."
Walk the course.
Before race day, he advises, "walk up and down the bike lane of 17th Street. That'll give you a feel of the ground." Scope out the manholes—like the one outside Floriana restaurant—and small cracks that can prove treacherous.
Duct-tape your soles.
"Putting duct tape down there helps keep you from slipping." Especially when wet—the race goes on, rain or shine.
Wear socks.
"Make sure they're thick enough that your foot's not sliding up and down." Dennis wears athletic socks over nylons, topped with an ankle brace to keep his foot "as stable as possible."
Have a cocktail.
With all the pre-parties and celebrations, you'll spend a few hours in heels: Dull the pain with a cosmo or two.
Watch out for saboteurs.
"Last year, these four competitors come up and say, 'You're not going to win this year.' So they stand in front of me, and as I'm taking off, one of them elbows me in the chest!"
Dominate with grace.
Dennis plans to retire if he wins again. "Some people are like, 'You can't win again. It's not fair.' " But for this year, he says, "it's still a race—I'm going to go for it."

See photos from this year's race, and find out who won, in our earlier post.
This article appears in the October 2014 issue of Washingtonian.