Although Halloween as we know it became popular early in the 20th century, it wasn't until Dwight D. Eisenhower was president that ghosts, goblins, and witches were first invited into the White House. First Lady Mamie Eisenhower took the lead on dressing up 1600 Pennsylvania Avenue for Halloween as early as 1956. "I know she loved to decorate," says William Bushong, the White House Historical Association's chief historian. "She decorated for every holiday. Any reason to decorate, and she would decorate."
President John F. Kennedy continued Eisenhower's legacy by embracing the Halloween spirit during his time in office. "I think the [pictures] that really strike at your heart a little bit are the Kennedy series of photographs of the President with John and Caroline in costume coming to see their father in the oval office," says Bushong.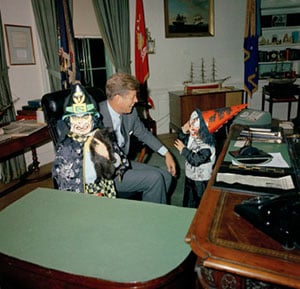 During the Nixon administration, Pat Nixon hosted a number of Halloween parties, including one in 1969 that included horror film Dark Shadows actor Jonathan Frid on its guest list.
Then there were the presidents and first ladies who not only dressed up the White House, they dressed up themselves as well. In 1993, Bill and Hillary Clinton dressed up as James and Dolley Madison. "Part of the reason for that was that Mrs. Clinton's birthday fell so close to Halloween, on October 27, so I think they combined that party with her birthday," says Bushong. Another time, he says the pair paid homage to the musical Grease by dressing as a motorcyclist and a Bobby Soxer. "I think just from the photographs you get a sense that they really enjoyed that sort of thing," says Bushong.
During George W. Bush's term, he and Mrs. Bush enjoyed taking photos of their two Scottish Terriers, Barney and Miss Beazley, and their cat Willie posed with pumpkins and wearing costumes such as devil horns.
No president has had quite as elaborate of Halloween parties as Barack Obama and First Lady Michelle Obama. They tend to keep it very child-centric and intricate, with themes such as Alice in Wonderland and guest lists that include the likes of Tim Burton and Johnny Depp.
Halloween celebrations have become a fun way to start off the holiday season at the White House, and today, the American people have come to look forward to it. "They expect the president to be just like them and celebrate holidays in a manner similar to the rest of the country," says Bushong.