If you've never eaten Peruvian cuisine, allow me to give a primer. Actually, forget that—I don't have the space to delve into all the complexities of this great cuisine. In the interest of speed, let's keep things simple. Here's what you need to know: raw (or nearly raw) fish and potatoes.
Reductive? Of course. But reductive doesn't mean inaccurate—it means incomplete. Remember that piece of advice and you can eat wonderfully well at the new Ocopa, a small, sharply focused restaurant that stands out amid the dense grove of grungy taverns and hipster bars along Northeast DC's H Street and has emerged as the unlikely hit of the season.
At every one of my meals, there came a quietly thrilling moment when I looked up to see the chef, Carlos Delgado, lifting a half-flayed fish by the tail from his cutting board. This was a fresh rockfish, which the chef reduced to thin, shimmering bands for his ceviches and tiraditos.
The former refers to cooking fish and seafood by soaking it in lime juice; you can think of the latter—which emerged with the arrival of Japanese immigrants to Peru—as a kind of Latinized sashimi: thin strips of fresh fish dressed with a vividly colorful sauce, often an aji amarillo, a yellow-pepper emulsion that looks like French's mustard but is several times subtler, sharper, and spicier.
The differences in the various preparations aren't especially pronounced, and those not given to sussing out nuances will probably recall the Jim Gaffigan crack about Tex-Mex being a perplexing and endless succession of wrapper, meat, and cheese.
But don't look at it as duplicative; look at it as repetitive, a driving-home of the idea that if raw or lightly cooked fish isn't your thing, you either need to make it your thing or not bother coming.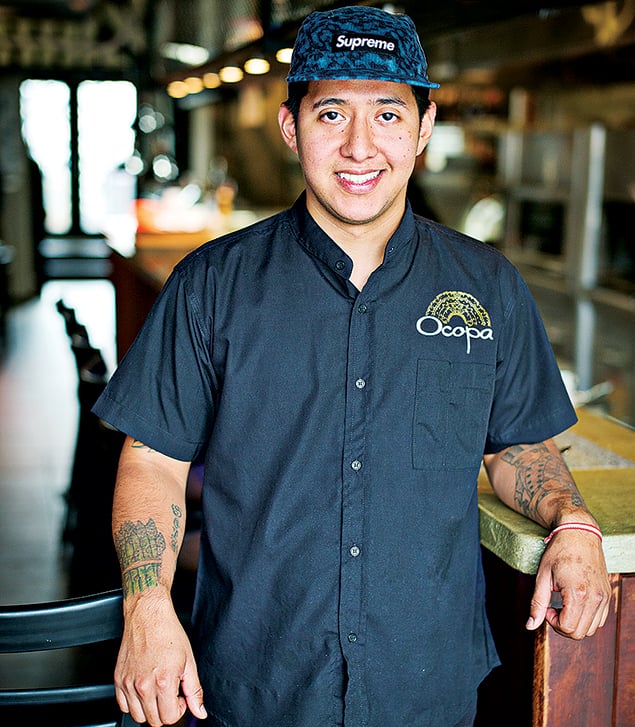 The must-order is the ceviche mixto, a colorful heap of baby octopus, calamari, shrimp, diced sweet potato, corn, and red onion, all vivified by a quick soak in a sauce of lime juice, onions, and chilies known as tiger's milk. But even simpler treatments, like the tiradito clásico—thin slices of cool rockfish flavored with tiger's milk and festooned with salty fried corn nuts—are immensely rewarding.
As much as he excels at showcasing fish, the 24-year-old Delgado is even better at elevating the humble potato into something sublime. Papa a la huancaina might be thought of as a kind of potato salad. Delgado's version—so sophisticated it makes the picnic staple you're no doubt imagining seem like prison food—dresses tenderly cooked purple and yellow potatoes in two sauces: an aji amarillo and a cheesy, mildly spicy emulsion known as huancaina. Even better is the causita cangrejo, a cocktail nibble whose foundational element has a consistency poised miraculously between mashed potatoes and cooked polenta. Avocado, crab, and egg are layered thinly atop it. For color, and for sweetness, Delgado adds "sweet drops," juicy, pear-shaped Peruvian peppers that look as if they were shrunk to fit into one of Joseph Cornell's boxes.
Ocopa functions best when you think of it as a place to divvy up small plates while tanking down cocktails (the best of which are the expert renditions of pisco sour and pisco punch.) The spare, shotgun-style space is essentially an extended bar, with lots of low-slung tables and stools, and the message couldn't be clearer: Don't make this into a long, lingering dinner.
Here's my addendum, and I hope it's equally clear: Don't make this into a conventional dinner. It's not that the larger plates are duds. Think of them, rather, as meandering album tracks that make you long for the excitement of the shorter, radio-friendly tune. A version of chaufa, with quinoa subbing for rice along with lobster tail, suffered in comparison with the fish and potato dishes that preceded it. It wasn't bad, it wasn't good—it wasn't much of anything. Long fingers of fried fish, dotted with black sesame seeds, were as unsubtle as the many treatments of raw fish aren't; the taste of soy sauce was overpowering.
The notable exception is the anticucho, aggressively marinated beef hearts that Delgado grills and serves with two sauces, an aji amarillo and a tangy, spicy ricoto, as if offal ought to be served just like a hunk of prime Argentine steak.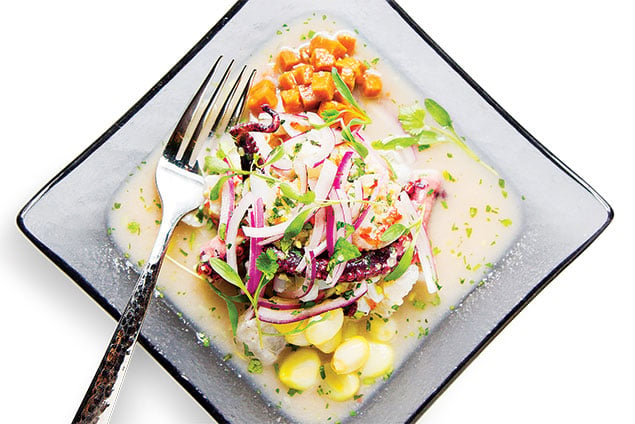 This article appears in the November 2014 issue of Washingtonian.
---