Update (2:56): Komi will remain closed on Tuesday, but is expected to reopen for dinner on Wednesday. Little Serow will open on Tuesday as usual.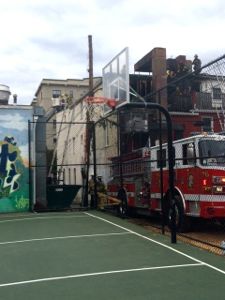 Komi, one of Washington's longstanding top restaurants, suffered a blaze early Sunday morning. Fire crews were seen tending to the top unit of the rowhouse at 1509 17th Street, where the eatery is located.
The Reliable Source reports that fortunately no one was hurt, and that the tasting room only suffered "minor damage." Neighboring eatery Duke's Grocery went unscathed, but opened slightly later than usual. Komi is typically closed on Sunday and Monday, but the team is still determining whether the restaurant will reopen per usual on Tuesday. The Best Bites Blog has reached out to co-owners chef Johnny Monis and Anne Marler, and will update accordingly.