Vijay Iyer: Music of Transformation
Strathmore
November 6
The pianist/composer—awarded a MacArthur "genius grant" last year—presents for the first time in Washington his work "Mutations I-X" as well as a multimedia piece inspired by the Hindu spring festival Holi. $20 to $55.
Stevie Wonder
Verizon Center
November 9
At this show, the 64-year-old R&B legend will play the entirety of Songs in the Key of Life, his hit 1976 double album. $49.50 to $149.50.
Usher
Verizon Center
November 10
The R&B superstar postponed the release of his eighth album, originally expected by the end of the year, so braving the arena crowds might be the only chance to hear his new material for a while. $42.50 to $178.
Rural Alberta Advantage
Rock & Roll Hotel
November 11
The name might bring to mind delicate folk music, but this Toronto act puts out robust indie rock that's at once wistful and upbeat. $14.
Orion Weiss With the Salzburg Marionettes
Kennedy Center
November 11
The American pianist pairs with the Austrian marionette theater, in existence since 1913, to offer adults and children a new way to experience classical favorites. $45.
Tony Lucca
Jammin Java
November 14
Fans of the TV series Friday Night Lights know Lucca for his poignant cover of "Devil Town." The former Mickey Mouse Club member was also a finalist on the reality show The Voice in 2012 and released a new EP in March. $17 to $25.
Voca People
Strathmore
November 15
After performing in the Edinburgh Festival Fringe this year, the Israeli troupe brings its vocal theatrics to Washington, reproducing the effects of a full orchestra through beatboxing and other sounds. $28 to $72.
Washington Chorus: Beethoven's Missa Solemnis
Kennedy Center
November 16
One of the greatest choral works comes to life with help from conductor Julian Wachner, soprano Julia Sophie Wagner, and tenor Vale Rideout. $15 to $70.
Barr Brothers
Sixth & I
November 18
The two Barr siblings started out in jazz and indie rock before settling into their current woodsy Americana style, accompanied by classically trained harpist Sarah Pagé and bassist Andrès Vial. The group's second album, Sleeping Operator, came out this fall. $13 to $15.
We Were Promised Jetpacks
9:30 Club
November 19
Rolling Stone named this Scottish punk outfit's In the Pit of the Stomach one of the best under-the-radar albums of 2011. With nearly 40 stops on their current tour, on both sides of the Atlantic, it's unlikely their new album, Unravelling, will need such a distinction. $20.
National Symphony Orchestra: Stravinsky's Firebird Suite
Kennedy Center
November 20-22
Bulgarian conductor Rossen Milanov leads a performance of Stravinsky's breakout work along with Busoni's Piano Concerto, Opus 39, with pianist Garrick Ohlsson and the Washington Men's Camerata. $10 to $85.
B.O.B.
Fillmore Silver Spring
November 26
The rapper—who has collaborated with artists as diverse as 2 Chainz, Taylor Swift, and Weezer's Rivers Cuomo—performs songs from Underground Luxury, released in December. $30.
The Dismemberment Plan
9:30 Club
November 28
After breaking up for nearly a decade, the DC indie rockers got back together in 2011. Watch them perform their latest, Uncanney Valley, while their reunited front holds. $25.
Pigeons Playing Ping Pong
Howard Theatre
November 28
With a name as quirky as its sound, this Baltimore four-piece offers psychedelic funk rock tailor-made for dancing. The band released its first full-length album in July. $15.
Sutton Foster With the NSO Pops
Kennedy Center
November 28-29
The actress (from the erstwhile ABC Family show Bunheads) and Tony winner sings Broadway hits from shows including Anything Goes and Shrek the Musical, in which she originated the role of Princess Fiona. $20 to $88.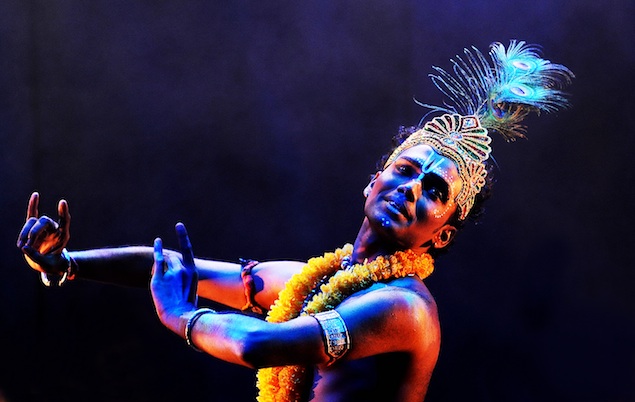 DANCE
Kalanidhi Dance: Krishna, Love Re-Invented
Kennedy Center
November 9
This work by Malaysia's Sutra Dance Theatre tells the legend of the Hindu embodiment of love through Odissi, one of India's classical dance forms. $40.
Neil Greenberg: This
American Dance Institute
November 14-15
Choreographer Greenberg partners with sound designer Steve Roden and lighting designer Joe Levasseur for this new piece, which examines the collaborative process and the human desire to make meaning. $31.25.
Ballet ADI Evening With Loni Landon
American Dance Institute
November 21-22
The house company, Ballet ADI, performs a commissioned work by New York artist Loni Landon exploring gender and how people occupy various spaces in their lives. Also on the bill: a new piece by Washington Ballet alum Runqiao Du. $31.25.
COMEDY
Tommy Davidson
DC Improv
November 6-9
The DC native, one of In Living Color's original cast members, has appeared in Strictly Business, Ace Ventura: When Nature Calls, and other movies. $20.
Suzanne Westenhoefer
Birchmere
November 8
One of the first openly gay female comics to appear on network TV, Westenhoefer has earned fans for her brash, up-front style. $45.
Mike Birbiglia
Warner Theatre
November 7-8
The deadpan comedian has branched out from standup to books, movies, and radio—he became a panelist on NPR's Wait, Wait . . . Don't Tell Me! this year. See his new show to find out how humor has landed him in hot water. $27.50 to $37.50.
Bob Marley
DC Improv
November 20-23
Marley—no relation to the reggae musician—became a Guinness World Record holder in 2010 for longest standup performance. He managed to go 18 hours without repeating jokes, so you'll almost certainly hear something new this time around. $17 to $20.